Bob Harlow - A Collector's Item Artist
Feb 01, 2009 03:28PM ● By Don Kindred
by Bill Thomas
Many of us can never quite pinpoint when our professional careers began: in high school or college, after military service, moving up the ranks into management, buying into a franchise, or an accident of fate. 

Bob Harlow set off on his chosen career in the art world at age ten. Happily living with his family on Naples Island in Long Beach, he started drawing surfing cartoons, which he deemed "clever," and dutifully submitted them on a regular basis to Surfer Magazine. Just as regularly, checking his mail for an acceptance letter, he consistently opened return envelopes which read, "Thanks for trying, but, at this time, we can't use your submission." 

"I've saved those cartoons," Bob reminisced, "Maybe I should start submitting them again." 

After his family moved to T-Street in San Clemente, his first design of a T-shirt line was for his youth Explorer Post, a Boy Scout activity, which was under the direction of the City's Life Guard Department. He was 13; the group needed a logo, and he drew a design with a wave inside the sun. Everyone liked it. All the kids wore the shirts to meetings and surfing excursions. He continued drawing surf-oriented designs for T-shirts for fun. "As a hobby, really," he said.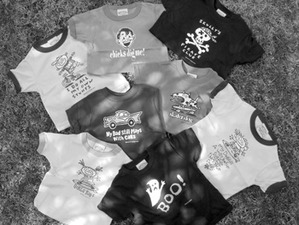 A big break (not the wave, Silly) came while he managed a Hobie's store. On the side, he created a "work of surf art" for shirts in a windsurfing contest the store sponsored. Working from his post in Dana Point, in his spare time, he then began designing T-shirts for all of Hobie's shops in both California and Hawaii. Other popular ocean-focused franchises like Quicksilver, Billabong, and Town and Country Surf Designs starting knocking on Bob's door to develop T-shirt lines. He found that if one company didn't especially care for a particular design, it always found another retail home. He rarely had an unsold design.

Soon Bob began thinking, Rather than selling my art to these big companies for a fixed price, watching them sell tons of products - which might include sweat shirts, polos, and tank tops - why can't I do that? So in the early '90s, following his own thoughtful advice, he left Hobie's and became an in-house artist for Sundance Graphics, with which he's still affiliated. He started designing his own lines of water sports clothing, selling products directly to retail stores. 

In the spring of 1992, the then director of San Clemente's annually successful July Ocean Festival (SCOF), Deanna Bottello, came into the graphics shop to order several dozen T-shirts with the classic King Neptune design the Festival had been using for years. 

Bob recalled, "I was standing there and suggested to Deanna that they might consider something a little more colorful and fun. On the spot, I sketched a quick design, which she really liked. Off we went. We've taken the volume of several dozen shirts sold that year, to eleven thousand Ocean Festival items sold on our best weekend over the past years. Last year, we sold around 7,000 product items, which I designed and manufactured." 

Those items now include T-shirts for both youth and adults, both long and short sleeved; tank tops, hoodies, v-necks, baseball caps, visors, posters and temporary tattoos – in all sizes. Bob donates the designs, but sells the clothing merchandise. Accordingly, the San Clemente Ocean Festival has become his biggest client. 

"And Bob Harlow's the SCOF's favorite artist," says Peggy Vance, the Ocean Festival's current Executive Director, "It's truly a pleasure to work with him. He and his artwork are both fully animated and welcoming.  His charm and creativity are reflected in his whimsical creations that have become sought-after collector pieces for our event."  

For 17 years, Bob has donated his art and time to produce a 'specifically unique' design for each year's event. The Ocean Festival looks forward annually to viewing each new design with enthused anticipation, and Bob can be seen signing shirts and posters at pre-event sales dates on Avenida Del Mar in the spring and early summer. He's usually on-site during the Festival as well. His product sales directly support the Festival's continued success and ability to donate sizeable funds to deserving community groups each year.

In his early involvement with the Festival, Bob relied on his associate, Melissa Stanatis, to "…keep me organized and enable me to concentrate on my designing. I did all the artwork and shipping; she did everything else." However, motherhood came calling for Melissa; now Bob counts on others for assistance. In the case of the Ocean Festival, he relies heavily on Peggy Vance and Colleen Wolfe for advice and counsel. Colleen has been responsible for the SCOF clothing orders, storing, and product selling for many years. 

She commented, "Come early May of each year, our city, surrounding communities, and many who plan their annual vacations begin a unique and much anticipated vibe. What will Bob Harlow's design look like for the new Ocean Festival T-shirt? He generously donates his art, time, creativity and energy to produce one of the most recognized and popular shirts seen among all his collectors and fans. Uniquely, he carefully crafts his world-renowned design to capture the true essence representative of the two-day beach festival each year, producing the sales generating the funding to create this free community event. Rarely a day goes by that we don't see one of Bob's familiar shirts walking not only through San Clemente but across the country or on a cruise ship rounding Cape Horn."

One noted collector of Bob Harlow's work is Marilyn Steel, who with her husband, also a Bob, has lived in San Clemente for 25 years. Bob Harlow said of Marilyn, "She has a huge collection of my posters hanging in her large entryway. Every year, I sign a new poster for her and one of her friends, both of whom wear these big hats to the festival." Marilyn Steel emailed, "The pleasure of collecting Harlow's San Clemente Ocean Festival posters is in their joyous animation. The posters have to do with the Pacific, which we love. They are truly emblematic of San Clemente.  Our first poster was for 1994 and we have all the rest except 1996, which has been lost." (If any Journal readers have such a poster, we can put you in touch with Marilyn Steel.) 

All of us probably own or have seen various SCOF T-shirts from the 33 years of the Festival's existence. It is easily the major annual event of our City, drawing upwards of 50,000 people. Not only have locals become collectors, but Festival T-shirts have become the favorite San Clemente treasure of tourists and visitors throughout each year. 

Asked which he liked the most, Bob said, "My favorite is from a couple of years ago, with the dolphin driving the car (woody) station wagon. Every time I look at it, it makes me smile. I wouldn't change one thing on it. With other designs I look at, I might say, 'Maybe I should have moved that pine tree over two inches or that could be in a different color.' I love what I do. I look forward to the Ocean Festival every year. To get the shirt prepared each year, I start thinking of the design in November or December. What are we going to do this year to make it better? Starting in January, I put thoughts on paper. By March, I'm sketching ideas and further developing them. Every year, the process is a little different. I'll have the design finished between the 15th of April and the 1st of May." Bob only insists on controlling the design. He's found in the past it's impossible to satisfy seven or eight people with different impressions and artistic desires. Like Michelangelo, he doesn't need a committee to design the Sistine Chapel. Bob's clothing organization, Harlow Design, now services stores in Hawaii, the Caribbean, Florida, Texas, California – "the sun states.

"I also sell directly to numerous resorts," he states. "I have a neat little business, and love getting up in the morning and going to my office every day." 

Despite the uncertain economy, especially in Hawaii, he's doing more corporate work, producing clothing designs and logos for electricians, boating companies, and contractors. 
"I just did a new shirt design for Fly Surfboards. I made three dozen shirts and had a reorder of 120." Moving from primitive silk-screening processes he operated on by hand, he now uses a state-of-the-art Apple computer. "I still draw by hand, scan into computer, and then arrange all the decorations in the computer." 

On Bob's website, http:///www.harlow design.com, you'll find all sorts of delightful T-shirts to order for infants and toddlers, youngsters and adults, birthdays, anniversaries, and business or volunteer groups. The colorful, cartoonish, imaginative images range from a dog on a skateboard to a golfer breaking his clubs to a Y Indian Maiden in the Chumash tribe. Remember, too, the San Clemente Ocean Festival July 18-19, 2009. You can pick up your collectible piece of Bob Harlow history and make him a new friend. b