To Paint or Not to Paint That's the Question
May 01, 2008 10:15PM ● By Don Kindred
by Bill Thomas
Jean Glass at the beach.It's bigger, it's better, it's broader, and it's a bonanza for plein air painters and art aficionados. The 7th Annual Paint San Clemente 2008 Plein Air Competition sponsored by the 401 members of the San Clemente Art Association "…celebrating the beauty of our Spanish village by the sea" turns our fair city into an artists' colony for one entire week, Saturday, June 14, to Saturday, June 21.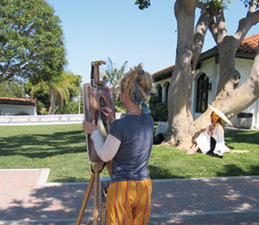 There will be five distinct activities during the 7-day event: 1) The Plein Air Competition lasting the entire week; 2) the two-hour Quick Draw painting competition; 3) Quick Draw Winner Announcements, Sale, and Wine and Cheese endeavor; 4) Outdoor Art Show; and 5) the Collector's Gala Dinner and Award Ceremony. 
On the 14th, from 9 a.m. to noon, 100 artists - locally, nationally, and internationally renowned – entrants in the Plein Air competition, will receive, with stamped numbers, previously submitted framed canvases, paper, boards or other surfaces upon which they will exert their talents during the one-week period. According to Paint San Clemente's Chairwoman, Pam Hill, who is "very excited" about this year's celebration, their creative efforts of subjects, horizons, landscapes, and seascapes painted within San Clemente and Trestles will be submitted for judging on the following Saturday, June 21. With numbered submissions, judges have no clue which artist painted which painting until the numbers are eventually matched with entry names. 
Next, there's the artists' rendition of the "OK Corral Confrontation," the Quick Draw competition. Beginning on the 14th at 1:30 p.m., 60 "swift-handed" artists will each have two hours to paint whatever they choose within the City's boundaries. They can paint the scenery around them, still life sets, or posed models on the lawns surrounding the Community Center and Art Gallery within the limiting time frame; they can also fast-drive to prime locations within San Clemente. These "speedy brush thrusters" can submit only those surfaces upon which they want to render their creations. Their entry surfaces are also stamped with numbers and returned to them prior to Saturday's painting contest.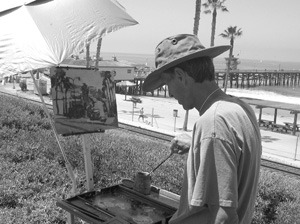 Promptly at 1:30 p.m., an air horn sounds; painters weld their instruments. All around our fair community, busy brushes will blend colors of creativity with the artists' interpretations of reality. At 3:30 p.m., the air horn strikes again; finished works are submitted to art expert Mark Kerchoff for judging. At 4:30 p.m., to an anxious audience, winners are named. Public sales of their "rapid works" begins with wine and cheese donated by Selma's. Unsold Quick Draw entries will be displayed and are available for sale in the Association's Gallery until June 20. 
Alicia and model at the library.Many may remember one hilarious incident occurring two years ago during the Quick Draw contest when lawyer/painter Herman Sillas was entered in his first quick draw endeavor. A regular train commuter between San Clemente and downtown Los Angeles, he was painting an oncoming southbound train as fast as colors and brushes could be coordinated. As the train swept by him, suddenly, Herman 's masterpiece disappeared. In a panic, he scanned the terrain around him. No canvas. He started to move and realized something was caught under his foot. Looking down, he discovered his creation, picked it up, staring furiously at the footprint embedded in the blue sky he had just stroked. It took what was left of his time to paint over his mistaken footfall. 
"I especially love to see the artists painting out all over our community," said Ruth Gooch, Association Director and artist. "We'll have over 100 artists throughout the entire week painting our beautiful San Clemente beaches, scenery and town," 
From Sunday through Friday, all over the city - on hill, dale, trail, street, avenue, park, beach, paseo, bridge, tree, or rooftop – figures hauling easels, brushes, painting containers, canvases, and chairs will be seen reproducing on cloth, wood, or paper whatever has captured their fancy. Their collective intent is to have the rest of us hanging their finished products on our walls. Finally, on Saturday morning, June 21, they'll turn in their visual inventions for judging. Prominent art evaluator Deborah Hughes has the momentous task of determining from 150 or more submissions, which are deserving of artistic acknowledgement. 
But something else significant will happen outside the Association's Gallery on Saturday – the Outdoor Art Show. Not only will local artists and participants in the Plein Air contest be represented, but also other artists and art vendors from all over southern California will be exhibiting their wares. Oils, watercolors, pastels, sketches and photographs will be of subjects beyond the geographical scope of the Plein Art contest. There should be something for everyone in this show, lasting from 10 a.m. to 4 p.m.
Steve Kell competing in the Plein Air Competition. However, our art week hasn't ended yet. From 6 to 8:30 p.m., the Collector's Gala Dinner, provided by artist/restaurateur Dave Donaldson and his BeachFire Grill, takes place, a buffet meal ala super sensational. Then, there's the announcement of the plein air winners and award-giving, as well as ongoing entertainment. This should be a night to be well remembered – the culmination of San Clemente's Art Colony Week. 
Last year, Alfred Tse won first place in Quick Draw and an honorable mention for Plein Air; Michael Situ was first in Plein Air and also had an honorable mention; Greg LaRock was second in both contests, also knocking down an honorable mention for Plein Air; Kevin Davidson took a third in Plein Air and a fourth in Quick Draw; while Art Association President, Steve Kell was awarded an honorable mention in both contests.
Said Steve of this year's contest; "We want to draw the best artists from around the country. The good news is that our local membership artists are quite talented and improving year after year. Even though California has an abundance of professional talent, new faces keep emerging from our own back yard; many are represented in galleries throughout the country. This is why I encourage painters of every experience level to become part of Paint San Clemente. It's a fun event...emphasis on 'fun.'  Yes, there is competition amongst many of us, but the real challenge, the exciting one, is finding that special location bathed in that perfect light, and trying to capture that moment on canvas, trying not to back into cactus, step off a cliff, or inhale one of the many species of flying bugs that invariably swarm in the area."
Twenty-five entrants will receive cash prizes ranging from $5,000 for the grand winner to $100 gifts for honorable mentions. Additionally, proceeds from the event are used in the Association's "Art Reach Program," in consort with San Clemente Art Supply, to provide instructional and student materials promoting creativity to our local schools, as well as four $1,000 art scholarships. Southwest Art magazine and Mission Viejo's Land Rover/Jaguar agency are additional sponsors. b 
For further information, call (949) 369-0260 or visit the website paintsanclemente.com.