Jumping Jack Flash - Tribute Band Keeps the Music Rolling
Feb 01, 2008 09:09PM ● By Don Kindred
by Glenn Hunter Brown, photos by Patrick Wallace and Steve Covault
The newspaper headlines screamed, "The Ugliest Band in Britain!" "They Never Wash!" and of course, "Would You Let Your Daughter Date a Rolling Stone?" They became the biggest rock-n-roll band of their time, and arguably the most successful entertainers of all time.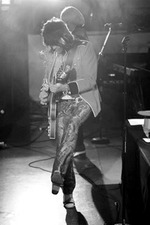 So imagine walking into an intimate local pub and stumbling upon the Rolling Stones! They're all there; Mick is prancing and gyrating. Keith is ripping licks, posing with his trusty telecaster. Bill and Charlie are laying down the back beat, and depending what time of the night it is, Brian Jones or Ron Wood rounds out the line-up. But there's a problem; this isn't London 1963, but rather San Clemente 2008. Put down the pint and take a closer look, mate—it's Jumping Jack Flash! 
California's premiere Rolling Stones tribute band takes its job seriously. Period correct instruments and costumes combine with musical perfection to re-create four decades of "The Greatest Rock and Roll Band in the World." And the illusion began in 2004 when the band members (all veterans with serious musical pedigrees) realized that the Stones were what they did very, very well.
"It took a bit of work, really," recalls Keith (Young Hutchison). "If we'd known just how much work it would take, we probably wouldn't have!" he adds, only half in jest. Studying concert footage and countless interviews have paid off. JJF has it dead-on down to the shag hairstyles (they actually do a two set show where a costume change and a switcheroo from Brian Jones to Ron Wood takes place.) 
For some group members, the illusion is easier than for others. If you happen upon Mick Adams (Mick Jagger's JJF alter ego) you'll surely do a double-take. And if Keith Richards has a doppelganger, it's got to be Young Hutchison. The rest of the line up includes Gary Roach as Charlie Watts, John Burton-Hogg-Lord-On-Thames as Bill Wyman, and Pat Hennessy as the schizophrenic guitarist Brian Jones/Ronnie Wood.
When asked about the similarities between Stones' drummer Charlie Watts and himself, Roach responds, "It's amazing how much we share, really, including our love of big band and swing music, favorite drummers (Max Roach, Tony Williams, and Buddy Rich), fondness for dapper suits and a distaste for drum solos!" I mention that he seems to know quite a bit about the Stones drummer, and Roach responds, "yeah, well we study our characters not only as musicians, but also as people to really nail the show."
"We decline a fair amount of work," says Roach, "because the venue just has to be right. If they're unable to provide appropriate staging and lighting systems, our presentation can be compromised. We learned that the hard way!" He adds with a grin.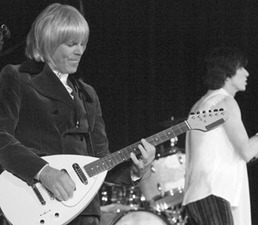 When asked about the myriad of details that JJF concerns themselves with in order to put "the Stones" on stage, they tell me that it's those same details that have put JJF at the top in the business. "For instance," says Hennessy, "how many musicians are willing to carry six guitars to a gig as Young (Keith Richards) has to?"
Answer? Not many, from what I gather, but those guitars are tuned to the various special tunings used by the Stones' Keith Richards to get the sounds that made the band famous. "So to ignore such a thing would just be to ignore a key element of what made the Stones music so amazing," says Hennessy.
With a repertoire of over 400 songs to choose from, it's a challenge to narrow it down to just two sets. "Removing a song can upset one fan and make another's night," says Hutchison, "but we seem to make them all happy in the end!" 
Or put another way, JJF gives "Satisfaction". Sorry, couldn't resist! b