Bill Thomas
Nov 01, 2007 05:38PM ● By Don Kindred
Bill Thomas grew up in Hollywood with show biz parents. His mother was an actress. His father was a theater and touring company manager. He graduated from Hollywood High School and attended Occidental College, leaving to "go on the road" as an actor with Tennessee William's Summer and Smoke throughout the western states. 
Bill had first met his future wife, Diane, in elementary school; they married during Bill's Navy service during The Korean Conflict. Next, he returned to school, eventually earning a BA and MA in Applied Arts at UCLA. Simultaneously, he worked in the theater and television trade, first as a sound technician with such television shows and I Love Lucy and The Danny Thomas Show, later as a general theater manager, technical director, and college teacher. His family moved with him to Germany when he directed and produced soldier plays, musicals and variety shows for the U.S. Army for two years before returning to the United States and entering a doctoral program in higher education at UCLA. This jump-started his eventual career in college and university administration and teaching that included various administrative positions and deanships at UCLA and CalState, Northridge. He became the third Chancellor of Johnston College, and, later, headed Los Angeles' first community college-without-walls. During this period, his focus was on experiential, innovative and international higher education as well as management training and development.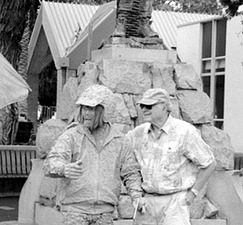 He and his family also traveled and camped throughout the U.S. and Europe during vacation periods. He began writing travel articles along with contributions to academic journals. His articles about his travel and management education experiences began appearing in a number of newspapers and magazines. Along the way, he wrote or co-authored seven non-fiction books, including an English textbook and When I Was Your Age, co-authored with Ed Hallberg, chronicling a significant period of college student life. Now, in semi-retirement, Bill teaches English at Saddleback College and heads up the Journalism Internship program. He continues as a free-lance writer. Soon, he expects to complete his first novel. Bill has been a member of the San Clemente Beaches, Parks, and Recreation Commission for ten years and is Vice President of the California Association of Parks and Recreation Commissioners and Board Members. As a director and founder, Bill also directs the SrNet Cyber Cafe, a Friends of the San Clemente Beaches, Parks and Recreation Foundation project that has provided 2500 San Clemente Seniors with computer education. He and Diane, also a very active community volunteer, have four grown sons and eight grandchildren. "The San Clemente Journal has become my conscious. I enjoy writing about this wonderful community, all its great people and its multitude of 'happenings,'" he reports.