Sonoma Restaurant & Wine Bar
Nov 01, 2007 11:29AM ● By Don Kindred
by Maggie Zeibak
Next time you dine out, change your routine and try somewhere new. Rather than go to the same old restaurants with predictable menus, add a little excitement and go to Sonoma Restaurant & Wine Bar for a new experience in dining. With a touch of Northern California essence, the varied food offerings provide choices for every palate.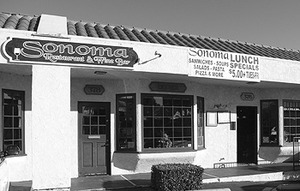 Open since the first part of the year, the man responsible for bringing us a new concept in dining, is food veteran of almost 30-years, Raymond Hamedany, with eight successful restaurants to his credit. Spending much of his time in the Boston area, running a variety of eateries from fast-foods to fine dining, there came a time when he wanted to move to California - settling first on the Cerritos area. When the opportunity arose to open in San Clemente, he busied himself checking out the potential for his restaurant and found that, above all, the beach town nostalgically reminded him of Cape Cod.
Paying special attention to redecorating the premises, wife Golnar, pulled off a rich, elegant setting, yet not so intimidating that you can't go there in casual clothes. The textured tapestries and burgundy color scheme, partners the wine-themed artwork to perfection. Just the environment you crave when you drop into the sparkling clean Wine Bar to savor a glass, or two, and relax on a high stool at the long, wide bar. Or perhaps for a more intimate setting, you'd like one of their tables covered with a white tablecloth, to peruse the extensive wine menu at leisure. They offer over 36 wines that can be purchased by the glass, so there is something new to sample each time you visit. The best part is that you can ask Raymond for his recommendation, both in the Wine Bar and the Restaurant. He has an enormous wine collection ranging from $18 - $900 a bottle, but with 24 hours notice he can have a specific wine available – just ask; he's passionate about wine.
"When I was naming the restaurant," Hamedany said, "I looked at my wine list and saw that most of my wines were from the Sonoma, Ca. area, so that seemed most fitting. Additionally, I've applied for a full liquor license and we have a wide range of imported beers. In the future, I plan to have Wine Tastings and Wine Dinners on special evenings to showcase my selections. Everyone here at the restaurant is dedicated to simplicity and quality at reasonable prices. We work with local farmers and use the freshest ingredients available to create a seasonally changing menu, providing beautiful, delicious and nurturing food."
So, what's on the menu? First of all, it is clearly presented in type that you can read without effort, together with an un-fussy description that still piques your interest. There are soups, salads and starters on one page, entrees on the other – very simple and easy for making up your mind. If the Soup of the Day isn't what you want, then look at the Tomato Caprice with Buffalo Mozzarella, Fresh Basil and a Balsamic Reduction ($8) or a tasty Crab Cake ($9) with Arugula and Zesty Lemon Aioli.
Amazingly, out of the 12 entrees, ten are reasonably priced under $20. High-priced items like the Pan Seared Filet and Bluenose Sea Bass with Stewed Tomatoes, Herb Salad and Basil Almond Pesto are at an affordable $22. The restaurant's Signature dish, and most popular with patrons, is the Braised Lamb Shank with a White Bean Ragout, Roasted Peppers, Preserved Lemons and Wine reduction ($19) – a colorful and most generous presentation, as there are two lamb shanks, not one.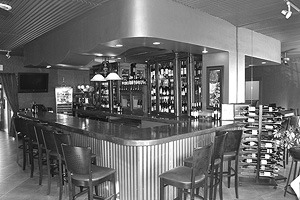 Of course, not every kid is going to choose Feta and Spinach Stuffed Chicken Breast or Potato Gnocchi with Seafood and Sausages, so there is a special Children's Menu and kids under eight are served free. Everyday! Raymond comes from a family of 11 so he understands that aspect of family life, and sincerely welcomes children to his restaurant.
As an alternative to dining in, there is the convenient option of arranging take-out service. What better option than choosing your evening meal, retiring to the wine bar for a freshly dispensed glass of Merlot, picking up your dinner and heading home. Of course, if you happen to be entertaining, say, up to a hundred of your closest friends, you can arrange special catering – just be sure to call in advance. The same applies for parties of six or more dining in the restaurant, otherwise you don't necessarily need a reservation.
Contact the Sonoma Restaurant at 248-4925. Closed Mondays