Experimenting with The Lab
Feb 02, 2007 10:16PM ● By Don Kindred
by Bill Thomas
The Northeast view, the Ole Hanson Beach Club is at the far right.Lab Holding, LLC, a leading developer of specialty retail centers, was unanimously and enthusiastically selected by the San Clemente City Council to be the sole development company to work with the City to revitalize the North Beach area. The Lab has an admirable track record in its previous projects that "…break the mold of conventional development and become community fixtures." Its prospectus describes several unique features focusing on "The Three C's:" Community, Culture, and Commerce. 
Community - The Lab"…tailors a development to fit seamlessly into a community which identifies with local citizens."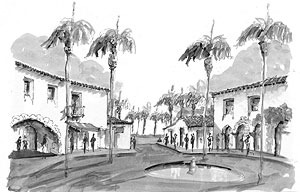 Culture - "Each of The Lab projects provides a forum to support local culture and arts. From the initial design, to the use of skilled artisans and craftsmen in construction and in the ongoing programming of cultural events, art informs the entire process." 
Commerce - With a staff background in the surf apparel industry, "The Lab has a unique perspective on retail development. This experience has guided the approach of creating shopping destinations not guided by the formulaic tenanting plans of conventional retail."
Exploration. 
Since its selection, Lab staff members have attempted to harness as much of a "feel" for the City as possible. They have spent countless hours roaming the site, meeting with prospective business tenants, visiting City staff members, and have conducted two significant design discussion meetings with members of the community. The primary objective of these early contacts is to determine what businesses and services are desired and complimentary to North Beach, to identify intangibles that could translate to tangibles. Searching for actual design criteria that will directly reflect the intangible values, quality of life, respect of nature, and love of community that the residents favor is a very tall order. Restrictions such as parking, competition with existing and future City commercial centers, structural requirements, possible acquisition of other North Beach properties, and the long and involved process of moving from ideas to actualities are paramount concerns. However, the prevailing Lab attitude, expressed enthusiastically by President Shaheen Sadeghi, is that both large and small obstacles are "…merely challenges."
View from the top.Consultation. 
City staff conferences with City Manager George Scarborough, Community Development Director Jim Holloway, Principle Planner Jim Pechous, and others have identified the specific courses of action necessary to determine the types of businesses and services which should exist in North Beach, the required infrastructure, and how buildings, gardens, parking and roadways will be designed and placed in an overall site plan. Once the basic design and inclusion of the components is determined, the specific plans for construction and amenities will have to be approved by the respective City, County, and State agencies.
Community Meetings.
Two well-attended community meetings were held. Each drew more than 100 local citizens. Shaheen Sadeghi and his design staff presented potential architectural renderings and topographical layouts. At the first meeting, three distinct prospective plans were reviewed. Questionnaires requesting individual input were distributed
.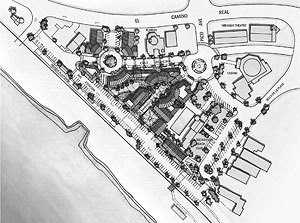 "Having completed our open meetings, as a company, we were very pleased, " Sadeghi reported. "We had a wonderful turnout; attendees had a very impressive passion. They showed up late, stayed late, engaged and participated. That means a lot to us." Many of the participants were residents of the North Beach locale. Sadeghi felt the turnout represented "wonderful balance and good mixture." He was pleased that the mayor, city council members, the city manager and city planning staff and committee people attended and was happy with the turnout and participation. 
"These meetings are really instrumental to us," Sadeghi continued. "Part of it is letting the community know what we're doing. Yet, as good as you think you are as a developer, a lot of folks who have lived here for many years can provide information and knowledge that has great value to us. That's not something you can go out and hire a consultant to do. It provides us good solid ingredients to work with. The timing was really good, too. We didn't have hard drawings. We're still exploring and looking at different perspectives and opportunities. So what was said and communicated really made sense. We have the opportunity to incorporate what was said into our plans." 
Material from the questionnaire, which participants completed, has already become a part of an elaborate Lab filing system. "This information won't get lost, which is good," Sadeghi said. 
During the second meeting, elements of the two plans participants favored were combined into one rendering for discussion purposes. "We weren't 100 percent certain how the community would react to this particular plan. One of our concerns was that there is so much under promise and over deliveries in this world. We found sincerity in this community. They came, they saw. They looked, asked questions, and had lots of concerns. They felt great about the opportunity to be a part of the process. Their feedback has not been negative, but positive. People are excited." He added.
Parking. The greatest question is parking. The dilemma is whether or not the structures will face sand or a parking lot. Community meeting participants were about 50/50 on the issue, some wanting to park close to the water, others feeling the "precious land" shouldn't be used for parking spaces.
Current design for Center Court."We'll probably have some sort of compromise because parking is sort of the driving force for the project," Sadeghi opined. "We're trying to come up with ways that can provide easy access to parking. Yet, we still have to be sensitive to utilizing the site for a little more want and a few more amenities than just a parking lot," pondered Sadeghi.
Another alternative would be a parking structure or parking relief close by. The Lab team is hoping to find a parking solution within the next 30 to 60 days. Parking is a common regulatory issue for the City and the Coastal Commission. Parking spaces often depend on the number of train travelers, seats in a theater or restaurant or relate to the square footage of retail businesses. 
Potential Tenants. The Lab team is also excited about the types of businesses that may be drawn to North Beach. "We've done a little pre-tenant work, Sadgehi admitted. "However, people would like to see the next level of sophistication in our plans. We've promised not to take business away from Del Mar and do plan on bringing in new stores. We're not a two million square foot mall. If, at the end of the day, we end up with 65,000 square feet, with three or four cool restaurants and several boutique shops, I'm done," he said. "If we can do a good job, there won't be a lot of surprises we haven't thought about. The development of El Camino Real could be next. It's very tempting." 
Sadeghi believes the nearby Marblehead Coast project, with a hotel, convention center, commercial outlet stores, and residences will be complimentary to his North Beach enterprise. As an anti-mall, The Lab does not intend to attract national branches of large companies nor restaurant chains. As to signage, Sadeghi remarked that their Costa Mesa based Lab didn't even have a sign for its first two years.
"Having information for directions is important," he said. "But if we build buildings that have integrity, and we plan egress and ingress where it's easy to find your way in and out, we don't have to have Las Vegas signs. We're very low key."
What will it look like? 
"We're in this for the long term," Sadeghi suggested. "Intangibles, values. and quality of life are why we like this project, where it is, the great site. Those amenities were always a factor. We're not planning another Costa Mesa Lab here. We're looking more in terms of culture building and making something site-specific as opposed to our Camp location or a large surf shop. There's lots of excitement when we talk about restaurants and boutique expression-based retails. San Clemente is about specialty and boutique - our same philosophy. The project will be successful if we can get the local community to embrace and also use our products. We don't want this to be a just a tourist place. Tourists are temporary; locals are permanent. Everyone has his/her cool little breakfast place or café. Those places last forever. That type of product intrigues me. Of course, tourists are welcome," he added.
As to a hotel, Sadeghi feels the City decision-makers should help address this question. One of his team's challenges is the density of the project and such restrictions as an easement to resolve with Ole Hanson Beach Club, a sewer system, and, of course, parking. The Miramar Theater is also still a factor. Its looming sale could provide additional activity. On a timeline, Sadeghi feels The Lab is right where it should be. He hopes plans will be formulated by next spring, followed by gaining approvals from the City and the California Coastal Committee, and the opening of Lab offices in town. 
In the meantime, The Lab is taking care of business… b