Behind the Green Door Dennis Roger Reed
Aug 29, 2006 10:54PM ● By Don Kindred
The City's Beaches & Parks Maintenance Manager, Keeps it Clean.
On July 10, 2006, Dennis Roger Reed will celebrate his 27-year anniversary with the city of San Clemente. Reed's story is not your typical, city employee's, tale. A multi-talented, multi-dimensional, individual, he is an unusual dichotomy - in his other life, he is a singer-songwriter, who has played for more than a decade on his own, and with a variety of folk, rock, blues and bluegrass bands - as well as the writer of a music column in a bi-monthly Los Angeles folk music, newspaper, "Folk Works."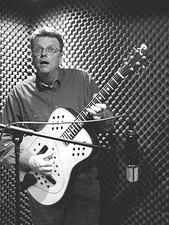 As a singer-songwriter, Dennis has released two solo CD's, appeared on two CD's with the new-grassy Andy Rau Band, and on two CD's with the roots rockers, Blue Mama. He sings and plays acoustic and electric guitar, mandolin and bass, and has done live radio concerts on several Los Angeles stations as well as KSBR in Mission Viejo. 
Reed will soon be the narrator in an up coming, musical, production, called "Be Careful What You Dream." In collaboration with other musicians, he has written both lyrics and some dialogue for this play, and contends that his musical avocation is cheaper than psychoanalysis.
Born in Pasadena, Reed moved to San Clemente in 1978 from Fullerton where he and his wife were attending college. Prior to his move, he had worked for five years at CBS Musical Instruments in Fullerton, commonly known as Fender Guitar. At Fullerton Dennis started working in the wood shop, then moved to maintenance, and was groundskeeper his last three years there. In college earlier, he had worked for a commercial landscape maintenance firm. 
Looking for cost savings, CBS had terminated a landscape contract with a three-person crew and "promoted" Reed to head (and only) groundskeeper. Dennis recalled that he was able to convince them of a need for staff, and it became a good training ground for learning more about landscaping.
Then in 1979 Reed acquired the job of maintenance worker for the city of San Clemente, working his way up over the years to his current position by, what he fondly described as, "the Peter principle." 
"Government work is in my DNA, a genetic flaw," Dennis revealed. "My dad was a park host for Riverside County." Many of Reed's other relatives also worked in government jobs - fireman, paramedics, public works, among others. 
Having had friends in San Clemente since the early '70s Dennis says, "as an easily swayed young man," - when a friend had a great apartment in San Clemente and told me he was moving - "we threw caution to the winds and moved without even having jobs." Strange talk for this energetic, multi-tasker, who has at least three jobs now, plus maintains an active family life with wife, Waverly, a graphic artist, and son, Mark, 12. 
"Waverly 'loves San Clemente,' so much," Reed commented, "she commuted to Whittier for years rather than move out of San Clemente to be closer to her job."
While he is fond of the mountains, where his brother recently moved, Dennis truly "loves the climate, the people and the small town feel in San Clemente," and thinks it's a great place to bring up kids. He also loves the fact that San Clemente still maintains its historic areas and states, "its sad that towns like Whittier, don't maintain their older sections. Clearly, Avenida. Del Mar is not the center of San Clemente anymore, but it still plays an important part in the City's history."
As a singer-songwriter, Dennis has released two solo CD's, appeared on two CD's with the Andy Rau Band, and on two CD's with the roots rockers, Blue Mama. He sings and plays acoustic and electric guitar, mandolin and bass ...
Dennis, who talks a mile a minute, says its because his mother talked all day long, non-stop, and it was either learn to talk fast or not get to talk at all. Having a father who was born in the mountain culture of the Ozarks in Missouri, his family roots dig deep into the American south. This background has bred into Reed's personna, a natural love of roots music and down to earth, simple, moral values. He likes "roots music, where you can age gracefully, and you don't have to be twenty-two and thin to embrace it." 
Although his formal education was in liberal arts, Dennis was schooled mainly through his life experiences, accompanied by several job specific, certificate programs. When he began his City tenure, the population was closer to 24,000, now it's pushing 66,000, with a projected build-out of 75,000 people. He has a full-time staff of four park inspectors, one full time maintenance worker, and a dozen or so contract-workers. He oversees a basic budget of well over three million, including maintaining over twenty-one parks, with more on the drawing board, 250 acres in all, including green belts, parkways, medians and the City's beaches from North Beach to T-Street. Working to maintain parks, many of which are 50 to 60-years-old, would be a daunting task for anyone, let alone someone with so few staff members. The new thought process for the City has become "we can't build it unless the City can maintain it." The beaches and parks department is in competition with other City entities for the funds to both build and maintain new parks.
As Reed tells it, " there is a right way, a wrong way and the government way of doing things." The private sector is 'profit based,' and the government sector is supposed to be 'service based.' There are attitude differences; our focus is on 'the results.'"
Dennis is hopeful that there is someplace in between where he can meet the public's expectations and still co-exist with the City's goals. As a longtime San Clemente resident and taxpayer, he is also a stakeholder in the City and he cares about the budget and the outcome of his level of service. There are different expectations from different segments of the population. A surfer wants one thing, a family another and seniors, or singles, another. They all have a variety of requirements for their City beaches and parks. But they all share a common desire; a safe, clean, green, environment.
When asked what he would like San Clemente Journal Reader's to know about his hopes and dreams for their city and about his working philosophy, Reed's already expressive face, crinkles up as he seems to be looking far away recalling a recent experience at his church. A guest speaker asked the congregants to "write your obituary." Dennis pondered about what he might like to be remembered for. As it turns out, he never thought of himself as a provider of community service - being taught as a southern child not to "blow his own horn," – but he would like to be remembered for, perhaps in some small way, making his community a better place in which to live. 
In the final analysis, Dennis Roger Reed says, "it is the small things that matter." Installing a sidewalk for the kids near Ole Hanson High School, and answering countless complaint calls from local citizens with the same, even-tempered, patience he continually displays, treating all with the common courtesy and respect he feels he owes them. Never forgetting who his real employers are. That's what is important to Reed
A broad smile on his face, Dennis laughingly shows his ready sense of humor when asked why he cut his trademark, longer than shoulder-length hair. He states, he is saving the City thousands in shampoo and water costs, to say nothing of having more time to maintain his beloved City's beaches and parks during these longer, San Clemente, summer days. b
To learn more about Dennis Reed visit
www.dennisrogerreed.com
. or call the City of San Clemente at 361-8278, where he will be hard at work.