Strolling Along the Art Walk
May 05, 2004 05:59PM ● By Don Kindred
by Bill Thomas
     If you've ever spent one of those unforgettable evenings basking in the ambiance of Paris' Champs Elysees, inhaling the flowered beauty of Copenhagen's Tivoli Gardens, mingling with a fun-loving crowd in Barcelona's mid city, or ambling along San Antonio's River Walk, you've already experienced something of the feeling desired by the organizers of San Clemente's forthcoming Art Walk.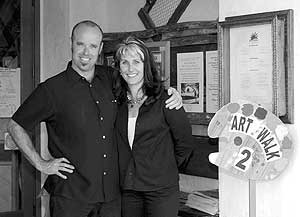 George Gooch and Dave Donaldson, community activists, are cooking up a caldron of art, culture, cuisine and atmosphere to create five "enchanted evenings" for our community this summer. Following the success of last year's Art Walk, Gooch, a professional photographer and President of both the San Clemente Art Association and Garden Club, and Donaldson, owner of the Beachfire Restaurant, founder of the Downtown Restaurant Association and contributing member of the Downtown Business Association (DBA), are inspired to bring a European touch to our Southern California enclave. 
     "We're not asking for the moon," Gooch commented. "We just want to encourage people to come downtown one balmy summer evening each month to savor what's happening here. To view artists working on their easels; sip a varietal, gratis glass of wine; munch on cheese and crackers; listen to the soft melodies of a musician playing a violin or mandolin; take pleasure in a romantic meal in one of our first class restaurants; meander by or drop into one of our downtown stores or shops - to genuinely enjoy a special San Clemente evening." 
     Added Donaldson, " I can see hundreds of people walking up and down Del Mar and El Camino's T-Zone, taking in all the art and artists who don't get that much exposure. As well as our art gallery, exhibitor and restaurant involvement, by adding a wine and food aspect to the event. It's also an opportunity for the DBA to encourage merchants to open up at night. It's all about the maturing of San Clemente and downtown reaching its full potential, having something for everybody: food lovers, art lovers, shoppers of eclectic gifts. We want to make it different from a mall-type experience. We want people to enjoy our own special, beautiful, natural outdoor mall, one that's superior in character to anything else in Orange County."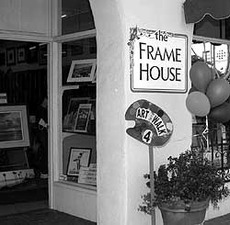 The 2004 version of the Art Walk is a summer series of Thursday evenings, from 6 to 9 pm, on May 27, June 24, July 29, August 26 and September 30, 2004. A time when members of the residential and business communities converge in a fashion only a town like effervescent San Clemente can host. Artists, both professional and amateur will be "judged in" by Gooch and Donaldson. 
"We'll invite artists who can do demonstration work, who've proven a high level of quality, whether they're amateurs or professionals. First space priority will go to working artists who're members of the San Clemente Art Association," promised Donaldson. "Up to twelve artists will be in different locations on sidewalks in front of San Clemente restaurants and stores, painting and drawing, performing their art under observation, all exhibiting different types of art."
     "We'll have our top artists here, painting originals; several are world class," added Gooch. "At the Art Association Gallery, besides the works on display, there'll be "hands-on" experiences for children and potential Michelangelos to try out watercolors or acrylics, mix oils, sketch in perspective, wax encaustic, sculpt and make wood cuts - all under the supervision of an expert in the medium."
     Members of San Clemente's Downtown Restaurant Association planning to participate include: the Vine, Gordon James, Café 207, Antoine's, Carbonara's, The Village, A Matter of Taste, The Library, El Ranchito, The Village Gourmet and the Beachfire Restaurant. Owners and managers are enthusiastically supportive of the concept, promising especially delicious dinners and atmospheres contributing to the Art Walk theme. They will rotate over the six Thursdays, providing free wine for passerby and patron tasting. 
     "Can't you visualize it?" asked Gooch, "People happily strolling casually down our streets, pausing at the corner to view a painter at work, walking on to the next spot on the tour. At the new bulb-outs, wine tasting, dining, just enjoying a pleasurable evening in our beloved San Clemente…people who want to be involved in something evolving - to help make it grow."
     Gooch is taking care of the program and map; Donaldson is lining up the galleries, restaurants, and members of the DBA to participate. It will be an opportunity for many downtown businesses to keep their doors open during the Art Walk, for the purchases of paintings, gifts and other merchandise. 
Dave and Allison Donaldson owners of the BeachFire Restaurant.     "This is not an event just to make money," Gooch suggested, "In fact, the only art sold will be in the stores, not out in the streets. Prices will be 'just right.' We're creating a happening, an opportunity for cultural enjoyment. Nothing will be peddled on the streets; it's not a street vendor faire." He added, "We're a beach town, and we're trying to elevate this event. It's not going to be high class nor will it be a "sand-in-the-shoes" walking type thing. It's going to be an evening in town, a nice, tasteful, social experience."
     Last year's first ever Art Walk was modestly successful. Eleven art galleries participated and contributed funds, the Art Association and the DBA helped with expenses, and Gooch contributed some of his own money. 
     "Now we have the talent and influence to obtain support collectively rather than singly. Some of the galleries don't have a lot of money and just get by. We want to help them, too. We want to keep the art galleries we have," said Donaldson. 
     Other elements being added to the tasteful caldron may include, the organizers hope, a shuttle bus to enable the tour to extend to other locations such as Jason Kuncas' JK Art and Design Gallery and the Art Supply Company. The participation of the Casa Romantica, which may become an anchor for this particular Art Walk, is also in the planning picture.
     "The Art Walk can bring together so much of what I like about our town," mused Donaldson, "We have the opportunity to give it the 'San Clemente twist,' which, to George and me, means being socially relaxed and friendly. Similar events elsewhere may have all the weight of gifts, music, art, food, but we have a special San Clemente style, a little more casual and accessible. I sometimes become a little uncomfortable in some of the galleries in other cities. You're expected to be an art expert. We want everyone to come; it's as much social as anything else. Ultimately, to me, it's about connecting the community, a big opportunity to bring a lot of different parts of the community together to share an awesome experience. I think it'll be cemented as one of the best events in San Clemente in bringing people together." b