Senior Citizens Boogie Boarding and Lovin' Life
Feb 05, 2004 05:21PM ● By Don Kindred
by Helen Chade Mahshi
   There's a group of people in San Clemente who don't allow their age to define who they are, or what they can do. These are the people who love life and greet it head-on.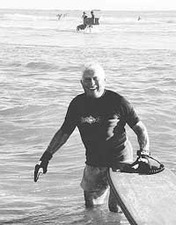 Betty Hapke, at 77, is a woman to admire. She learned to Boogie board about 13-years-ago and continued until age 75. She continues to swim daily to stay in shape.
    "I can remember the first time I caught a wave," Hapke laughed. "Here I am this old lady on the beach and I'm screaming and laughing as I'm bringing the wave in. Everyone on the beach was looking at me and laughing, but I didn't care. I was having a fabulous time!
    "Thirty years ago we started going to Newport Beach and swimming in the ocean," she reminisced. "Boogie boarding is so thrilling. We just watched the kids around us and learned how to boogie board by doing what they did." 
    After 59 years of marriage, Betty is still deeply in love with her husband Norm. She describes him as a man who "likes to live on the edge." At 82, Norm still goes scuba diving and takes his grandson with him.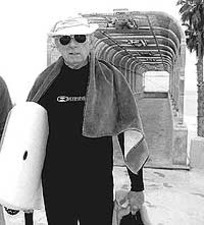 Leo Chade, a 73-year-old life-long resident of San Juan Capistrano, said he "started boogie boarding about 10-years-ago. This is a sport you can do into your later years of life," he explained. "It's very therapeutic and healthy for you. It's also family-oriented. You see parents boogie boarding with their kids or grandkids. I have met a great group of friends that I've gotten to know over the years and have a great deal of respect for." 
    Every weekend in the summer months, you can find Leo with his buddies on T-Street beach. He started body surfing on the south side of the San Clemente pier when he was about 15. "Back in the 1940s," Leo recalled, "the waves were so big, they'd go over the pier. We would dive off the pier, wait for the next wave to ride in, then walk back on the pier and do it all over again." 
    Leo has surfed with the Hobie 10'4" longboard over the years, and has a deep love and appreciation for the ocean. One of his longboards presently hangs in his Real Estate office in Capistrano Beach.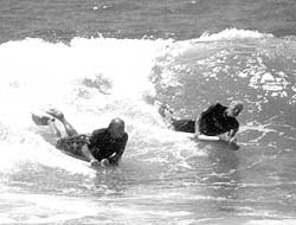 John BergesJohn Berges
    John Berges, 71-years-old, can be found boogie boarding at T-Street year-round.
    "I'm a water person," said John. "I live just a few blocks from the ocean. I learned to body surf in the early '50s and through the '60s. I never did learn to surf the longboard, but just being in the water is a real thrill for me. I still enjoy body surfing, also. Sometimes I'm the only one out there on a cold, winter day riding the big waves."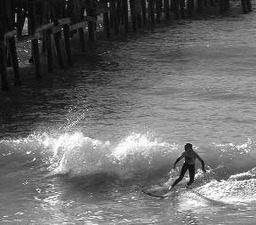 Neil Kohlhase
    At 81, Neill Kohlhase is the oldest in the group of friends who boogie board at T-Street. He's also respected as one of the best in the bunch. 
    "I've been body surfing since age 10 or 12," said Neill. "I've been boogie boarding for the last 20-25 years. I like them both, and go in all year. On a summer day, I'll stay from 10am-5pm. I remember one of the longest and best waves I ever got at T-Street. It was a big, south swell. At the angle the wave was coming in, it was heading straight towards the pier. I rode it all the way from T-Street to the beach right by the pier. It was such a long, long ride."
Neil Kohlhase    A common thread connecting these old-timers is their passion for the ocean, and for staying physically fit. They swim, hike, golf, ski and play racquetball besides riding the waves. They stay young in heart, body and soul. For all of them, the ocean holds a special place in their heart. 
    Betty Hapke eloquently describes what many feel, but can't always put into words. "The ocean for me is a spiritual experience," she says quietly. "It loosens me up. The ocean is so magnificent and grand, everything else seems insignificant in comparison. That's where I feel God's presence." b