Raad Ghantous World Citizen Finds San Clemente Home
Feb 05, 2004 04:55PM ● By Don Kindred
by Don Kindred
     There is a story behind every door in San Clemente. We have each found our way here through some complex path of choices and 
circumstances. We are bound by the fact that we came, we saw, we loved it, and we stayed, but it is often that path that make us unique...
     Raad Ghantous is an interior designer who has recently lent his time and talents to help transform the Casa Romantica into a magnificent Cultural Center here in San Clemente, but his journey began half-way around the world. His life experience and travels have given the articulate man a broad perspective of the global village.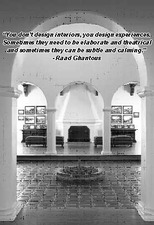 Ghantous was born in Baghdad, Iraq, his mother was half Lebanese, a Catholic. His father, a Greek Orthodox Civil Engineer, had moved to Iraq from Haifa, Palestine with his father.
     "My Grandfather had moved the family to Iraq because the schools were there. When my father grew up he moved us later to Abu Dahbi where he worked to build airports and infrastructure."
     "There wasn't much there then," Raad says, "they would slick the dirt with oil to make it look like a road, we lived in a construction camp where the entertainment was movies reflected on the outside of the commissary every Friday, and the cooks would make indian curry and we sat outside and watched the movie."
     In 1970, the Ghantous family moved back to Kuwait where Raad attended a British system high school. When it came time for college, he was prevented from attending his father's alma matter, which was the American University in Beruit, because of the war in Lebanon, so he went to the American College of Switzerland in Leysin and earned an undergraduate degree in economics.
The Ghantous' home in San Clemente is filled with treasures from around the world.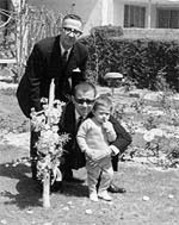 Then he came to America...
     His younger sister was moving to California in 1985 to attend college at Claremont-McKenna. Raad decided to come along and attend the gradate school at Claremont to work on his MBA. 
     Finding himself undecided on a career, he took a job with a friend of his father's in the construction industry. The experience uncovered a talent for the design aspect of construction, so, when the industry went soft in the early '90s He decided to take a class in interior design. "The next thing I new it was three years later and I have another undergraduate degree in interior design," he recalls.
     His career took a leap when he landed a job for the number one design firm in the world for five-star hotels and resorts, the legendary, Whimberly Allison, Tong & Go, (WAT&G) who's impressive list of clients includes everyone from the Royal Hawaiian in Waikiki to the Ritz Carlton in Laguna Niguel. 
     "I've also worked for Hirsch-Bedner and Design 1, where I was involved in other hospitality, residential, retail, commercial and even yacht projects. I couldn't have planned to have better training that would have given me the exposure and expertise to logistically formulate a large plan of action, for the scheduling that goes beyond,'what fabric we're going to put on the sofa?'"
     "On one project I spent three months on the island of Mauritius, in the Indian Ocean, executing a five star hotel. The experience was invaluable."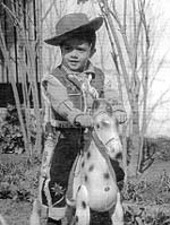 Raad's past project experience includes design and consultation services for a 35,000 sq.ft. mansion in Beverly Hills, interiors of hotels, spas and even the occasional yacht. The locations of these projects have taken him to such exotic destinations as Spain, Japan, China, Taipei, Bermuda, Cabo San Lucas and the United Arab Emirates
     After 10 years in the business, Raad, decided it was time to put his own name on the letterhead. He formed Raad Ghantous & Associates in order to pursue a wider variety of clientele and be more involved in his adopted community. The move, he says has been worth it. Now he is augmenting his design services with a line of designer accessories imported from Morroco and Egypt (
www.raadg.com
, for the curious).
     "The fact is that any business is demanding," he admits, "but I still wake up 9 out of 10 days loving what I do, and I look forward to the challenges. I have the opportunity to live in beautiful San Clemente, to be involved with the city, and still be able to travel. I currently have projects working in Atlanta, New York City and Vail, CO.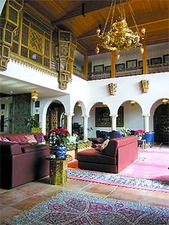 Raad's work is featured at the Casa Romantica.
     Ghantous' creative philosophy is simple..."You don't design interiors, you design experiences. Sometimes they need to be elaborate and theatrical and sometimes they can be subtle and calming."
     But he doesn't embrace any particular style, "I believe if I'm doing my job, the project shouldn't look like me, but provide a beautiful reflection of the client or the project itself."
     In the relative short time, five years, of living in San Clemente, Raad's local involvement goes beyond his role as interior designer of the Casa Romantica. He has recently taken an interest in the Downtown Business Association, where he serves on the Design Committee and the San Clemente Historical Society, where he serves on the Board of Directors and represents them at city Design Review and Planning Committees.
     How does he find life in San Clemente compared to other parts of the world?
     "What, with traveling and/or living in many corners of the earth, I used to feel like I really didn't belong any particular place, I didn't feel out of place mind you, just not fully rooted anywhere, I was a citizen of the world.
     "Having said that though, San Clemente has become my home. The weather here is nothing short of amazing, sunny, and the people I have met have been warmer still. The growing sense of community has been a wonder to watch, and rewarding to be a part of. I may be a citizen of the world, but San Clemente is definitely home."
Raad, as a baby, with his father and grandfather celebrating Easter in his native Iraq.
And as a Western cowboy in the 
Middle East.
Coming to America...
For Raad Ghantos, the United States wasn't much of a culture shock. "We knew a lot about America. I had an uncle who had been in Chicago since 1965. I had studied the language in school. I had also spent time in England, since nobody vacations in Kuwait in the summer because of the heat, we were fortunate enough to be able to go to London or Chicago." 
He shared a few first impressions. "When I first came here, I found that most people, although they were intellectually smart, were not as informed about other countries. We know more now because of the war in Iraq, but I remember someone once asked me if we really lived in tents in the middle east I told them no we lived in villas ... with two-camel garages," he laughs.
"In Europe and the Middle East, because of the size of the countries and the impact of outside countries, you seem to stay more informed, because you read and you see and basically you need to know what's going on around you.
"People in Claremont didn't know what's going on in Upland, and I understand, why do they want to? Why do they need to? In other parts of the world, the desire to be a part of a bigger picture is somewhat out of necessity, but it is also very much a part of the culture.
"Of course the society is different here. Our heritage is different. In this country 200 years ago the population was all on the East coast, if we didn't have the independent,'Go West Young Man' mentality, the country would be half empty. 
"I also find things go at a slower pace in other countries. I've been on trips to Greece and other countries where it would be more normal to go home for lunch than to eat at your desk. They don't have as much, in most cases, but there is less of a drive to have every new thing."
{ top of page ] [ home ] [ current issue ]