Geoff Glenn - Paint Brush or Camera Button?
May 01, 2011 09:43PM ● By Brian O
Multi-talented artist Geoff Glenn, showing at the Warehouse on Los Molinos.
by Bill Thomas
Among a large number of active young artists in San Clemente, Geoff Glenn stands out. Not only is he a talented painter in the art of acrylics, but he's also a skilled photographer, specializing in ocean-related subjects. Since 2005, camera always ready, Glenn has been taking photography/surf trips to such appealing and varied locations as Costa Rica, Indonesia, Hawaii, the East Coast, Baja California, mainland Mexico and the United Kingdom. A home-bred San Clementean, Geoff was born at the Beachcombers' Hotel by the pier when it was primarily used for apartment rentals. Homeschooled until the sixth grade, he began surfing at an early age, also dabbling in drawing and painting. Since his father, Greg, was an amateur artist who has continued as his mentor, Geoff and he took bi-weekly trips to Baja California to pursue their mutual surfing, drawing and painting interests.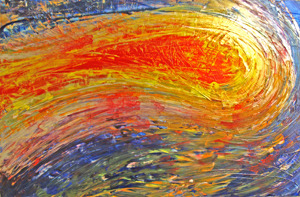 Geoff attended Concordia Elementary School and San Clemente High School, where his artistic bent was recognized and encouraged by his teacher, prominent local artist, Rick Delanty. Later, he earned his BS degree in media arts and animation from Costa Mesa's Art Institute. He is self-taught in photography, carrying out various experiential education projects. Along with formal schooling, he studied the electrical trade, by which he earned his way through school. Acquiring this trade enabled him to become a full-time practicing electrician to support and expand his pursuits in the art arena. As a painter, he specializes in acrylics, a fast-drying paint that can be diluted or modified with acrylic gels, media, or pastes to resemble either a watercolor or oil painting. It has its own unique characteristics, particularly with its rapid drying time; Geoff favors applying thicknesses that resemble oil applications. His subjects vary but tend toward modern art and his own interpretations of nature and manmade structures. As a photographer/surfer, he blends those skills, not only with renderings of ocean motions from the shore, but atop and below the ever flowing waves.
"My focus is to create stunning images inspired by the power of the natural world," Geoff attests. "I want to convey how lucky we are to have such beauty to experience. My goal is to capture that beauty in unique ways and show people the amazing qualities of the world around us, to make them aware of the fragility of the environment." Geoff is also an active advocate of environmental preservation. He appreciates the community's support of the arts: the Art Association, local businesses, and, especially, the San Clemente Art Supply, which provides all of his essential materials "…at reasonable prices," and where he has held five showings of his artistic efforts.
According to Geoff, "I often use the Green Flash Gallery space, which is rented to young and emerging artists to showcase their art and learn how to run their own art shows." Asked about collectors of his creations, Geoff credits his friends as his prime exhibitors. "Each of my buddies has about three pieces, which I provide at very low prices," he admitted.
Drawing a number of small sketches or paintings, primarily 8" X 10," which he sells for $20 to $50, his work is very affordable and all of it is framed.  Depending on the subject, time involved, and size, medium sized paintings start at $100 and can go up to $1,000 for four to five foot sizes. He also paints by commission. "I'm building my own pyramid of talent; when the inspiration connects with me, I can execute," Geoff says.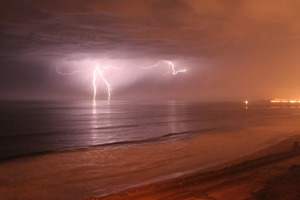 Geoff Glenn's versatile art work can be viewed at The Warehouse on Las Molinos in the surf district of town, where his studio is also located. The Warehouse specializes in unique and handmade garments and accessories from such originating locations as Mexico, Ecuador and Peru. Merchandise includes Mexican blankets, hoodies, house boots, beads, wristbands, ponchos, and the largest, and probably the only, collection of Panama hats in our fair City. There are also unique clothing collections as well as art from other local artists like Britt Tobia and Heather Ritts.  "The Warehouse proprietor, Dean Reynolds, has been super supportive of me," Geoff suggests. "Dean's long experience managing Stuart's Surf Shop, his openness, and his creativity has given me a good start in the art world over the past two years."
Of Geoff, Dean said, "He's a rare breed, an electrician by day, and surfer, artist and photographer by night and weekend; his style dimensions you really don't see in other artists." The Warehouse is open most afternoons from noon to 6 p.m. and all-day Saturdays. "If the front door's open, so are we," said budding artisan Geoff Glenn, who's engaged to Saddleback College English professor, Oceana Callum. b
Geoff Glenn art may be found at www.coastaldesignsolutions.com.