San Clementean: City IT Manager Larry Moore – The Happiest Man in San Clemente?
Jan 01, 2011 11:09PM ● By Brian O
Larry and his family at daughter Kristin's wedding.
By Bill Koelzer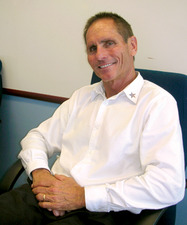 Larry Moore, 57, Information Technology (IT) Manager and 40-year City of San Clemente employee, knows exactly where he was on July 4, 1971 when he looked at his surroundings and said, "It just doesn't get any better than this!" He was a part-time city lifeguard, standing in the Mariposa lifeguard tower #6. "There was a beach there where fireworks were allowed until late night. It was like a big party and I kept looking around and thinking, 'I can't believe people actually live here. This is where they get to wake up every day."
   Moore, the chief architect of the city's remarkably user-friendly, 420-page, public web site at www.San-Clemente.org, still feels that way. "A Fullerton high school graduate, I had said then, 'Someday this place is going to be my home.' But the U.S. Government had a different plan, so I enlisted in the U.S. Coast Guard, becoming a Second Class Port Security Man, E-5. Where most guys had pictures of their girlfriend ... I had a picture of the San Clemente pier. I was coming home! That's what got me through.
   "After the military, I returned to the beach and resumed college at San Diego State, playing water polo and swimming under a partial scholarship. In 1978, I graduated with a pre-med BS degree in Zoology ... I didn't go on to medical school, though, as I was deep into lifeguard competitions by then." Moore's love of lifeguarding, along with his outstanding military service got him assigned, at age 26, to officially represent both the United States Lifesaving Association, and the City of San Clemente, on a foreign exchange tour that comprised six months of traveling the South Pacific in Australia, New Zealand, New Caledonia, Fiji and Oahu's North Shore.
"Our group would visit little cities in New Zealand and when I said that San Clemente was my home, everyone knew the name because of Nixon's Western Whitehouse here." Moore smiles, "Talk about Endless Summer ... I spent our Southern California winter being in the Down Under's summertime. Then I came back here just in time for our own summer - and once again, I remember saying to my San Clemente friends, 'This is as cool as it gets!'"
Moore lights up, "But it got even better! When I returned, I married a local girl in 1980, the former Jeannie Fournier, and we've been married nearly 30 years. Okay, so, the thing that got me back to San Clemente was not solely the love of the town; it was also the love of a local girl." Jeannie was one of the early students at SCHS. Larry says, "Her family goes way back in town, with some of them being founders of the big Methodist Church on the hill." He pauses and chuckles, "It was kinda cool marrying into a long-term family...it was like gaining 'Instant Roots" in our little town.
"So still in 1980, I'm a full time lifeguard and it really doesn't get much better than that, but it can get a little slow. Thus, I go back to college and start taking classes in something new called "Computer Science," even though the Personal Computer hasn't even come out yet. "It was almost like it was meant to be, because within two years the city bought its first computer system - a McDonald-Douglas M-9000, running an operating system named 'Pick,' named after Richard Pick, and it was a database operating system with a whole 256 megabytes of disk! It took up the entire room and looked very impressive with its big tapes.
"The city finance director then was Dean Porter and he knew that I was taking computer classes in my spare time, so he invited me to come up and just look at the City's computer system. I couldn't keep my hands off of it. Porter and I became good friends and still are. "I challenged him: 'I think I can write a computer program to do the city's budget as well as you can do it by hand.' Note that this is very early in computers, but I was young and arrogant, and for the next five years, the city used my program with my database operating system that we called 'Audit.' When people asked where it came from, city employees just said, 'Some lifeguard wrote it.'
"In 1985 Dean Porter offered me a full time job here, which I turned down. My dream was to surf, lifeguard, and be married to the prettiest girl in San Clemente and that was enough. But Jeannie sat me down and said, 'You may want to take another look at this, because at some point these computer things may take off and this could be a great opportunity for you.' Therefore, I made a deal that I would work here just one week to check it out. I had no tie or nice shoes, but I ended up working here at city hall for that whole winter of 1985-86 and, of course, much longer. I even learned to fashion single and double Windsor tie knots, while bringing PCs to the city and networking them. Today, our city government has about 250 PCs. "In the late '80s, Saddleback College asked me to teach there. Soon Microsoft wanted me to coordinate the Microsoft Academy at Saddleback, so I became a Certified Microsoft Trainer and a Microsoft Systems Engineer.
"At the city, we IT people mutually decided to build a model network; the best anyone had ever seen. Bryan Brower, Systems Analyst, had a lifeguard and teaching story almost exactly like mine. He's also an ex-Lifeguard of the Year, as was Matt Squires and Kade Boisseranc, now Information Systems Technicians for the city. Pablo Bargueno the City's GIS mapping wizard joined us from Engineering to complete the team. We weren't being altruistic, we did it because we had to go to the college and teach it. Today, when we teach about web sites at our advanced classes at Saddleback, we're using the city's web site as the example.
Competition was always part of Moore's life. "In the mid-eighties I got into running long distance marathons. I became almost obsessive-compulsive about it ... that and working up here on the computers. Then our babies came along ... my first daughter in 1984 and the second in 1988. I became thoroughly enamored with them and soon with the whole education system. Now, they're both finishing college ... Kari is becoming a nurse, graduating from Point Loma, and Kristen, a dentist, graduating from UCLA. Moore has completed two Iron Man competitions. At age 56, at the 2009 San Clemente Ocean Festival 5K run, Moore placed 25th out of 185 participants. His close friend, famed local artist Rick Delanty, 58, placed 27th. Moore has completed more than 25 marathons and 8 Triathlons. He still surfs about four times a week.
Always fashionable at work, Moore says, "I like the contrast in moving from the white shirt world of computers to the cut offs and bare feet of the surfing culture." For a long moment, he studies a palm tree blowing in the wind just outside the city conference room, and then says, "Maybe in the Midwest, people leave their small towns and never come back, but in San Clemente people that I met in the early '70s are still here, or they left and then came back. My kids know their kids.
"On July 4, 1971, I said, 'It just doesn't get any better than this!' And you know what? I still say it today."b