The Exchange Club – Traditions: "Without tradition our world would be as shaky as a fiddler on the roof."
Jan 01, 2011 11:02PM ● By Brian O
by Bill Thomas 
The above lyric comes from one of Broadway's top musicals of all time (1971) and succinctly tells the San Clemente Exchange Club story. This service club is all about tradition. Traditions are repeated customs, stories, and practices. Holidays such as Thanksgiving, Halloween, and Christmas are protective traditions. Medicine, music, religion, politics, and history all have their traditions. Seventy members strong, this actively-engaged organization annually presents such traditional endeavors as naming the City's top police and fire persons and life guard, hosting a St. Pat's Day Party, a Christmas celebration, a fishing derby, a family picnic, three or more major golf events, a Lady Tritons golf tournament, an installation banquet and participating in the Chamber of Commerce's Cinco de Mayo and Street Fiesta events. Charter member Bob Lloyd wrote in one of the Club scrapbooks, "Exchange Club members simply love traditions. Our people thrive on excellence, and when something works well to enhance the things we do to help our fellow man, we tend to carve it in stone."
The Club regularly conducts luncheon meetings at the municipal golf course's Irons in the Fire restaurant. Usually, promptly at 1pm, right after gathering together, four or five foursomes tee off for the rest of the afternoon. Golf, according to charter member of Bob Lloyd, is a thread that runs through the entire group. In 1965, five local business men gathered at the San Clemente Inn to form a unique service club. Non-traditionally for service clubs, they created an entity that would not penalize members for missed meetings, sing club songs, sell merchandise, or fine people for misdeeds. Annual dues would be $60. Members would communicate through a weekly bulletin and sustain their common enjoyment in the game of golf. Primarily, their common mission was and still is "is to make their community a better place."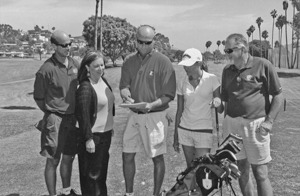 In all such endeavors, the Club has been "traditionally" successful. In 2009, donations were made to 28 different recipients including the Boys & Girls Club, Meals On Wheels, FAM, Kathy's House, YMCA, Toys for Tots, San Clemente Senior Center, and Saddleback Memorial Hospital. Former Club president Al Filger estimated that the Club's overall total giving to charities and local organizations over the years was approaching one million dollars.  Since its early days, the Club has recognized a local deputy sheriff and a fireman of the year at annual luncheons. Members, many retired servicemen, also formally recognize Navy Day and U.S. Marine Corps Day; they place Freedom Shrines in local schools and public places. In 2004, the Club held its first "Lifeguard Project," wherein the top marine safety professional was nominated for an award by their life saving peers. Annually, the Club sponsors a luncheon presenting the Life Guard of the Year, chosen by peers, with the Dick Hazard Award. Hazard, a legend in his time, was San Clemente's first chief life guard. Marine Safety Lieutenant Rod Mellott considers the lifeguard of the year as "…someone who exemplifies outstanding skills as a lifeguard in all respects from team leadership to having a keen eye for public safety." Previous winners include Bryan Kelley, Monte Livingston, Nick Guigni, JD Baranger, and Kade Boisseranc, all of whose names appear on the memorial "Surfboard of Fame," hanging at Irons in the Fire. Longtime and famed lifeguard Richard Chew also received deserved special recognition on his retirement in 2006. The 2009 award recipient was popular life guard Mike McErlean. Additionally, local artist Sharyn Evert creates and donates an original ocean-oriented painting for each annual honoree on behalf of the Club, which has become another Exchange Club tradition.
Something traditional is brewing almost every month of the year. In March, the Club's St. Patrick's Day Party, open to all citizens of the community, has become the largest annual fun and fund-raiser, with over 200 attendees at every annual offering. December's Christmas celebrations not only feature festivities but also collections for "Toys for Tots." Every August, the Club sponsors a daylong "Fishing Tournament" for dads and kids, followed by a huge family picnic at Doheny Park. Member Don Hansen, owner of Dana Wharf Sports Fishing, is the capable organizer. The three major annual golf tournaments are the Semper Fi Golf Classic, with collected funds helping families of deployed Marines and sailors stationed at Camp Pendleton; a sporting challenge to honor Marine heroes, the Bob Prebihalo Golf Tournament in tribute to a deceased 20-year retired Marine Colonel member and very active Club contributor; and a member/guest tournament, which has garnered up to $25,000 for Club donation purposes. In between, informal tournaments keep popping up (for whatever reason).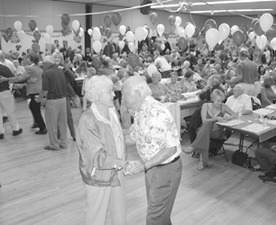 Septembers, in support of member and San Clemente golf coach Mike Hurlbut, the Club additionally sponsors the Lady Triton Golf Tournament, a high school-level invitational attracting over 100 young ladies on teams representing Los Angeles, Riverside, San Diego and Orange counties. As with many other projects, the Club is assisted by such partners as Rainbow Sandals, and the Donaldson brother restaurateurs, Russell Stationers and Kentucky Fried Chicken, among other businesses. A strong advocate of San Clemente Chamber of Commerce events, the Exchange Club participates in its annual Cinco de Mayo celebration and the summer Street Festival, among other Chamber endeavors.    Members are very proud of the Club and its beneficial activities. President Bob Conrad commented, "One thing that has been consistent since our inception is that members have been selfless in their commitment in serving both the Club and the community. We've been able to keep our donations to our community constant, even amid tough financial times. Our programs have had great success because of the organized and diligent leaders we've put in charge. Everyone works together, which keeps the burden off any one individual.
Golf professional Dave Cook, citing the long time friendships formed within the Club, said, "I've had the privilege of helping to organize and help with their golf tournaments. Many of the events on and off the golf course are fundraisers, so the club may give back to the community." In 2005, the Club received a certificate of recognition from the City Council on its fortieth anniversary of serving the community and its principal areas of endeavor: "Youth, Americanism and Community Service, with an emphasis on Child Abuse Prevention." Today, it's still safe to say the San Clemente Exchange Club members epitomize San Clemente's deserved reputation of a place where people give of their time, money, and talents, and, in this case, constantly and consistently raising the quality of life in our community.  b
Thank you, gentlemen, and keep up the great work...
Tradition – Bob Lloyd 492-4340     2bandb@cox.net Quotes – Bill Humphreys – 361-8219 
Dave Cook – (cook492@aol.com) golf pro.