Journalist Anne Batty - From Neighborhood News to Editorship
Nov 01, 2009 11:18AM ● By Don Kindred
The San Clemente Journal's Sr. Editor Anne Batty began her journalistic career at age 10 writing a newsletter entitled "Neighborhood News". Her first and toughest editor was her mother, who made sure the content of her news was credible and non-invasive of neighborhood privacy.
Born in Houston, TX, Anne's heritage is Polish and American Indian. Her paternal grandfather was an immigrant and renowned furrier in both New York and Texas, and her native-born maternal grandfather was Houston's first city employee. Billyee Ustick, her mother, was an accomplished seamstress and designer, and Rudy Slotwinski - a graduate of law school - was the legal liaison between the union workers and the management of the Southern Pacific Railroad in California. It was always his hope that Anne would be a lawyer. Not to be … but her eldest son, Michael's daughter, Caity, might just fulfill that dream. Only nine-years-old, Anne says Caity could out talk or argue any lawyer or judge on the planet.
In childhood, Batty was raised on the wisdom of the Bible and her mother's "momily sayings". 
"My mother had a saying for every situation, transgression and accomplishment," Batty remembers fondly. "Like mother like daughter … I used those same sayings raising my children, and now I joke with my grandchildren about them. Those wise words have stayed with me throughout my life, however, and they play a very important part in the way I live today," she remarks thoughtfully.
Growing up Anne Batty was always enamored with words, their meanings and usage. An avid reader, she dreamt of writing the great American novel. Gifted with a diary at age nine she was faithful to make daily entries throughout her school years, and word-smithing continues to hold a fascination for her today.
Anne learned journalism from the "ground up". Her training included hand-setting type in the print room. Then moving into the press room, she composed articles on a standard upright typewriter, spending endless hours writing and retyping copy. No cut, paste or delete features were available in those days. 
Over the years, her work has been recognized with several awards, among them honors from the prestigious USC and University of Redlands Schools of Journalism. She was selected City Editor of her college newspaper, and holds membership in Matrix Table, an Honorary Journalism Society.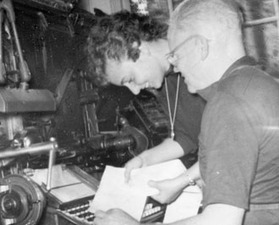 A former parochial schoolteacher, Sr. Editor Batty has freelanced in advertising and written for newspapers across the country, including the St. Petersburg Times, FL, and the San Diego Union and Los Angeles Herald Examiner locally. As a sports writer she has worked for a local PR firm, and designed and written several sports club newsletters. Her editing endeavors include working with Florida author Bob Biehl, and the Thomas Nelson Publishing Co. (coordinating over 100 authors for the Questions Book), and with Edupress, a local children's book publishing company. She is presently copy reading a novel for the Journal's longtime staff writer Greg Niemann, and working with local author Kent Healy on a writing project for Chicken Soup for the Teenage Soul. While Anne does all types of editing and writing, including feature, travel, business, reviews, etc., as a people person, she says her writing forte and true talent lies in the area of story, told via interviews, profiles and human interest. 
"All of us have a life story and I love telling that story," she says. 
A self-proclaimed beach bum and avid tennis player, Anne Batty spends mornings at the Laguna Niguel Racquet Club acting as League Coordinator. Her passion, besides writing, is working with young women, introducing them to the joys of playing and competing in tennis. 
"Working with these young women is a blessing, and it keeps me young," she reveals with enthusiasm.
The mother of three sons, raised here in San Clemente, Batty is also grandmother to five healthy and exuberant grandchildren. 
"After living in an all male household – even our dogs were males – God blessed me with four beautiful granddaughters," she explains. "I have been in 7th Heaven ever since, surrounded by ruffles, bows and ribbons. But I must confess when number five came along and it was a little boy, he stole my heart away."
In her 70s Anne is becoming a techno-geek. Receiving an IPod from her family for Christmas, she has learned how to purchase and download tunes, and the thing that really excites her grandchildren is the fact that she can text them. Next step, she says, is a Blackberry! 
Editor Anne Batty can be reached at eabatty@yahoo.com