Kent & Kyle Healy - Venturing to Achieve Success
May 01, 2008 10:21PM ● By Don Kindred
by Anne Batty
The Healy brothers, Kent and KyleAt the ages of nine and ten the lives of San Clementeans Kent and Kyle Healy took a drastic turn. Born, bred and well-established in a small school in San Jose, CA, these tanned, blonde, quintessential California boys were positive their parents had lost their minds when they decided the family would move halfway around the world to live in New Zealand. 
Little did they know that move would be the catalyst and training ground for an entrepreneurial future.
"From the time we moved to New Zealand, our lives were constantly in flux," remarked Kent, flashing a wide exuberant grin. "We ended up attending five different high schools, living in eight different houses and residing in six different cities. It was exciting, but the constant changing was often tough."
Forced to adjust to an ever-evolving environment, the brothers grew up looking at life differently, eventually beginning to see their situation as an opportunity to reinvent themselves. 
"Each time we changed cities, homes or schools, we realized nobody knew us," Kyle explained. "So we could become whoever we wanted to be. It was a challenging time, but it was fun too."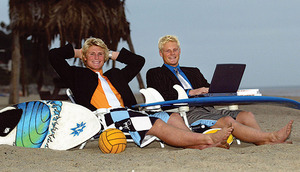 While living in New Zealand the Healys learned to surf, dive, snowboard, wakeboard and play the national game, rugby. They built downhill mountain bike courses and BMX tracks, worked the beaches as lifeguards, and in their mid-teens, started their first business, Reactor Board Technology. Although the duo was having fun manufacturing skim boards, skateboards, T-shirts and stickers, it wasn't long before they realized they knew nothing about managing money, setting goals, controlling their attitude or planning for the future. This realization brought them to the conclusion that their schooling wasn't providing them the necessary and important life skills needed in the "real world". 
Upon thinking about and discussing this insight, the boys decided they needed to partner and address this lack of information with the writing of a book they would call, "Cool Stuff" They Should Teach in School. 
"It took us three years to write that book," Kyle explained. "Three years. That's a really long time to a teenager. There were times when we thought we'd never get it done. Being average teens, we often wanted to give up and just surf and have fun like our friends. But we stuck to it and here we are."
And where the brothers are at this point in their young lives is impressive. 
Upon completion of their book, they realized the next step was to get it published. Having no contacts in the publishing industry they simple began talking about the book to anyone and everyone who would listen, making inquiries about publication. They eventually came across someone who knew an agent and that agent connected them with some of the major publishing firms like Random House and Simon Shuster. 
"After meeting with several publishers, we realized they did not share our vision for the book," Kent said. "And though we knew absolutely nothing about self-publishing, we decided to form our own publishing company, understanding it was the only way to be true to that vision."
Admittedly, this was a very scary time for the brothers. Knowing there were no guarantees of success, they borrowed as much money as possible to establish their company, "Cool Stuff" Media, Inc. (CSM). Their plan for this company was that it be one started for the young by the young, where youth could be talked to, and not at. 
"After publishing several thousand copies of our book, we knew we had committed ourselves to either sink or swim," Kent and Kyle revealed in unison. "We owed so much money we knew we had to sell books to make enough to at least pay back what we'd borrowed."
Having grown up with the principle …"anything is possible that you are willing to work for" … the Healy brothers were empowered with determination to get the job done. 
"Not only did we have a passion for writing this book and establishing this company," Kyle wanted to make clear, "we wanted to make money." "Our parents always made us work for what we wanted, they didn't believe in just giving us everything, so we thought that if we wrote a book it would be a good way to make money."
While writing a book and establishing a publishing company was a good start, the young Healys soon realized there was more to making money than writing a book and establishing a publishing company. It became clear that book and publishing company promotion necessitates marketing, sales, signings, seminars and even public speaking.
"When we thought about public speaking, we were terrified," Kent exclaimed. "But since it was another important way to market our company and book, we knew it was something we had to do."
To that end Kent and Kyle joined the San Clemente Toastmasters to hone up their skills and build their confidence. For the past two years they have spent time speaking in local SoCal High Schools, for private groups and clubs, and at seminars. They have also appeared on over 100 TV and radio shows across the country.
Quintessential California boys, Kyle and Kent "Kick it" on the beach.Speaking of their accomplishments, Kent and Kyle emphasize the fact that hard work, determination and the ability to have fun along the way, have been key to any success they have enjoyed so far. In illustration they tell a story of the time shortly before their family moved to New Zealand. It seems the boys wanted to purchase BMX bikes. True to their childrearing philosophy their parents refused to make the purchases for them. In true entrepreneurial spirit the duo decided to wash windows to earn the money. Approaching local one story businesses they offered to wash windows for 20% less than the competition, with satisfaction guaranteed or no charge. Before long they were making $25 per hour and establishing their own work hours. 
"Not only did we earn the money for our bikes," Kent declared, "we had fun in the process. We noticed the people in the offices would follow our squeegees as we drew them across the windows. While washing, we began making zigzags, circles and all kinds of crazy patterns. Before long we were all laughing and having so much fun it didn't seem like we were working at all."
When asked how they came to live in San Clemente, Kyle revealed that the family discovered the village when they attended one of Kyle's water polo competitions in town. Like most townsfolk, the family fell in love with the area and decided to pack up and move here.
Kyle graduated from San Clemente High School in 2004. He was named the MVOP (most valuable offensive player) for water polo, chosen for the First Team 2003 All-CIF Southern Section Boy's Water Polo and won the 100-yard freestyle in his league swimming championships as a high school senior. He is currently attending UCLA and helping promote CSM. 
Kent, the writer for the duo, is moving forward as a columnist and feature writer for newspapers and magazines across the country and encouraged by Jack Canfield, the co-creator of the Chicken Soup for the Soul series, Kent is just finishing up The Success Principles for Teens. He is also working on more books, creating audio programs, organizing Tele-courses and speaking around the country.
Both boys are convinced and quick to emphasize that anyone can do what they are attempting to do with their lives. That is the whole premise for their first, as well as consecutive books.
"By following certain simple life principles, and sticking to them, anyone can achieve the success they aspire to," Kent emphasizes. 
"We are average people, just like everyone else," Kyle chimes in. "Determination, hard work, perseverance and faith are behind any success we may have achieved so far or will achieve in the future." b 
To learn more about the Healy brothers or these life principles visit the website
www.coolstuffmedia.com
or contact them at 1-866-928-COOL or help@coolstuffmedia.com.