The Happiest Trail
May 01, 2008 10:13PM ● By Don Kindred
story & photos by Bill Thomas
Joan Graham and daughter, Jaclyn power walking along the trail on Saturday mornings.  "Happy trails to you, until we meet again.
Happy trails to you, keep smilin' until then.
Who cares about the clouds when we're together?
Just sing a song and bring the sunny weather.
Happy trails to you, 'till we meet again."
- Dale Evans, Queen of the West, 1950
When Dale Evans wrote the song "Happy Trails" for her singing cowboy husband, Roy Rogers, she probably wasn't thinking of San Clemente's Beach Trail. Rogers used to sing about happy trails to make everyone feel good, to know they were cared for, both the trails and the people. 
Our Coastal Trail makes people feel happy too. However, its tale has been a long and arduous one. The first design resembling a mini-freeway running alongside the railroad tracks protected by high fences, was rejected by the City Council in January 1999, the direct result of a grassroots organization titled "Derail the Trail," headed by Stephanie and John Dorey, Bill Hart, Mark Cousineau, and Kathryn Stovell-Dennis, among others. 
The Railroad Corridor Safety and Education Panel (RCSEP), 14 members strong, was formed to create a new design, one to satisfy all parties involved - Derail the Trail organizers, and representatives of the Surfrider Foundation, .Southern California Railroad Association, Orange County Transit Authority, San Clemente Beaches, Parks, and Recreation Commission, senior citizens, and the California State Department of Parks and Recreation.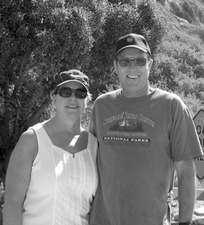 Staff planner, Jim Pechous, represented the City. Nine months later, the Panel submitted its recommendations to the City Council in the form of a 50-page report complete with photographs and drawings of every section of the proposed trail identifying anticipated problems and proposed solutions. Next came the long process of moving the proposal for a trail through the California Coastal Commission, the California Transit Authority, and the California Public Utilities Commission, as well as other agencies. Kathryn, John, and the late Bob Noon, a local citizen quite knowledgeable about transit systems, were selected by the Panel to work with City Planning Director Jim Holloway and Jim Pechous, engineers, and other consultants in gaining plan approval from the various public entities. Simultaneously, Stephanie Dorey, then a San Clemente Councilwoman, and Council colleague Susan Ritschel pursued the State Legislature to approve AB2434, the creation of our beach trail. Construction began in November 2005, and it was dedicated in November, 2006. 
John and Melanie Janson trail blazers. What does the Trail mean to San Clemente? 
Next to the pier, it's become our most popular destination. Walkers, hikers, runners, dog caregivers, cyclists, and wheelchair occupants all give it a "thumbs up." A few personal views of The Coastal Trail by current users are:
Joan Graham who lives in Cota de Caza said, "This trail is kind of a special little memory for my daughter Jaclyn and me. We just love to walk on it. This is the first thing we do on Saturday mornings when Jaclyn comes home on visits from CalPolySLO. She and her best friend walked the old trail for years." 
Walker John Janson of San Clemente, stated, with a smile to his wife, Melanie, "First of all, I wish they hadn't developed the new Beach Trail. Now, everybody's using it. Before, we could walk it without having to beat the crowd. I don't want to be a wet blanket but the trail has been too good." He said he was being sarcastic on purpose.
San Clemente resident Jim Stovell, commented, "My wife, Jamie, and I go once a week. The trail? We just love it, everything about it." "We're so blessed to live here," Jamie added. "Right now, we don't like the construction going on, but we know it's necessary." 
Haley Lettner of San Clemente and her fiancé, walk the trail "…on weekends whenever we get a chance," said Haley. "It's just so beautiful. I both run and walk." Her supportive fiancé reported, "I'm just around to try to push her, to make her move quicker." 
A San Clemente resident since 1979, Mike Ingels is a retired trade show contractor, having been involved with shows all over the world, including Switzerland, Shanghai, Hong Kong, Singapore, and Sao Paulo, Brazil. "Actually, I still do four shows a year, but this is definitely the best place of all. It's just a great walk in the morning. I do it three days every week." 
Next, I met Dean and Coreen Olson and their dog, Bailey, all from Mission Viejo. Dean responded to my question, "Oh yes, the people we meet on the trail are very dog friendly. We particularly love to be close to the beach. This trail gives us the opportunity to walk parallel to it for several miles. We use it every weekend."
Josh and Lindsey Polk, and daughter, Olivia (4), were walking, while daughter, Alexa (6), pedaled in front, beside, and behind them with her bike. Said Josh, "You can look at the ocean while walking, and even ride your bike. It's open, clean, and beautiful."
Laura Ferguson, assistant to City Manager George Scarborough, and Janet Dunford, Police Services, walks from City Hall, 100 Avenida Presidio, to the Pier Bowl and back three days a week on their lunch hour. "We just jog and walk," Laura said. "It energizes you. We love the ocean. No, we don't eat lunch," she added. 
Haley Lettner and Fiance walk the trail on weekends.How do the three people who had so much to do with its creation feel about the success of the originally evasive trail? 
 Kathryn Stovall-Dennis intoned, "John and I, along with city personnel, walk the trail often to monitor the progress, problems, areas of concern and to discuss and implement solutions. We need more trashcans, some of the landscaping has not survived, and, unfortunately, we have seen some vandalism. Everyone is working to address these and other problems. It may take some time to really get it right. Complete signage is not yet in place. That's why our oversight continues. One of the features that make the Coastal Trail so popular is that it offers a relatively continuous flat path to walk on in our hilly town. Situated at sea level where the shore meets the bluffs not only makes our Coastal Trail a beautiful place to be, but a much safer one."
"With all of the government agencies we all had to go through to seek approvals and the years of negotiating that transpired to tweak our original design to their satisfaction, I'm very pleased with the way the Trail is evolving," said John Dorey. It's gratifying to watch couples walk hand-in-hand enjoying a sunset, or a new mom exercising, and, at the same time, pushing her baby carriage along safely. Now, we should gain approval for a Quiet Zone over the next couple of years, a subtle, yet giant, step forward in substantially reducing train honking, improving the ambiance of our overall beach experience, and an important goal of my late wife, Stephanie.
Jim Pechous put it all in perspective. "The beach trail is a great project on so many levels. The original design was dictated by railroad agencies, grant requirements, and the recommendations of civil engineers. It didn't reflect the soul of San Clemente, and, because of that, it was stopped by 'Derail the Trail.' They sensed that a community-designed trail would be infinitely better than safety improvements imposed by the railroad. With everyone working together, a new, more natural, trail design emerged, and, together with the Panel, the City went on to battle the railroad agencies and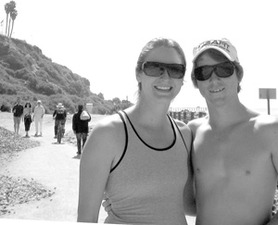 the Public Utilities Commission to gain approval. 
Today, I enjoy jogging on the trail from my home near Calafia State Park down to North Beach. I have to admit there were times that I thought the trail would never be built at all. Now, I feel very lucky to have worked with so many in our community, commissions, and the City Council to complete the trail. I can't begin to express how satisfying it is for me to see so many enjoying it each day I go out for a jog. Everyone seems to be coexisting well, but, with increasing use as we approach summer, we could all be reminded we're all using the trail for the same reason: We love the ocean and want to be near it whenever we can. It's there for everyone to enjoy." b