San Clemente High School Celebrating Graduation
May 01, 2008 09:57PM ● By Don Kindred
by Shauna Hunt
Well seniors, it's finally here. Graduation is really just around the corner, and as we wrap up with AP and IB tests, we will finally be rewarded for all our hard work throughout the past four years. 
Senior Activities are our schools' way of saying "Hey guys, thanks for making it this far!" We are swept off campus one day for thrilling adventures at Knott's Berry Farm, followed by the traditional In N' Out lunch, the Senior Brunch, Senior Awards, and, of course, early finals. To end it all, to send us off with a big WOO HOO there is the grand finale that we so fondly call GradNite.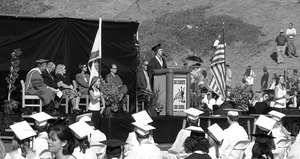 In my personal experience, parents are more aware of GradNite than students. As a student, my knowledge of GradNite consists of the fundamental facts: GradNite is the night of Graduation and takes place in the gym. That's it- no more, no less. Apparently, however, what happens at GradNite stays at GradNite. Last year when I tried to pry information out of the freshly graduated seniors about what happened at GradNite, mum was the word. All I know is that it is "really, really fun" and something "to definitely look forward to". There have been rumors of a large Velcro Wall, a hypnotist, and lots of "super cool prizes", but no detail of what actually happens. That is where the parent part comes in…
In order to be capable of taking part in the festivities at GradNite, a student must have, throughout their high school years, accumulated "Grad Bucks". Each game or activity at GradNite costs a certain amount of "money". One of the biggest ways a student can earn "Grad Money" is through the volunteering of their parents at various school functions. For instance, last year my mother worked a shift at GradNite applying fake tattoos at one of the apparently numerous activity booths. She also helped set up for the event various weekends leading up to the actual night, constructing stages, running errands for certain odds-and-ends items, as well as helping organize food for her fellow volunteers. GradNite T-shirts will begin being sold the first Friday after Spring Break in front of the Library at the High School. One of the ways students can earn Grad Bucks is to wear their shirt every Friday leading up to Graduation. 
Another way parents can help raise "money" for their children at GradNite is, of course, donating money to the SCHS Grad Night committee. However, donating money does not just have to be the parents' job. A student is more than welcome, and rather encouraged, to solicit him or herself to neighbors, friends, and any other close relation for money to donate to the SCHS Grad Night fund. Again, the more Grad Bucks a student has, the more they get to do. 
For example, the more raffle tickets a student buys, the better opportunity they have to win one of the cool prizes offered to winners. I know that last year some of the prizes were mini refrigerators, bedding, and things of that sort. In ASB last week, we were visited by one of the parent volunteers for GradNite, circulating a suggestion list for prizes. I saw "Laptop" and "iPhone" both written on the list about 15 times. Since these are things that the senior student body want, it is nice to think that one raffle ticket could possibly win you a new MacBook or Dell.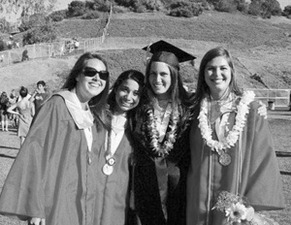 Although GradNite takes place at the school, it is not school sponsored. All money, as I have said, is raised through donations, and the event is put on through the aide of volunteers. So students … although GradNite may take place in the same gym you've been going to for Sports Assembly's and the like the past four years, it does not mean that it is an actual school event. Plus, it wouldn't matter if it were a school event anyways because you would have graduated! You will no longer be a student at SCHS. School functions will just be a fond memory you will have to look back on. As for the same old gym you've seen over and over again, with the same CIF Flags and records on the wall, rumor has it from graduates that the gym looks completely different. One past graduate told me that they forgot they were even at school as the SCHS Class of 2007 graduates: Lauren Bernd, Sandra Khalifa, Sam Chamers, and Mollie Niffenegger.gym underwent such a complete transformation it seemed you were somewhere other than your old stomping grounds.
Although seeing the gym as a completely different world is definitely a perk of GradNite, there are also other benefits as well. Not only are you able to be with your friends for X-amount of hours on your night of graduation, but you are also given numerous things to do all night long. You get free food, you get to dance, you can win fun prizes, you get a cool shirt… the list goes on. I know that I, along with virtually all of my friends, will be attending this year's Grad Night. 
Upon entering GradNite, you are not let out until the next morning, and that is perfectly fine with me. There is no other way I would want to spend the beginning of the next chapter of my life than with the people I love and have grown close to over the past four years. We entered high school through the gym as strangers and freshmen at Orientation; I can think of no better way than ending it at the same location as friends and graduates at GradNite. b 
For more information on GradNite, visit SCHS website (
www.sctritons.com
) and look for the GradNite 2008 link on the left hand side.