San Clemente's Art Entrepreneur - Shane Townley
Feb 01, 2008 09:21PM ● By Don Kindred
by Bill Thomas
You're an artist. You have to sell your paintings? How? You operate two art galleries to hang your works simultaneously, appear in gala art expos throughout the country, enter art walks everywhere, advertise, feature guest artists in your galleries, paint commissioned works, frame paintings, and paint, paint, paint. In short, you become an art entrepreneur like Shane Townley.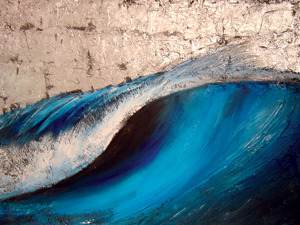 Three years ago, Shane, a San Clemente homie who grew up by the beach on Granada, opened Gallery 104. To become known, he participated in summer Art Walks with the San Clemente Art Association and other local galleries; sponsored artist receptions; showed the works of many diverse artists in watercolor, oil, pastel, as well as photography; exhibited his work on in-town restaurant walls; and designed ads in magazines, flyers and brochures - everything that publicized his art. While other San Clemente galleries, were closing their doors, Shane opened a new gallery, Townley 1 Fine Art, in Laguna Beach, which he claims "…is number three in the world for per capita art sales. It's a totally different clientele than in San Clemente. People actually travel there specifically to buy art, especially during the pageant or sawdust festival. Here, the majority of buyers are residents who want to enhance their home décor." 
Shane's first interest in the art world was in Laguna Beach, where his father took him to the city's famous art festivals. In his early youth, his parents gave him drawing and painting supplies every Christmas. However, at San Clemente High School, it was ceramics that first captivated his creativity. 
"I gave my first sculptured dragon to my mom," Townley reminisced. "She loved it. All my training was in advertising and graphic design, not fine art. That helped me tremendously as far as advertising and opening galleries was concerned." 
As an artist, Shane is completely self-taught. "I feel that art is something that comes from within," he contends. "If you're painting or drawing what an instructor or somebody else is telling you to do, it might come out looking like the vision of the instructor. I feel art is definitely more of a personal touch. When I'm looking at a particular view of the ocean, I'm analyzing it as the image I want to reproduce. Everything comes from feeling and emotions, so I actually go into another state of mind when I'm painting, creating a new work out of that feeling. The particular image I focus on is inevitably going to be the finished product. My style is definitely contemporary. It's up-to-date and often considered abstract. I paint a lot of different abstracts with representational twists. It might be abstract, but you can still tell if it's a wave or several palm trees." 
Shane incorporates many materials on his canvases. "Anything I can get my hands on," he reports. "I use oils, acrylics, and watercolor. But I also try patinas, texture, rust, enamel, and a lot of gold, copper, and silver leaf." Using metal-based paint gives his works an oxidized look, something heavy, hammered, rusted metal in texture. "Sometimes, I go down to the beach and rub sand into a painting," he added. "I like my work to look like art rather than a photographic reproduction."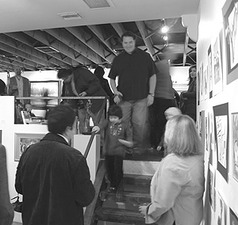 On his website, shanetownley.com, his selected works are divided into landscape, figurative, abstract, and seascape. "However, now I'm experimenting with photographs, painting new figurative studies on them, using high glosses and mounting them on wood," he explains. "These are more representational, a figure of woman dancing or one I call passion. I'm always learning new techniques to apply in my representationals," 
In describing his painting process, Shane starts with "…an image I need to see in my head. Then I go right into paints. Sometimes, I'll start with a whole background in rust or a patina or I just paint the background in one color. Next, I'll start using textures. Sometimes, I'll mold the waves and the land with the texture. Then, I follow the texture, and, if I see something else as I'm painting, I'll go with that. I work in mixed media, all mixed media. I never do just one particular medium." 
Asked whether he paints to sell or satisfy himself, Shane responded, "I paint to please myself, which is a good partnership, because I'm trained to advertise it. I'm exhibited in New York City, at the Excel Gallery on Columbus Avenue. A large gallery in Tennessee bought ten of my pieces for showings at the Las Vegas Art Expo in September. At the New York Art Expo, people left with a few of my paintings. I'm part of the San Diego Art Walk, which exhibits over 300 artists twice a year. Another big asset is Wayne Foresburg, my framer and gallery manager. Wayne frames the paintings, prints, and custom canvases."
What's his predictable future? "I just renewed my lease here in San Clemente for six years, so I plan to stick around. We're beginning to advertise our ability to frame all types of pictures. I'm starting to sell commissioned works. We're trying to educate the local population, to offer art classes for children, to create more collectors. The local newspapers have been very helpful in spotlighting art and artists. The art walks have helped. We need to copy success. Look at Laguna Beach, three cities away. They have a huge art walks with over 40 galleries involved. Here, restaurant walls, such as the Beach Fire's and White Horses', are becoming good places for art display. I'll continue to appear in major Art Expos. I'm focusing on new techniques and subjects, especially figuratives. I'm planning on a large art show here in June or July. In a few years, I could be in 50 galleries." 
With Shane Townley's drive and ambition, who knows? b