Music Man George's Music Space Strums Into Town
Feb 01, 2008 09:11PM ● By Don Kindred
by Dave DelVal
A native of Riverside, George Lawton, the owner of George's Music Space, comes from a decidedly creative family. His father, Harry Lawton, was an anthropologist, poet and novelist who also taught creative writing courses for more than 25 years at the University of Riverside. The elder Lawton's most famous book, Willie Boy, was made into the popular 1970 movie Tell Them Willie Boy is Here, starring Robert Redford and Robert Blake.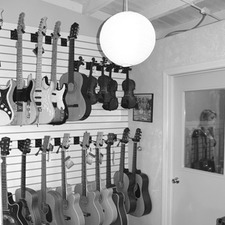 "My father was a real Renaissance man who encouraged all five of his children to be creative," Lawton says. "All of my siblings and I work in creative-related professions, be it writing, designing or playing music."
Lawton, whose guitar sales and music lessons shop is located in the Old City Plaza, grew up in a home where all kinds of music was played. "My dad collected jazz records, but he also listened to Woody Guthrie as well as a lot of other different types of music," he says. "So, from a young age, I was exposed to all different types of music."
Even so, he credits a seminal televised event in February 1964 for confirming his passion for music.
"It was when I saw the Beatles one night on the Ed Sullivan show that I knew what it was that I wanted to do with my life," Lawton says, with a laugh. "That night ruined my life."
Soon after the fateful event, Lawton joined a YMCA folk guitar class, conveniently fudging his age in order to attend. After that, he was hooked. Private lessons followed. The latter was especially crucial to his development as both a musician and an aficionado of all kinds of music, he says.
"I was fortunate to have an instructor by the name of Keith Chalmers who taught me all about appreciating music and all the joy music could bring," he says. 
After briefly playing in what he calls "the worst garage band ever invented - we did not even have a name we were so bad," Lawton's mother surprised him by giving him a special gift: a beautiful Gibson guitar that he had admired in a local store. Mrs. Lawton not only had come to recognize how much music meant to her son, but she also had another motive for the gift giving.
"At the time I had a loud amplifier that I always used," Lawton says. "When my mom saw me admiring the Gibson, she told me she would buy the guitar for me if I got rid of 'that lousy amp of yours.' I jumped at the offer." 
For the record, inside George's Music Space, one will find a painting of young George Lawton holding the very same guitar. Talk about a true Portrait of the Artist moment…
Lawton began performing music in earnest after that. In time, he married a girl whom he met while singing in the choir at Riverside City College. The young couple settled in the small artist community of Moscoy, where they remained for several years, reveling in the then burgeoning folk music scene. 
For the next three decades, Lawton played guitar and sang in clubs all over California, be it as a solo performer or with other musicians. A particular highlight of these years was his stint playing the upright bass in the bluegrass-tinged band Hogwash.
"That was about the most fun I ever had," he recalls, fondly. "We were an especially tight group. Everything just clicked. It was the best band I was ever in, still to this day."
As the years progressed, Lawton began teaching music as well, fulfilling a desire to share his passion for music with others. He worked at Coast Music for many years, even managing the business for a spell. All the while, he kept performing "up and down the coast," he says, including gigs in venues such as Corona Del Mar's The Quiet Woman, C'est La Vie in Laguna Beach, the Rusty Pelican in Newport Beach and the Cask 'N Cleaver chain of eateries.
In addition to playing music, Lawton also studied orchestration and conducting at UCLA, an experience that he especially enjoyed. He opened his store in June 2007, having noticed the then-vacant site one night after performing at the nearby Blue Danube.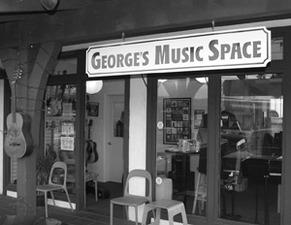 "We've got a great staff of six teachers," he says. "All of us have a lot of fun. I'd say that two-thirds of our students are high school or junior high students. We have a lot of marines who take lessons, too. Our goal is to make each half-hour lesson the favorite half-hour of the week for each of our students. We have guitar teachers, piano, voice, bass, banjo, clarinet and other woodwind instruments as well." 
Besides providing a venue for music lessons, Lawton's shop is also a retail business where one can purchase a truly stunning CF Martin guitar, among the best made in the business. 
"We've had a great response to our guitar sales," Lawton says. "In fact, I just got named Martin's Rookie of the Year."
Above all, Lawton says, what makes him happiest is that his store allows him to help others discover music and appreciate all its life-affirming values.
"Spreading the joy of music, that what I like best," he says. "Allowing someone the chance to express themselves through their music. That's what it's all about."
That's not all. Like his father, George Lawton has bequeathed his love of music to his two children.
"My son plays the bagpipes and my daughter is a drummer," he says, smiling proudly. 
One might say that it is a refrain well-worth repeating. b