Saddleback College's - Theatre Arts Department
Feb 01, 2008 08:57PM ● By Don Kindred
Veteran Theatrical Director and 
Professor, Patrick Fennell at the Helm 
by Bill Thomas
San Clemente resident Patrick Fennell has been at the helm of Saddleback College's Theatre Arts Department for 29 years. He proudly reports, "We've become renowned for our excellence in theatre training and production."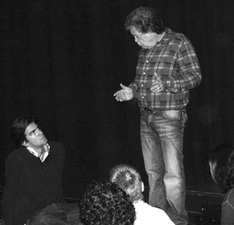 Fennell credited the theatre program, the enthusiastic students and the hiring three years ago of theatre technical professor, Kent McFann, for continuing that excellence. "We like to present contemporary productions designed to build student audiences. We also want to address the diverse interests and ages of our community audiences. Last year, we went far into edgier wild fare. For the next season or so, we'll be more mainstream."
Along with his full-time teaching load, Fennell has directed 60 or more productions during his long tenure. In looking at past years, he named three as most memorable. "In a terrific rendition of Jesus Christ Superstar, produced in 1985, we had a cast of 52. Those days are long gone now with the high costs of costuming, scenery, production, and time," he said. "Getting Out was quite experimental. The entire audience sat on the stage as part of a prison setting in which a woman celebrates her last day and her first of release. We did seminal work in the '90s, and, in 2004, our production of Angels in America was named one of the 10 top shows in Orange County of that year. It was very difficult for our students, but they pulled it off." 
Saddleback's theatre program has three major purposes: 1) Training people in both long and short term technical entry positions throughout the entertainment industry, 2) developing actors through the actor training program. 3) via theatrical productions, providing students with opportunities to practice as actors, technicians, designers, and managers, while offering the surrounding Orange County community five productions per year, including two musicals. This imaginative and industrious activity provides stage-related exposure for all kinds of students, young, old, continuing, and non-professional community members seeking performance and technical experience.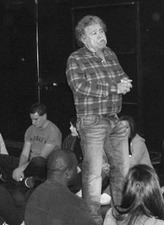 "Anybody who's not a member of Actor's Equity is encouraged to audition for our shows," Fennell commented. "Along with adjunct faculty who teach classes and direct and design shows, we're always on the lookout for new talent. "If you don't have the students, it's open casting," he said. "For musicals, those auditioning bring up-tempo pop music, and they have to be prepared to move. For our plays, we have 'cold readings.'"
Responding to the question of students entering the entertainment world, Fennell cited a number of examples. Former students can be found in everything from daytime television dramas such as Young and the Restless to popular major productions like The OC. Last semester, two students obtained industrial positions producing training films for corporations. Fennell obviously enjoys encouraging and nourishing young talent. "I particularly like teaching beginning acting because it so inspires students." 
Fennell noted that some arriving Saddleback students have never seen a play. "Even though they may not become actors, once involved, they get hooked," he suggested. "They find out what a unique experience it is. They couldn't find it anywhere else. He noted the intangible benefits such as "…showing up on time. If you don't show up, somebody will take your place. Students learn many new things that aren't on the pages of a script. Their involvement encourages active discussion, good learning habits, critical reading and writing, public speaking, and great exposure to new knowledge."
Saddleback College has two theatres. The Studio Theatre seats between 60 and 70, a versatile and intimate setting for such theatrical configurations as end staging and theatre-in-the-round. The McKinney Theater has a capacity of 400. The different theatre arrangements and five productions per academic year provide students with an amazing variety of roles and supportive technical and design opportunities. The broad curricular offerings include such courses as Introduction to Fine Arts; Theatre Appreciation; acting and audition techniques; musical theatre techniques and scene study; stage movement; and oral interpretation, which involve analyzing poems, stories and plays. Through their course studies and performance endeavors, students practice both presentational and representational performance; participate in rehearsals and learn about such aspects of stagecraft as design, lighting, costuming, make-up, scene design, and other aspects of theatre production and management. 
A committee of faculty members and college administrators selects the department's production offerings. Upcoming shows include Reefer Madness, a reference to marijuana and a satire on a film of the same name made in the '30s, performances February 29 through March 9; Jake's Women, a Neil Simon comedy, April 11 to 20, and Women of the World, an experimental series of nostalgic vignettes about mothers from WWII to the present, May 9-10. 
Patrick Fennell envisions retiring from his creative, hectic, and demanding life within three years. He and his theatrically inclined wife, Marla, intend to remain in San Clemente if they don't relocate to some place "…maybe like Santa Fe, New Mexico." Although Fennell has his Master's degree and PhD in theatre from the University of California, Santa Barbara, and he has also taught at several other institutions, he has particular loyalty for a nearby university with one of the finest theatre programs in America - UCLA. Having also taught there, he requested, 
"Remember to put in your article that I'm a Bruin." b