OC Tavern... Year-old Sports Bar/Eatery Offers "Something for Everyone"
Feb 01, 2008 08:53PM ● By Don Kindred
by Dave DelVal
"I love it when a plan comes together." 
George Peppard, 
AKA John "Hannibal" Smith, The A Team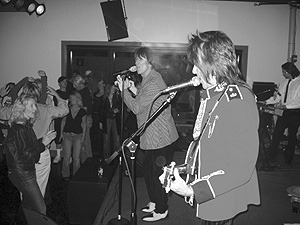 Be it in real life, or in the persona of his famed "reel" role on the cult episodic television series The A Team, the late George Peppard likely would have felt at home in the OC Tavern. 
Open for exactly one year, the south San Clemente establishment offers great food, friendly, attentive service, sports galore on about two-dozen HD TVs and an excellent setting for live concerts. 
All of this is just what owner Michael Merrigan had in mind when he first began thinking about opening a combination restaurant-sports bar-concert venue along south El Camino Real. Judging from the positive reaction from patrons of all ages, the Santa Barbara native's plan has more than come together. 
"Our motto here at OC Tavern is 'Something for Everyone,'" Merrigan said. "We want everyone who comes in to feel welcome. Whether they are here to eat in the restaurant, or to watch sports in the main bar. We want to provide a positive experience for everyone. If a coach or several parents want to take a little league team here after a big game, we're here for them. They can watch a recording of their game on our 110-inch projection television while they are having lunch or dinner. Likewise, any seniors who want to come in for a quiet dinner, we are here for them as well. Our menu reflects our motto. There is something on our menu for everyone. That's what we're all about, making every person who comes in happy to be here and looking forward to their return."
A graduate of San Diego State, Merrigan has worked in the restaurant industry for years. His most recent stint with a pair of popular San Diego establishments, the Gaslamp Tavern and the East Village Tavern, led him to opening his own place. With that goal in mind, he found the perfect locale in the form of the onetime China Beach restaurant and nightspot, a site he termed "the ideal setting" for what he had in mind.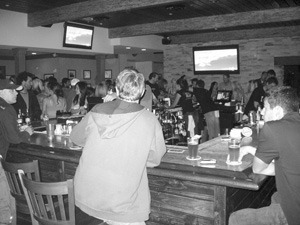 Merrigan said it was the size of the structure, some 7,500 square feet that really grabbed his attention. "The possibilities this site afforded were incredible," he stated, while proudly pointing out the many different rooms in the OC Tavern, each one with its own distinctive feature. 
It is an establishment that boasts a billiards and video game room, restaurant, main bar and the OCT room, where concerts are held. There are also two patios - one of which sports a fire pit - while the other has overhead heaters and an ocean view.
According to Merrigan the real lure of the building was its possibilities as the site of a live music concert venue. "I wanted music to be the driving force," he said.
Manager Gary Roach who handles the day-to-day operations of the business echoes the latter point. "Ideally, we want to be a concert venue for national touring acts," he explained. "As it is now, acts play up in Los Angeles and then head down to San Diego. We would like bands that have played in, say, The House of Blues, to perform here on their way south to play in sites like The Belly Up."
Roach indicated that the OC Tavern is well on its way to doing just that. "The response from the public and the bands themselves thus far has been incredible," he said. "We've been able to secure some well-known bands as well as some up and coming acts. It's not just one genre of music, either, but all kinds."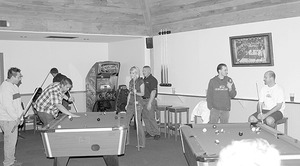 Among the bands he mentioned as having performed at the OC Tavern were The Untouchables, The English Beat, Common Sense, The Shys, Pato Banton, Eka Mouse and Mike Ness of Social Distortion.
In addition to his managerial duties, Roach is the drummer in the popular Rolling Stones tribute band, Jumping Jack Flash. "I'm Charlie Watts," he chuckles. The band performs at OC Tavern on either the first Friday or Saturday night of each month, always preceded by a different 1960s tribute band. 
"It's a good time," Roach says. "The acoustics are great here, ideal for listening to live music."
Merrigan, a onetime drummer himself, is quick to give credit to his staff for the early success of the OC Tavern. "We have a great crew here," he said. "Everyone works really hard. I always say that no one here works for me, but that we all work together. All of us are united in our sincerity to please our customers. It's a true team effort and a good, positive environment for the whole family and all ages. "
Sound like Merrigan's plan has come together well. Hannibal Smith would be proud. b