Hilary Klatt - Singing & Reaching for the Stars
Feb 01, 2008 08:51PM ● By Don Kindred
by Anne Batty
There's a belief held by many that some things are meant to be. And as San Clementean Hilary Klatt's life journey is unfolding, that belief would seem to apply.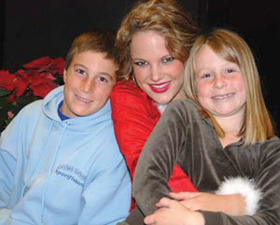 A Junior at San Clemente High School, Hilary is in the midst of a "meant to be" dream that had its beginnings at Capistrano Valley Christian School, when Tina Klatt, Hilary's mom, picked up a flyer advertising a school audition for the part of Gretl in the Sound of Music.
"I just knew Hilary would love to try out for the part," Tina remarked. "Since she was a baby she loved singing and performing in front of people. While I really didn't think she would be chosen, I thought it would be a good experience and fun for her to try."
So on their way to a birthday party the next day, flyer in hand mother and daughter dropped in for the audition. 
"All the little girls trying out were dressed up as Gretl, complete with make-up and braids," Hilary explained. "I was wearing just a T-shirt and shorts with my hair in a ponytail," she laughed.
Wardrobe and accouterments aside, the Klatt's ended up spending the day at the audition while Hilary experienced several callbacks, until finally she secured the part. Just five-years-old at the time, she never made it to that birthday party.
"I didn't even know the words to the songs for that play," Hilary revealed. "They just told me to sing any words to the tunes, it didn't matter. So I did, and it's still hard for me to believe I got that part."
Since that first audition and musical performance, Hilary Klatt has traveled a road she hopes will eventually lead to a career performing in musicals on "the great white way." To that end, at six years of age she joined the Children's Theater Experience under the direction of Chris Robertson, where she continues performing today. Under his tutelage she recently appeared at the Performing Arts Center in Schoolhouse Rock, and credits Robertson for teaching her everything she knows.
"The productions put on by CTE are extremely professional," Hilary said. "From performance, to sets, to props, the standards are high. Appearing in productions there has taught me stage presence and projection, enabling me to become more professional in each of my appearances."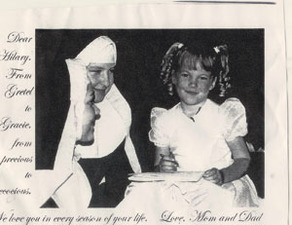 Klatt came by her love of the musical arts naturally, following in the footsteps of her mom who performed with the singing group Up With People, traveling in Europe and across the United States.
"Up With People came to SCHS in my Senior Year," the San Clemente born and bred Tina Klatt reminisced. "I auditioned for a spot and was chosen. It was the experience of a lifetime. I even performed at the old Miramar Theater," she laughed.
The family love of the performance has led Hilary Klatt to take every opportunity to be in front of an audience every chance she gets. She has been a member of Star Pac, a theater group at Coast Hills Community Church in Aliso Viejo - under the direction of Kathleen Chapman - appeared in productions at South Coast Repertory, performed in a food fighter's music video, and participated in the Pageant of the Masters in Laguna Beach. Constantly singing in recitals, she has also appeared at the San Clemente Community Center and performed in A Christmas Carol at Fullerton College.
Having been bitten by the performing bug at an early age, when she was nine Klatt began begging her mom for an agent. A woman of experience and wisdom Tina Klatt held back, wanting to give Hilary time to mature before finally allowing her, at age 13, to sign on with Marion Berzon, a freelance children's agent in Los Angeles.
"Working and auditioning with an agent has not only given me more opportunity, it has exposed me to the ups and downs of show business," Hilary explained. "It has taught me how to handle disappointment."
For Klatt, that disappointment has come in large and small doses. Her biggest disappointment, as well as sadness, came at age 12 when she lost her vocal coach Cindy Laxon to cancer. 
"Cindy was such an inspiration to me," Hilary said. " She was with me from the beginning, and her loss was very difficult for me."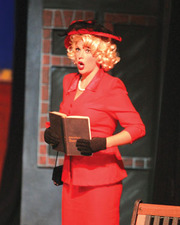 Having experienced that life-changing trauma at such a young age has been instrumental in keeping disappointments - like not getting the part of Wizard's Dorothy at CTE - in perspective. 
"I really wanted that part," Klatt related. "But as disappointed as I was, looking back now I can see it was really for the best."
Hilary feels that these life and role loses in her young life have not only helped her cope with disappointments, but to be empathetic, understanding and encouraging when she wins a part from another actor at an audition. 
And winning parts is something Hilary Klatt has done a lot of.
As a Freshman at SCHS Klatt won the role of one of the gossiping ladies in the Music Man, in her Sophomore year she played Adelaide in Guys and Dolls, and this past year she portrayed Nurse Kelly in Harvey. At present she is in the process of auditioning for a part in the Pajama Game.
To prepare for her roles, Hilary memorizes her lines the old-fashioned way, by repetition. Then she researches the time period of her character, getting a grasp on their speech and mannerisms. Finally, ascribing to no particular acting method, she tries to live in the moment, depending on the director's stage direction as a tool to help her focus and become the part she is playing.
Until she graduates, Klatt plans to do as many plays as possible, then upon graduation she hopes to pursue a musical theater degree in a performing arts school like San Francisco State or the Boston Conservatory. After that … it's off to New York.
The Klatts, Hilary and her mom, had a welcomed and unexpected chance to actually go to New York during the Christmas break. They spent five days with Travis Nesbit - an Actor's Equity card-holding friend who knows the ropes – to scope out the territory. They were fortunate to see Phantom of the Opera as well as many other popular Broadway plays while visiting there.
"I love attending musical productions, and go to as many as I can," Klatt remarked. "I learn a lot by watching other actors perform." 
For Hilary life couldn't be better. She is busy with school, acting and most importantly spending time with family. Her dad, Jim, owns JK Consulting in town, her brother Jameson, 12, is the family's sportsman and her sister Jillian, 8, is now following in her big sister's footsteps dancing and performing. Klatt credits her family's love, confidence in her, and their support with having brought her this far. 
Maybe some things in life are meant to be after all. Looking back on the events of Hilary Klatt's short lifetime, where she's come from and where she appears to be going, might just be evidence enough to make one at least begin to wonder. b