Behind the Scenes
Feb 01, 2008 08:49PM ● By Don Kindred
by CeCe Darakjian
Caught in the Net, Photo by Lisa SpinelliIt's been nearly 12 years since Stephen Gomer first sat in the director's chair on the Cabrillo Playhouse stage. A young actor/ director anxious for a chance to show off the creative skills he honed as a theater student at Cal State Fullerton, Stephen had waited nervously for the crowd's reaction to the innovative and somewhat unorthodox chances he had taken for his first play. As the initial waves of applause reached his ears, Stephen knew he had a bonafide hit on his hands.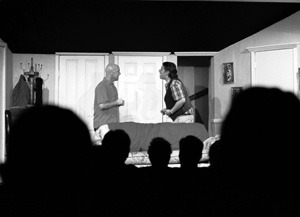 His first show would go on to sell out every performance, and need to be extended for weeks in order to accommodate the many fans who lined up for a chance to see his work. It was that first exhilarating experience with the Cabrillo stage that would lead to many more successful years of collaboration both as an actor and director. 
Many may have enjoyed his acting work in such hits as Funny Valentine, Don't Dress for Dinner, or My Three Angels. Or be a fan of his directing favorites like The Best Christmas Pageant Ever, or Tomb with A View. It was these successful experiences and many more that would even eventually culminate with Stephen being appointed the Cabrillo Playhouse Artistic Director. And Stephen couldn't be more thrilled. 
Actor, Director Stephen Gomer."There's something very special about the Cabrillo. The unique building, the intimate setting, the faithful fans, I just love everything about the Cabrillo," gushed Gomer. 
Not that the job of Artistic Director doesn't come without challenges.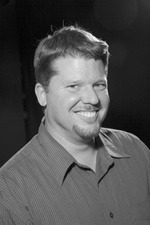 For those unfamiliar with our local theater, the playhouse is located in an original "Ole Hanson style" home, first lived in by William J. Barry, the first City Clerk of San Clemente. The theater currently boasts 68 seats and would definitely be considered an "intimate" theater experience. The majority of the cast and crew work on a strictly volunteer basis, and it would not be unusual to find one of the actors doubling as prop manager or a board member responsible for costuming. But that is definitely one of the charms of the Cabrillo. It is a true community theater, where everyone contributes and those that are involved are there for the love of the theater. 
"It can be difficult in a theater of this size for everyone to get along, but we do. We're all willing to work together to make the show the best we can," said Stephen. 
As neighboring towns and counties have introduced their own community theaters, competition for actors has grown fierce, but San Clemente continues to attract some of the best actors and actresses in the area, who come to the Cabrillo because of its reputation for quality work and great working conditions. It is exactly this mix of enthusiastic volunteers, talented actors and great direction that has contributed to the theater's continued and increasing popularity.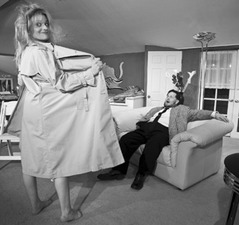 In some ways it is that very popularity that contributes to one of the Cabrillo's greatest challenges. The audience is literally outgrowing the theater. Thus the new catch phrase for the Board of Directors has become, "Raise the Roof." These three words represent the hopes and dreams of the Cabrillo community to expand both in size and scope. Although plans are still in the very tentative stages, there is definitely the desire to enlarge the theater to allow for both more seats and a larger stage. This would mean an expanded repertoire, including musicals and possibly some children's shows. 
"We don't know if it will happen in a year, five years or ten, but we know that a bigger theater will lead to better shows and give us the ability to reach an even larger audience, and that's always our goal," Gomer remarked.
Reaching that larger audience is always on Stephen's mind. As Artistic Director he bears the ultimate responsibility of choosing which shows will be shown on the Cabrillo stage, and it is hard to please everyone, every time. His plans include taking a few risks, trying something a little bit different, a bit new and seeing how people respond. "I know we can't knock everybody out of the park every time, but I just ask that people give us a chance, and we'll do our best to please them." 
For now Stephen Gomer is looking forward to the upcoming theater season. "Two thousand eight, will have something for everybody," he promises. 
Regardless of the changes the Cabrillo Playhouse may experience over the upcoming years, one thing will surely remain the same. This group of dedicated volunteers and talented professionals, will continue to work to bring San Clemente live entertainment that can be enjoyed and learned from for years to come. b