Straight From the Heart Robin Anderson Provides In-home Personal Care for the Elderly
Feb 01, 2008 05:12PM ● By Don Kindred
by Dave DelVal
"If they have a pure heart, I know I can help them ..."
So says Robin Anderson of the elderly clients whom she hopes to aid through her recently-launched business, Anderson's In-Home Services, Inc. The Tustin-based small business provides many services for its clients, including personal care (bathing, grooming and dressing), light housekeeping and laundry, meal preparation, companionship, transportation, errands/shopping service and assistance with doctor appointments. All services are performed by live-in or live-out caregivers, all of whom have been thoroughly vetted by Anderson via background checks, among other character verification. 
"I don't want anyone working for my clients who I would not want in my own home," remarks the ebullient and friendly Anderson. "It's about finding the right caregiver for the right client."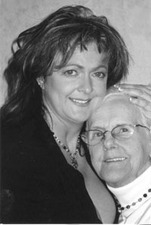 Born and raised in the Canarsi section of Brooklyn, N.Y., Anderson, 50, is a former San Clemente resident who moved to Tustin a little over a year ago. "I miss San Clemente very much," she explains. "My goal is to come back one day soon and make the town my home base. It's such a beautiful little seaside town."
Anderson moved to southern California in 1981. She lived with her sister in Carlsbad at first, but moved to San Clemente the following year after she got married. Then in 1983, Anderson's mother, Florence Benson, joined her.
"My mom loved San Clemente as much as I did," Anderson says. "She felt at home here right away. She made a lot of friends. Everyone in the neighborhood knew her. She used to go for a long walk most every day and visit with her friends along the way. She loved the town very much."
Anderson, who had gotten a job with Costco in 1987, was delighted when her mom was hired as a "Demo Lady" by the company in 1994. Anderson reports that her mom's gregarious demeanor quickly won her many friends, as well as a fair share of awards for her work performance. 
"She was named Best Demo-Lady many times," Anderson relates with pride. "Everybody loved her. The employees. The customers. Everyone was crazy about her."
Sadly, Mrs. Benson passed away after having undergone emergency surgery in 2004. She was 78. Her passing, understandably, was difficult for Anderson. "I could not go back to work for two months, it was so hard," she divulges, softly. My mom had such a great personality she got along with everyone. When I went back to work, lots of people came up to me and told me how sweet my mother was and how sorry they were that she had passed away." She pauses and smiles. "It was tough to go back to work. Everything at the store reminded me of my mom. It's still tough at times. I miss her terribly."
It was her mom's death, Anderson reveals, that first got her thinking about starting her own in-home elderly care services business. The process took some time, she reports.
"I started to seriously explore starting my business in 2005," Anderson says. "When I did, I was surprised at how much goes into starting a business like this one. There is a lot to it. First thing, you have to contact the elderly social services and find out all kinds of things. Such as: What kinds of services are needed in home care? What are you allowed to do legally? What are you responsible for? It was a long process."
Now, three years later, with, thus far, four clients and four caregivers, Anderson has no doubts about the wisdom of her decision. 
"I was really meant to do this," she imparts. "We are making a difference in our client's lives. (The elderly) just want to be treated like human beings. Our job is to make them feel like they did once, like they are still worthwhile. Something as simple as getting their nails done is huge for them."
Anderson says that even though she is helping others, her mom is always in the forefront of her mind. 
"I feel as if I am connecting back with my mom," she declares. "That means more to me than anything else. I loved her so much. I still do. I feel her love every day. When an elderly lady reaches out for my hand, I am there."
And while she reports that she still works at Costco two days a week, Anderson believes she has found her life's calling.
"This is going to be a lifetime business for me," she tells. "It's a passion for me. I can't say that we are going to go into someone's home and change their lives, but we are definitely going to touch them from our hearts." 
She pauses and smiles once again. "My mom told me I was going to make a difference," she says, softly. "She used to tell me that all the time. She was right. I am making a difference. My mom is with me every day. That's why there is a picture of her on the brochure and on my business card. I can feel her spirit everywhere. It's a heartwarming feeling." b