Outdoor Fitness Adventure Club
Feb 01, 2008 04:08PM ● By Don Kindred
by Bill Koelzer
When you first hear the entrepreneurial premise behind San Clemente's new Outdoor Fitness Adventure Club, (OFAC) you say to yourself, "Now why didn't I think of that?"

Imagine...a fitness club with your "gym" being—-not some sweaty workout room- - but the great outdoors itself. The premise becomes especially appealing when people will pay you to show them the best way to gain fitness from the outdoor classes that you offer. 

And, hey, why not throw in a retail store to sell them outdoor equipment that makes the classes even more enjoyable? Yes!

Now you've got a unique selling proposition (USP) that becomes highly marketable and infinitely expandable into a chain of such businesses.

And that's where Elaine and Richard Gjonovich come in.

Elaine, a personal fitness trainer since 1987, was a regional manager for Fitness Elite Health Clubs and in charge of their special events. One summer, she offered a package of outdoor fitness adventures.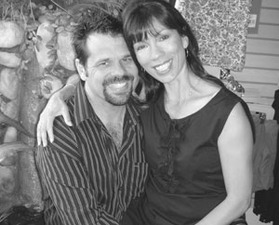 For months afterwards, patrons asked Elaine when the next outdoor series occurred. However, before she could repeat them, she underwent heart surgery in December of 200l. Afterwards, her clients from the earlier outdoor experience kept dropping by and taking her on hikes to help her recuperate.

She says, "It was not the gut-wrenching rigor of individuals doing sets on machines. It was people chatting and laughing as they hiked along. People struck up friendships, groups went to movies or dinner afterwards, they left in groups, and some dated. Something definitely good went on. People had fun! 

"So I thought," says Elaine, "if people are requesting outdoor adventures and I'm doing all this hiking anyway, why not start outdoor fitness adventure classes and offer them to the community?"

Elaine remembers, "We started on Oct. 1, 2002 with just me leading the hiking courses, three days a week. As the club grew, I added everyone's ideas of new outdoor classes. Now we have many instructors and offer self defense, pilates, yoga, trail running, boot camp, nordic walking, kayaking, hiking, rock climbing, snow shoeing, mountaineering, and more. In fact, we have more than 30 classes a week."

Instructors include Kathy Whitaker, Joe Rutland, Laura Calcaterra, Jane Owen Zeiger, Jane Pamphile, Cathy Nickels, and Spencer Scott.
Many participants join the club through Fitness Challenges, which occur three times a year. 

Elaine says, "These six week programs have a beginning and an end. We weigh and measure participants and give them nutrition and exercise guidelines, and they learn caloric targets to reach their six week goal. The Fitness Challenge costs $99 and the 40 to 90 participants can use ALL of our classes to reach their six week goal. They meet weekly here for accountability, and we raffle a gift at the end of the evening. Our new "Private and Individual" Fitness Challenge program is $129."

Members also often sign up through the popular "Boot Camp" classes, which, held nine times a week, mimic military recruit exercises. Activities include stretching, core conditioning, functional training, short distance running, muscular strength, circuit training and more.  

Unlike some fitness clubs, OFAC charges only $49 for their boot camp. Participants can take as many classes a month that they want, mixing and matching. 

Elaine says, "Many students opt for Nordic Walking: This is using special poles that eliminate the shock on joints that you get with running. It simulates cross country skiing, yet burns 46% more calories than walking."

She met her husband and business partner Richard on August 7th, 2004. Richard says, "We were at about 9,000 feet up Mount San Jacinto while I was backpacking with a friend and she was hiking with her OFAC group. We got married within seven months, on May 20, 2005."

They got the idea of doing the store because, Richard says, "We were sending people to REI and other outdoor stores for gear, when they could be getting gear from us."

The store had its first sale on April 11, 2008 and 200 people at its grand opening on April 19.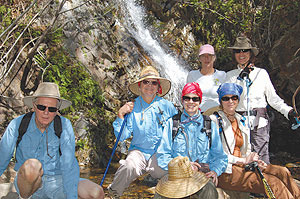 Richard says, "We did a tremendous amount of research prior to finally building this retail store. Now, people are always telling us, 'We've been waiting forever for a store like this in town.'"

Indeed, the store looks great inside and the gear offered is brand name quality, beautifully merchandised at attractive prices. Richard spent a year plotting out its design. (Be sure to see his waterfall!)

A line of nutritional supplements is next, and organic sandwiches and more for non-cooks who still want to eat healthy. People can dine on the wide, shaded, rear patio and runners & bicyclists just passing can drop in anytime for a healthy drink or an energy bar.

The club is supporting the Avon breast cancer run, conducting a Nordic Walking workshop for the runners.

Elaine says, "A prime mission of ours is to reach some of the younger people, their parents, and teachers about the epidemic of youth obesity. We are already receiving requests to move our program north to orange county cities where the problem may be more severe."

What an admirable idea to use our magnificent South County outdoors for teaching fitness, and how ingenious of Elaine and Richard to make it a viable business reality.

Visit the website at www.OutdoorFitnessOnline.org for fitness tips and detailed calendar info on all the OFAC classes. 
The store is at 210 North El Camino Real. Call (949) 677-9375 or email: fitness.4.life@mac.com .