Metagenics Leading the World in Science-Based Medical Foods, Health Supplements, and Nutraceuticals
Feb 01, 2008 04:06PM ● By Don Kindred
by Bill Koelzer
On a promontory hill at Ave Pico and La Pata, the colossal dazzling-white Metagenics building commands the skyline like a gleaming citadel above two major Talega cross streets.

Despite its physical prominence, few residents know what Metagenics is or does, yet it markets more than 300 products, and employs over 800 people worldwide, nearly a third of whom work in San Clemente.Metagenics is a life sciences company and the premier manufacturer and distributor of science-based medical foods and nutraceuticals marketed to healthcare professionals. You won't find its quality products on the shelves of retail stores; only health professionals can provide them.

Metagenics's CEO and co-founder, Jeffrey Katke, built the firm from humble beginnings and now divides his time between homes in San Clemente and Gig Harbor, Washington.

It all began when Katke lived in Milwaukee, Wisconsin, in the 70s and had a chronic liver problem that wasn't improving for which his doctor had no solution. A friend recommended that he try natural products...and with them, he got better right away.

"I was very impressed with that", Katke says, "and so I applied for a job in sales with the company that made the products. I fell in love with the idea of nutrition making a difference in peoples health and doing it in a natural and non-toxic way.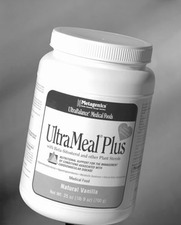 "I worked my way up through that company, eventually buying one of its distributorships out here in California. Then my family moved out here...my mom, dad, and then my siblings, one by one: Mike and Tim and Chris, and sister, Julie. We had a beautiful family business."

Then the original company where Katke worked went to a new owner who didn't embrace the quality concept. "They even cut corners by buying veterinarian grade ingredients and selling them as human ingredients to save money."

Katke wouldn't stand for it. "The products stopped working, smelled badly, patients got sick, and the doctors were complaining. Yet, management told me that they were the same ingredients as before. So I sent some products out for laboratory analysis, and the results came back saying that the products were contaminated."

Here was a dilemma for Katke: "I had talked my whole family into coming out here and there we sat with a whole warehouse of contaminated products that we couldn't sell. We needed a solution and so we decided to start our OWN company. We borrowed all the money we could from our friends, from the banks, from our credit cards. It was incredibly hard to go forth sometimes, but now we have grown to be the largest company in our field."

Katke says, "We moved the business here in the early 90s starting with one small building then expanding into five buildings, then had this building built with parking for 535 employees, but we don't have that many here yet."

Metagenics manufacturing, research, and development facilities are in Gig Harbor, Washington, with additional research facilities in Ithaca, New York. Katke says, "We're a global company now with manufacturing and distribution centers in Australia and in Belgium, and over 800 employees world wide, distributing throughout North America, South America, Europe, and Asia.

"We also have a really phenomenal research and development department. They've made some very important new discoveries and we have more than 150 patents issued and pending." 

One of their greatest discoveries, Katke says, is finding the mechanism behind why an unhealthy lifestyle can make you sick and why a healthy lifestyle can make you better. "This discovery came about through our wholly-owned biotech subsidiary called Metaproteomics, LLC, and deals with selective kinase response modulators, discussed online at http://tinyurl.com/3kdalp."

Katke says that kinase inhibitors are a hot area of drug research "because now that we can understand this new kinase system it's a new opportunity to make better drugs than we ever had before."
Metagenics supports the local area by sponsorship of the annual San Clemente Ocean Festival and several other non-profits. Katke says, "Our public service consists mostly of support in the health care community. We're contributors to many of the natural healing colleges and universities around the country."

Locally, Katke is on the board of the powerful MiOcean Foundation (http://www.miocean.org), described thusly on its web site: "Supported by a Board of Directors that reads like a who's who of Orange County, the foundation has positively impacted the local community by taking an active role in reducing local ocean pollution through solutions-oriented, measurable projects such as their recently completed North Creek pollution prevention project in Dana Point."

Katke also serves on the executive advisory board for the University of California, Irvine Medical Center. In recognition of his distinguished service, the Orange County Business Journal and the Family Business Council at California State, Fullerton selected Mr. Katke as the 2003 Large Business Award recipient. In addition, more recently, he was a finalist for the regional 2008 Ernst & Young Entrepreneur of the Year Award.

We love Horatio Alger (http://tinyurl. com/2b5cxm) stories at the San Clemente Journal because they're so inspirational to others contemplating starting their own business. Jeffrey Katke and his courageous family definitely qualify for our Horatio Alger honors.