From Part-Timer to Head Honcho San Clemente's Cathy Lee … Making a Difference
Feb 01, 2008 03:53PM ● By Don Kindred
by Anne Batty
By the time she was eight-years-old, Cathy Lee, the Director of the San Clemente Seaside Senior Center, had lived in seven states. And though difficult for her - never having much time to make friends or for others to get to know her - this continuous meandering prepared her for the adaptability and flexibility she would eventually utilize in life, as well as her career.

"My dad was an engineer," Lee revealed in her charming, predominantly southern drawl. "His job took the family all over the states. It was hard adapting to a new school every year, but thankfully I inherited some of my dad's intellect and love for learning, and therefore did okay. That made things easier."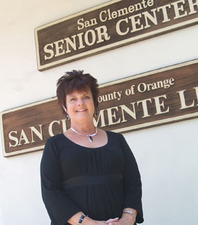 Intelligence, adaptability and flexibility are only a few aspects of this southern-born "Georgia Peach's" make-up. She has also inherited an attitude of caring and giving from a mom who she still speaks to daily.

"I watched my mom patiently and lovingly take care of my father, who struggled with Alzheimer's disease until his recent passing," Cathy explained. "And today, when I visit home she is still caring … now for my sister who is bi-polar. My mother is an amazingly strong and empathetic person."

The Beginnings of the Journey
Education was important in Cathy Lee's family, and she spent her college years attending the University of Georgia where she obtained an elementary education degree. Upon completing college, she married and moved to Florida with her new husband, where she lived for fourteen years, raising her two children. A stay-at-home, PTA mom, she never utilized her degree to teach children, but found herself volunteering with seniors instead, until the demise of her marriage several years later.

"Finding myself divorced and a single mom with two children to support, I needed a "real" job quickly. I went to work in a "Cheers-like" Tavern serving lunches and a few happy hours. It was the kind of place where 'everyone knew your name,' " Lee chuckled. "Seriously, it was a great place to work and I loved the time I spent there."

Jobs both volunteer and monetary were becoming more and more about people for Cathy Lee. With her enthusiasm, sparkling eyes, obvious gift of gab and quirky sense of humor, she connected with everyone she met, and it wasn't long before Cathy found a new love. But sadly, the happiness of that new union was to be short-lived. After a few years of marriage, Lee became pregnant at 40 and lost her child. That trauma triggered a move to California, where the couple hoped to start anew. It wasn't meant to be, however, and the effects of that loss eventually took its toll on the duo's relationship. And before she knew it Lee found herself alone once again.

A Career is Born
When Cathy Lee first moved to South County, having previously worked with seniors and looking for something to do to assuage the loss of her child, she applied for the part-time position of Activities Director at the Leo Fessenden Adult Day Healthcare Center on Calle Frontera in San Clemente. 

"The loss of my child was the real reason I decided to work with seniors," Cathy said. "Working with them gave me lots of comfort."

So for the next six years, as a member of Director Marilyn Ditty's staff, Lee helped develop and provide therapeutic recreation programs for the seniors left at the center in their care daily. 
"At the beginning of my career at the Adult Day Healthcare Center, I worked one-on-one, hands-on with the seniors and their families," Cathy reminisced. "That was a special time in my life. I became very close with the seniors, their families and the volunteers at the Center. Many of them are still in my life today, like 100-year-old, Fred Dagher, who volunteered with me at the healthcare center. He is a love and he still dresses up in a suit and tie every day."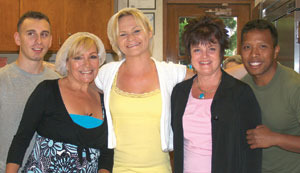 Friendship is also at the heart of what Lee does, and she credits the friendship and mentoring of Carol Nastasi and Marilyn Ditty with any success she might enjoy today. Under their leadership she kick-started a career that has moved from part-time Activities Director to full-time Director of the San Clemente Seaside Senior Center under the auspices of the South County Senior Services, Inc., for which she has been working for the past 10 1/2 years. And she says one of the best things about her job has been working with community leaders like Rex Tyner, Ralph Klaausen, Stephanie Dorey, Joe Anderson and Susan Ritschel.

Although Cathy spends more time in the office these days, planning and developing programs and attending to administrative duties, and less time with her beloved seniors hands-on, she still maintains her connection with the myriad of mature adults (aged 50-100) who pass through downtown San Clemente's Senior Center daily.

"I take 'senior breaks' so I can be with them," Lee quips. Meaning she leaves her office to attend whatever event or class happens to be in session. "I never miss an affair or a party. I don't have to worry about what I'm going to do for an evening or week-end, there's always a party going on here and, believe me, these seniors know how to party!"

In turn, these seniors show as much care for her, inquiring daily about how her "love-life" is going and if she is doing okay. They pop into her office intermittently throughout the day sharing their lives and showing interest in hers. One regular visitor is constantly telling Cathy she wishes Cathy was her daughter. Lee's response is, "since I have no family here in California, I'm happy to be called your daughter."

For Cathy Lee this job is most importantly about making a home away from home for seniors. A place where they can exercise, play games, take classes, socialize, dance, laugh, joke and find help when they need it And she says she has learned much and grown in many ways in her position at the center.

"One of the most important things I have learned is to treasure each moment," Cathy pauses to quell the emotion showing just beneath the surface. "And that time is a precious commodity not to be wasted," she adds, composure returning.

With the whirlwind of activities available at the center, it doesn't appear that much time is wasted by either Cathy, her staff of 3, or the 100 plus volunteers offering services there. The Center's monthly calendar includes from three to 10 events daily, presenting re-occurring activities as well as special celebrations.

When visiting the establishment one is amazed at what Lee and her crew accomplish in such limited quarters. It's obvious they are bursting at the seams and are much in need of the new Dorothy Visser Senior Center soon to be built on Avenidas Rosa and Victoria, facing Victoria.

"This is an exciting time," Cathy exclaims. "We will be breaking ground for the new center sometime in the early part of next year, and are in the process of meeting with our Architect Christine Lampert, planning the décor. It's going to be absolutely beautiful."

As the center is growing in popularity and space, its director is broadening professionally and personally. Having faced the loss of a father, a child and two relationships, the illness of a sister, and the realization that she can't fix every problem her adored seniors encounter, she has found out much about herself.

"My life experiences have made me realize that I have been gifted with the ability to problem solve, and to know when and how to give and ask for help," says Lee thoughtfully. "I have finally realized that I really can help people and truly make a difference in their lives. That is a great gift and I cherish it."

Cathy cherishes her life in San Clemente as well. Her job at the Adult Day Healthcare Center brought her to the village, and she says living and working in the same city is the best part of being here, as well as being able to take a break, walk downtown or to the beach, and knowing practically everyone in town. 

"Although having everyone in town know you does have its drawbacks," Lee laughs. "When you leave the house, you always have to look your best. You can't go out if you're not put together. You never know who you will run into."

On another humorous note, when asked what she would like to do when all of this is over and she retires, Cathy Lee rolls those flirty eyes, cocks her head to the side, and with a mischievous grin answers, "I'd like to work in a Comedy Club doing skits on human behavior, as I am often floored by the absurdity of it."

With Cathy's energy, experience and personality, that sounds like it just might be the perfect second career for her.