Road-Tested Frank's Foreign Car Service - A Fixture in Town for Almost 40 Years
Nov 01, 2007 05:25PM ● By Don Kindred
by Dave DelVal
Frank Sanchez came to the United States from his native Argentina in 1960, settling first in Covina. An electrician by trade, he worked odd jobs his first couple of years in America before joining the electricians union in 1962. For the next seven years, Sanchez happily plied his trade, a period of his life which he remembers fondly.
"I liked being an electrician," he says. "I liked working with my tools. I still do. What I did not like was the travel involved in the job. It was too much."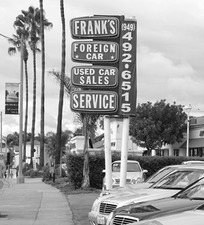 During these years, Sanchez saved some money and purchased a plot of land in Lancaster. In doing so, the man who sold him the land suggested that he pursue a career in real estate.
"He told me that I could make $40,000 a year," Sanchez recalls. "That was a lot of money back then. I thought about it and decided, why not?"
In his spare time, Sanchez studied for and obtained a real estate license, whereupon, he immediately began to pursue sales leads on the weekends. This, when coupled with his regular job as an electrician, left him little free time. Still, he was not complaining.
"Working in real estate taught me a lot of things," he says. "For one thing, talking with people helped me improve my English. I learned how to listen to people and develop an understanding for them and what they needed. I learned how important it is to treat people fairly. People remember someone who treats them fairly. They appreciate it and tell others about you. All of this would help me later with my business."
In 1968, Sanchez made the transition from working as an electrician to opening and operating his first auto repair business in Covina. "I had always had an interest in cars," he says, "so when a friend suggested that I open a Volkswagen repair business with him, I agreed." 
The first year of the business went well, he notes, but there was a hitch. Sanchez and his wife had recently purchased a home in Laguna Niguel, a then-remote and mostly undeveloped community at the time. "The commute (to Covina) was tough," he recalls. "I just could not do it after a few months." 
Sanchez sold his interest in the business to his partner and used the money to lease space in an Arco gas station on south El Camino Real in San Clemente, where Top-Tune Auto Care is now located. "I was familiar with the workings of the VW engine, but there was a lot that I did not know," he says, "so I bought some VW books and began to study them. What I did not know, I asked my former business partner in Covina about. He helped me out a lot."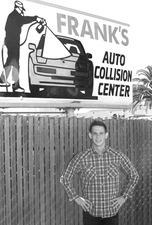 The following year, 1970, Sanchez moved his business to a Mobil Station, a few steps north of Del Mar, the site of the current Wildflower of San Clemente flower shop. There, he opened the first Frank's Foreign Car Service. From the start, business was brisk. "There was not much competition in those days," he says. "We had lots of work. Most nights, we worked until midnight. We did repair work on all foreign cars, not just Volkswagens. Fiats. Jaguars. Mercedes. All of these were popular with the Marines. We started selling Mercedes cars soon after we opened. It was a busy, busy time."
In 1972, with business booming, Sanchez purchased what was then a Flying A gas station a few blocks south on El Camino Real. The site, where he has remained ever since, came with four gas pumps and two repair shop bays. Sanchez expanded the building to add two more bays and also removed two of the pumps. "We sold diesel fuel at 49 cents a gallon," he says, with a laugh. "The Mercedes diesel models were popular at the time." He removed the pumps some years later after the use of diesel fuel declined. Today, Frank's is strictly a Mercedes sales and repair operation. 
As the years went on, Sanchez opened another auto body repair business in town, on south El Camino Real, and added auto sales businesses in Laguna Beach and Lake Forest/Irvine. His son Sergio runs the former, while daughter Desiree is in charge of the latter. Sanchez and his brother Ruben are also partners in a Mercedes sales and repairs business on Coast Highway in Dana Point.
As his tenure in the auto business approaches 40 years, Sanchez attributes his continued success to the lessons he learned when he was selling real estate.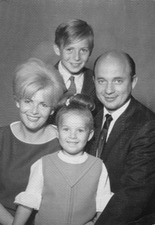 "Just treating people fairly, that is the most important thing," he says emphatically. "I have some customers that have been coming to me from the day I opened, more than 35 years ago. I have sold cars to them, their children and their grandchildren. That says a lot about us. That is why we are still here."
At 73 years of age, Sanchez shows no signs of letting up. "I like the business too much to retire," he says. "I get approached every now and then to sell my business. I always refuse. I don't want to sell the business. Besides," he says, with a laugh, "if I sell my business I would have to get rid of my desk." Here, he pats the top of his desk fondly. "Now why would I ever want to do that?"