Calle Vallarta Then and Now
Nov 01, 2007 05:16PM ● By Don Kindred
Story and Photos by Anne Batty
As the autumn sun positions itself in the early morning sky, neighborhood moms (and often dads), coffee cups in hand, children and pets in tow, gather together on Calle Vallarta in north San Clemente awaiting the local school bus. Peals of laughter and friendly chatter fill the dawning air with a familiarity that speaks of those who know one another and enjoy being together. And while many things have changed in this thirty-three year old neighborhood, this daily gathering is testament to the fact that the important things have remained the same.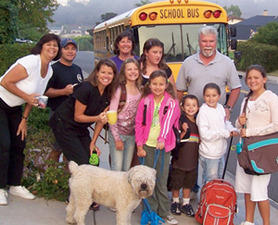 In 1974 Calle Vallarta was just a short street ending in a cul de sac. Thirty-one houses lined a single side of the roadway, wending their way uphill on stair-stepped lots atop slopes overlooking the Estrella (Shorecliffs) Golf Course. There were no Coast homes at that time, and nothing but rolling hills and roaming cattle separated Vallarta from the next freeway offramp at Avenida Pico.
The newly constructed homes on the block, many with peek-a-boo ocean views, filled up slowly with young families, and each time someone new moved in, they were greeted, welcomed and assimilated into the fold. It was a place where every car and every inhabitant on the street were identifiable and well known.
The area surrounding these houses was a plethora of wide-open spaces. The cattle roaming there occasionally found their way down the middle of the street, and in the wee hours of early morning a doe and her fawns could be spotted watering in the pond on the 16th green.
It was the ideal ambiance and perfect snakes, snails and puppy dog tails playground for a neighborhood consisting primarily of young boys. One where they hunted reptiles, mingled with wildlife, played in the street day or night without fear of traffic, built skateboard and bike ramps in the hills without offending neighbors, and roamed freely with unfettered pets following closely at their heels. 
This Mayberry kind of place existed in a period of time when most Vallartan moms were "stay-at-homers." Although school busses in those days stopped at hill's bottom on Avenida Vaquero, most moms and children preferred carpooling. And once those children were seen safely off to school, those same moms often gathered together for coffee klatches, quilting bees and bunco parties.
San Clemente's local newspaper, the Daily Sun Post, was delivered to doorsteps Monday through Friday back then, and many Vallartan boys sat cross-legged in open garages folding, banding and stuffing local editions into cloth vests fitted to them front to back. Newsboys on a mission, they hopped on their bikes or skateboards, peddling or skating to their assigned routes, delivering the daily news to neighbors and friends.
On weekdays after school, many of these young boys roamed the hillsides around the golf course scouring the terrain for golf balls. Ascending home, they soaked and scrubbed their treasure's ribbed surfaces until they gleamed, returning on week-ends to sit alongside fairways selling their finds to passing golfers as they played the course. (one of my sons, Daniel, made the acquaintance of President Richard Nixon while selling his wares. The secret service got to know Dan well, and Mr. Nixon was one of his best customers. He even gave Dan his autograph for a favorite Aunt who was a great fan of the President.)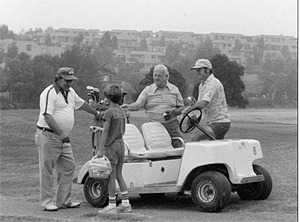 Life back then was lived more outdoors than in, with children gathering to play basketball in those driveways with hoops, or street baseball or soccer until it was too dark to see. Neighborhood get-togethers with barbecues, progressive parties and evening board or card games were frequent affairs, and holidays were celebrated in a big way.
On one particular Halloween, Jane Helmuth, an original and present Vallarta resident, brought the neighbors together to organize a Progressive Party for the children. With permission from the City, homeowners blocked off the cul de sac at hill's bottom. Neighborhood trick-or-treaters then moved from house-to-house experiencing mask making and painting, a water balloon dart throw, a haunted house, a piñata, and many other activities, ending at the top of the street for a celebration complete with music, strobe lighting, popcorn balls and apple bobbing.
Christmas cookie parties were also popular on the street. A week or so before the holiday, each woman planning to attend baked 12 dozen different kinds of cookies, gaily packaging them and bringing them to the host home for an exchange. After enjoying coffee and cookie sampling, each attendee went home with 11 dozen different kinds of cookies for their families.
When Christmas day arrived, cul de sac youngsters visited alternating homes to see, share and tryout the latest toys. They launched rockets, raced motor cars, popped wheelies, hung ten on skateboards, checked out skis, surfboards and boogie boards, and paraded around in new wetsuits. And in between they munched the cookies their moms had lovingly baked weeks before.
It was a different time, and since that time many things have changed. Calle Vallarta is no longer a short cul de sac, but a thoroughfare with numerous cul de sac off shooting its roadway. There are numerous houses on the once barren hillsides, and a main road connects Vallarta to Avenida Pico. Traffic is heavy and swift on the road now, and children no longer play in the street. Most moms work, few stay at home, and those who do are busy carpooling children to numerous activities.
But while many things have changed on Vallarta … remnants of the old days still exist. 
The neighborhood comes together annually, blocking off one of the many new cul de sacs for a street party. Organized by residents Konnie Voris and Debbie Owens, the afternoon and evening feature a jumping booth, face painting and glow sticks for the young, with a carne asada barbecue (specialty of neighborhood party man, Amaury Medrano) music, drinks and dancing for the more mature. And dwellers there still celebrate the fall and winter holidays - encouraged by neighbor and chief decorator Steve Graves - embellishing their front yards to the hilt in a friendly competition to see who can be the most elaborate.
Perhaps the most important thing that has remained the same in this long established neighborhood, is the fact that many Vallartans still make the effort to know one another, look out for each other, and to get together whenever they can. On any given evening, during the summer months, you can see these neighbors gathering in someone's driveway, sharing cocktails and ordeuvres while children play all around them. And when the sun comes up early in the morning during the school year, you will be sure to find them gathered on the corner, drinking coffee, laughing and sharing stories, waiting with their children for the local school bus before they get on with their day.