The Craft Becomes an Art Vic Cumming
Nov 01, 2007 11:46AM ● By Don Kindred
by Bill Thomas
From sign painter to revered floral watercolorist, this was the long, circuitous route Vic Cumming took through an entrepreneurial life beginning in Johannesburg, South Africa, and continuing here in San Clemente with what he and his wife Miki call "our mom and pop art shop."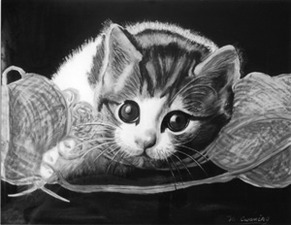 The shop, however, is ubiquitous. It's all over the place: an attractive website, an art studio in his garage, paintings in his home and local galleries, even annual showings in his front yard. Best of all, his works adorn the walls of countless floral art collectors. At a Dana Point Tall Ships booth, one San Clemente family bought several of his paintings, admired by members of the clan visiting from all over the U.S. In total, 26 Cumming products now hang in the homes of that entire extended family. 
The craft that Vic Cumming mastered in his native country has all but been displaced with computer-driven sign-making machines and various types of software. Previously, however, it was a learned craft, primarily self-taught, which required quite complex and varied skills. Learning how to manipulate a lettering brush was the core of the learning process and it could take years to accomplish properly. Additional skills involved gold leafing, carving in various media, glue-glass chipping, stenciling, and silk-screening. 
Businesses in South Africa, like elsewhere, needed to advertise and be seen. Signs are an integral part of presenting the images of businesses. Designs need to be effective, easy to read, attractive and as exciting as possible. Signs and logos are found on the sides of buildings, store windows and framed above entrances. They serve as billboards or posters. There're on small vans, paneled trucks, racecars, boats and customized equipment. Signs are created in a variety of different materials: wood, plastic, metal, gold and silver leaf and glass. Signs require layout, arrangement of copy, design, color, airbrush, lettering and image creation. It is little wonder that young Vic eventually became a watercolor artist through beginning his career in the Alex Cumming Sign business in Ramsgate, South Africa. He took over from his father and his son took over from him. When it sold a few years ago, it had a 100-year history. 
In his native land, Vic was a champion water skier. In WW2, he served on a minesweeper in the South African Navy, an important task because British vessels had to be protected while on their way around the Cape of Good Hope on their way to the Middle East or to the Pacific. After the war, still in the sign business, he raced boats. He became a boat builder, selling his wares to such boating companies as Chris-Craft. Additionally, he milled boat part fittings for steering, gear chains and vents. After luring his American-born wife, Miki, away from her U.S. distribution firm employer, he established a small airline consisting of five planes.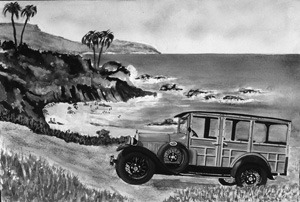 "We ferried people from cities along the coast to Durban, a much larger international airport. Directing our own airline enabled us to fly, free of charge, all over the world," Vic reported. 
The couple went to the U.S. often, and, of course, Europe and Africa. 
"Sometimes," Vic mused, "we'd leave on a Friday for London, see a few shows, and return to South Africa on Monday." 
Besides a home in Ramsgate, Vic and Miki had another residence on a small farm near the Vall River. It was there that Vic built a Rondavel (in-the-round) home. The Rondavel, a Zulu name, reflected his additional talents. 
After selling the airline, the couple decided to start an American Winnebago franchise in South Africa. They were asked, "Why don't you come across the ocean and try them out?" In 1974, they did. They stayed in a trailer camp to learn how to drive with different steering, on the "wrong" side of the road. They planned to stay for six months, and ended up visiting 37 states over a two-year period. They sold the Winnebago for more than it cost, using the profit to visit the Orient. They never opened a Winnebago franchise in South Africa. Sales of the trailer hadn't been terribly impressive. 
Traveling to Southern California relatively often, and as Vic stated, "…having always lived by the sea, " they fell in love with San Clemente, moving here in 1986. Here, Vic started another business. He fiberglassed swimming pools, especially those with cracks.
"The business just took off," Vic said. "It put us on our feet."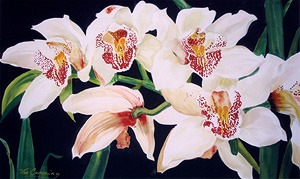 It was then that Vic took up water coloring. He first studied in Laguna under the late artist Aleda Van Sachoor; then with Saddleback art professor Diane Walling in San Clemente. He also attended numerous art workshops. 
"Finally, I thought I knew enough to be on my own," Vic reminisced. "Doing florals has something to do with signs. Signs are very precise, and that probably is one of my faults. I'm too particular. It takes a bit longer. It's got to be right. Otherwise, it's not good," he added.
Vic's painting covers many subjects, including cars and landscapes, but those which have the greatest recognition are his florals. The bright colors and brush strokes suggesting movement make his reproductions of real plants more vivid and attractive than the real thing. His backgrounds also create dramatic balance to the vibrancy of his flowers. His work has been exhibited in the prestigious Festival of Arts in Laguna Beach and the San Clemente Art Gallery. His first entry in the Orange County Fair earned him the "Theme Award" in a field of 1700 entrants. He has won numerous painting awards, especially in San Clemente. He is a member of such art organizations as the National Watercolor Society, the Laguna Beach Festival of Arts, and the San Clemente Art Association. His paintings are in collections throughout the United States, Europe and South Africa. His commissions to CBS Television have been featured at the US Open Tennis Championships as well as the joint venture of CBS/NFL games on-going from 1998. Vic has had successful one-man shows at the Parkhurst Galleries in Ports O'Call in San Pedro and Seal Beach, and he has been the featured artist at Rogers Gardens in Newport Beach and our local San Clemente Gallery. His love of his adopted home and his community is evidenced in his contributions of artwork to worthy causes that auction or raffle his donated efforts for fundraising purposes, especially local Kiwanis Clubs, reflecting an interest of his wife, Miki. 
Pam Hill, San Clemente Art Gallery Chairwoman stated, "Vic Cumming is both a fabulous artist and man. He's soft spoken, very much the gentleman. He does great and beautiful flower pictures. He also paints portraits and other things, like cars, but he's primarily known for his florals. He's been a member of our Art Association for many years, and held offices as well." Fellow artist Susie Cartt agrees that "…his work is very beautiful," and she admires his professional artistry. George Gooch, former president of the San Clemente Art Association added, "Vic is a master craftsman when it comes to watercolor painting. His flower images are truly lovely, and exquisitely painted. He is a true gentleman and has been a valued member of the San Clemente Art Association for many years."
Visit Vic's website at VicCumming.com, or an art show at his home, 619 Calle Embocadura, on November 10 and 11.