San Clemente Raves About Our Faves, Again!
Nov 01, 2007 11:26AM ● By Don Kindred
by Don Kindred
The employees who make our day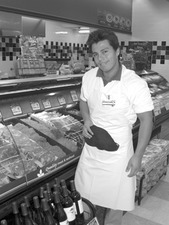 Kimm Hunt, the Office Manager for Dr. Peter Rothenberg claims, "one of my favorite employees here in San Clemente is Aaron, the butcher at the smaller Albertsons on Pico. He is always very polite and very friendly. 
We chat about everything from his school to his future plans, all the while he is hard at work.
"I'll wait for him to assist me even if he is with another customer, not only for his personality but he remembers what I like better than I do!
"I'll never forget, about a year ago I was making a recipe which required two- inch cubes of a roast, so I asked him to cut it for me, I told him I would come back after I finished my shopping. He misunderstood and said he would be happy to cut it into 200 cubes. But it might take a while. I couldn't believe he was willing to do that for me. We still kid about it. He is such a nice gentleman who truly deserves recognition."
Stephanie Doucette of Greentree Publishing says, my favorite employee is actually EVERY employee (and owners, too) of Bonded Cleaners on El Camino Real. You never have to wait even a second for service, they accommodate you at every turn, and cheerfully redo an item if you are not completely satisfied (which is mighty rare). You can even request to get your clothes back the next day. Even if I moved out of town, I would still take my cleaning to Bonded Cleaners. They are definitely the best and you can't beat the price!" b
The San Clemente Journal received these messages about the employees at businesses that we most frequent. Employees that we here at the Journal also felt deserved recognition for their exceptional service and their polite way of making us all feel welcome. Please feel free to nominate your favorite employees to shelly@sanclementejournal.com.