Surfing Moms Creating Family Legacies
Aug 01, 2007 08:57PM ● By Don Kindred
by Helen Chade Mahshi
As a young girl growing up in South Orange County, I often wanted to learn to surf. I'd stand on the pier, lean on the railings, and stare wistfully at the surfers mesmerized by their exuberance. Surfing just wasn't a girl's sport back then. 
Fortunately, times have changed. Today the ocean is full of female surfers of varied ages. Curious to know how San Clemente's female surfers got started—and why—I began my quest for more information.
Lori Swenson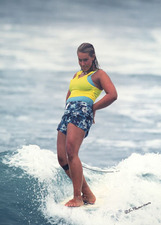 Lori Swenson is a mom I bonded with as our children shared a preschool class together. Curious why she'd missed a group play date at the park, Lori gushed "the waves were great today! I was surfing." 
This was surprising because this mother of three still has a breastfeeding infant. 
Lori further shared, "I grew up in San Pedro, but our family would spend weekends at San Onofre." Although she enjoyed the beach, the idea of learning to surf didn't cross her mind until she met Mike, her husband-to-be. Meeting right out of high school and going to college together, Mike and Lori were "young and having fun together." They enjoyed such sports as roller blading, jogging, hiking and snow boarding. Used to sharing athletic activities together; it was natural for Lori to want to join Mike when he was surfing, so he taught her. 
"I love surfing," said Lori, "because I don't think about anything else when I'm out there. The to-do list evaporates. It's just you and the ocean. Surfing is pure fun."
Neither Lori nor Mike will forget the day she rode her first wave in. She was so "exhilarated"; she had a grin from ear to ear. Mike, waiting for her beyond the breakers saw her big smile as she paddled out to him, and spontaneously proposed marriage. 
Misty Walker 
The desire to stay active with those she loves also prompted Misty Walker to learn to surf. While her husband surfed, Misty was content to curl up on the beach with a good book. 
"I knew my kids would want to surf," shared Misty and she wanted to be right there with her family riding the waves. So, she invited her Dad, whom she shares a close relationship with, to take a surfing class with her at Saddleback College. Her Dad was 58 when he learned and she was in her 30s. In cold, January weather, Dad and daughter took surfing classes together every week until May.
"When I first get out there, the cold water revitalizes me; the feeling of being with friends is great, and it's calming and tranquil," Misty revealed. 
Debbie Rice
Fifty-year-old Debbie Rice learned to surf when she was 40. 
"At this age, I wanted to start learning how to do things I'd never tried before," she said. Surfing was at the top of the list. "I used to go walking with another mom who was my age," Debbie revealed. "We decided to learn together and were taught by a male friend everyday for a week. It was such an exhilarating high the first time I caught a wave!"
Surfing regularly for four years with a group of friends, Debbie enjoyed the camaraderie until life took her in a different direction as her kids got older. Now that her teenage daughter has taken up the sport, Debbie has the urge to surf again, and share in the delights of the sport with her daughter. 
Kirsten Allred
Out of this group of women, Kirsten Allred, world-rated long-board surfer, is the only one who surfed as a child. "I was five the first time my Dad taught me how to surf," shared Kirsten. 
When she was about 14, Kirsten's dad started surf contests for girls in Costa Rica because there weren't many surf contests for girls at the time. She had the opportunity to travel the world surfing. As a young girl, she was often the only female out in the water. Now, Kirsten, Lori and Misty are part of a group of women that surf together every Monday morning. 
Because of her passion for surfing and her joy at teaching others, Kirsten has been a huge contributor to women learning how to surf. "I've taught surfing for many years," she said. 
Kirsten offers surfing lessons in both group and private settings via her surf boutique, "Toes On The Nose" in Laguna Beach, owned by her and her husband. She speaks fondly of her "surf mamas" class offered through the recreation departments of San Clemente and Newport Beach.
"When Moms would drop off their kids for surf lessons, they would say I wish I could share that with my kids." So she started a surf class for Mamas even before she became a mother herself. 
"When they show up for class, many of the Moms are timid. We fit them for surfboards and wet suits and start them on dry land. It's so rewarding to see the Mom catch a wave and see the big smile on her face. Now that I am a Mom, the class has become even more special," shared Kirsten. 
The women bond, and share friendly conversation out in the ocean. They range in age from their late 20s into their mid-60s when they sign up for her class. Her passions: "My husband, my kids and my surfing classes!"
Surfing has bonded and united the women in this article with the people they love: their husbands; kids; parents and friends. For this writer, the old desire to surf has been re-ignited and brought back to life. Now that I have children of my own, this would be a great tradition to start with them. b