Regina Hurley Mrs. Versatility of the Art World
Aug 01, 2007 08:40PM ● By Don Kindred
by Bill Thomas
Regina with her bronze creation "Looking for Treasures".Regina Hurley is an artist - a real artist. She loves everything about life, nature, and beauty. She paints, sculpts, draws, teaches, absorbs, creates and then creates some more. She works in the art media of watercolor, oil, acrylic, bronze, clay and terra-cotta depending on her subject and the focus of art reproduction she desires. She's very much like a kid in the toy store in selecting her own types of creative expression – there are too many choices. According to Regina, "The motivation to create art dwells deep within my spirit; life experiences are my inspiration. The greatest rewards are in the act of doing. I never ruminate when asked, 'Why do you do art?' because there is no question in my mind."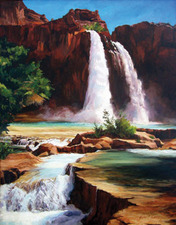 According to Esther Wells Collection's owner/director, "Charlie" Ferrazzi, "Regina's fantastic! She's multi-talented, really good and dedicated artist. She's always working. The medium doesn't matter to her; she's always busy. When she conducts demonstrations for Laguna's Thursday night art walks, it's amazing how she can carry on a conversation and still be moving ahead on a painting or sculpture. Nothing stops her from continuing her art."
Born in Ohio, her father, a former WWII Marine, moved the family of six across the country by station wagon to a temporary Doheny Beach camping ground in 1963 before he secured first a job and then a regular home in Orange County. As a child Hurley was "…inspired by the religious art at my grandmother's house and in church. I drew all the time because it was fun. The first museum I visited was The Huntington." 
This was her first encounter with nude statues. "The beauty of the bronze by MacMonnies titled Bacchante overpowered my fear; I fell instantly taken with art." 
It's happily ironic that one of Regina's bronze creations, Looking for Treasures, part of the George and Mary Lou Boone Collection, has already been selected as a future addition to The Huntington. It's a five-foot by four-foot bronze sculpture of a child, her daughter Katy, in a nightgown playing in the dirt.
Regina continued painting into her teens and, while still in high school, received a scholarship to study life drawing at the Art Center on weekends. After receiving an AA degree in Art from Orange Coast College, she continued studies at California State University, Long Beach (CSULB), completing a degree in Fine Arts with a drawing and painting emphasis. Along the way, she brought three daughters into the world who proudly joined mom at her graduation. 
Regina with a work in progress in her studio."Soul Mates"One remarkable feat Hurley managed to accomplish while raising her daughters, maintaining her home, and supporting her husband's career was to continue her art. Every single day, she organized her time to devote at least one full hour to creativity in whatever form. Regina stated, "I would take the kids to school, clean like a maniac for an hour, then sculpt in my studio garage until it was time to get them." 

She also spent considerable time in museums studying human form expression by such figurative sculptors as Kathe Kollwitz, Rodin, Vigeland and Stephen DeStabler. Her dedication and time management paid off. She began showing her bronzes publicly and winning awards. Her first large commission was a life size bronze for a prominent collector, Dr. John J. McDonough. She had never created a life-sized sculpture in clay, yet alone in bronze. Yet, she lovingly sculpted a 4 foot statue of a woman, entitled "Before the Bath". Another irony – the collector, thanks to Regina's mother's memory turned out to be "…the doctor who brought me into the world."
Desiring to further her teaching career, Regina obtained her master's degree in Fine Arts with a sculpturing emphasis from CSULB. The educational doors swung open widely, and, for over 20 years, she has taught everything in the fine arts from classes in sculpture, watercolor, life drawing and oil painting for Saddleback and Coastline Community Colleges as well as Concordia University. She has won numerous art awards in recognition of her work, locally in San Clemente with her oil and watercolor paintings, as well as her popular sculptures. Her art has been awarded in juried shows from New York to California. She is currently in a juried exhibition with the prestigious California Art Club in Pasadena. Galleries currently exhibiting Regina's art are the Esther Wells Gallery in Laguna Beach and McKibben Studios in Corona Del Mar. 
Rounding out her talents, Hurley has also worked as an illustrator and doll artist. She sculpted dolls for porcelain production for the Ashton-Drake Galleries and the Disney stores, including Cinderella and Prince Charming; has sculpted human figures and costumes for production in painted resin, and created miniatures for pewter reproduction.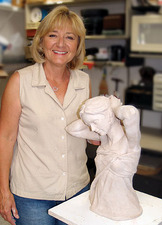 What are her work methods? Regina responds, "I combine the shapes and textures I observe in the natural world to create unique patterns that emulate nature's inherent duality. In all my work, you'll find an element of hope, an element I define as inner strength in acceptance of life and truth- the true beauty of mankind. I express thoughts, feelings and natural beauty as interchangeable analogies, visual patterns that echo life's duality back and forth. By depicting beautiful patterns found in nature, my art releases and expresses ideas hiding in my mind and heart."
Pam Hill, Director of San Clemente's community art gallery considers Regina "an all-around artist." "She can do a little bit of everything. She's a great teacher, always wins awards for her new work, her sculptures of women are just remarkable."
Havasupai Falls.What will tomorrow bring? She's asked. "Working with students of art has been a great blessing. Not only has it been enjoyable but enlightening. Though I have been rewarded over again as a teacher, I feel the time has come to go back to the 'garage.' Besides love, art is my finest gift to give. For years, it's been through teaching. Now, something is rousing in me that wants to emerge, that wants to be a source of inspiration and understanding. Be it collective unconscious mixed with talent, for some reason I'm able to create art that touches others. The art I create has always been a reflection of my life experience at the time. Recently, my sculptures have been of women in reflective poses on the brink of change. Insights are telling me it's time to seek commissions in the world of public art. I am presently working on a large outdoor sculpture to be shown in Laguna Beach as well as a show of new paintings. Steve McKibben, owner of McKibben Studios where Regina exhibits, said, "In my 40 years in the art field, I've rarely seen an artist who can think and sculpt in the "third "dimension" like Regina. She is unbelievable! Viewing one of her life forms from every perspective is perfect." b