The Melting Pot Fondue Restaurant Passes the Test for Excellence
Aug 01, 2007 08:33PM ● By Don Kindred
by Bill Koelzer
Romanos owner, Zia, at left, is justifiably proud of his staff. You visit the new Melting Pot restaurant in San Clemente for an experience that is way beyond merely having dinner; you go there to propel your visual, olfactory and taste talents through several blissful, nay, thrilling hours of gastronomic exploration, discovery and delight.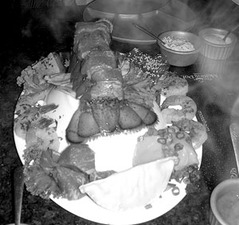 Each course brings surprises. The presentation of your food and cooking of it yourself in a boiling pot on your table, keeps you involved and vitally immersed in your own dinner.
Because this may be new to you, your friendly waitress (or waiter) coaches you every step, every course, about what to do when, and how to enjoy the broad medley of sauces - something for everyone - that go with each course. 
Dozens and dozens of bite sized morsels present themselves in demi-dishes and each one invites you to skewer, sink and cook it in boiling liquid. Your goal? Try to understand how each dipped and cooked bit can possibly beat the taste of the preceding one … as of course, they all do. 
This is not the unhurried way you dine at home, although back in the 1970s, fondue cooking, using simmering pots of cheese or oil or vegetable broth to cook small morsels of food was de rigueur, especially for home entertaining. "Fondue parties" then were the rage.
Of course, such history, and thus this type of dining, is news to Gen X and Y. But you would never know it from the age groups you find at the Melting Pot. You see just as many people requiring carding there as there are oldsters.
The best way to order is to select from three basic meal choices, each one offering four courses. You select your type of cheese fondue, salad, entrée and cooking style, plus your chocolate fondue. The cheese fondue finds you dipping various bread cubes, fresh vegetables, and apple chunks in tasty melted cheese. There is a salad for every taste, and we recommend the Mandarin and Almond one.
Entrées each contain abundant fish-types, shrimp, sirloin, chicken, potstickers and vegetables, including red bliss potatoes, squash wheels, broccoli crowns and mushroom caps. 
While you cook meat and fish on a skewer, you just let the veggies swim around in the simmering pot that sits on the flat burner built in your granite tabletop, then spoon them out. Two of the three entrees feature one or two lobster tails, depending on your appetite. Note: It will be hard for you to finish eating everything.
Hint: Since there is only an $8 difference between the lesser entrée and the double-lobster tail, we suggest that you just get that one which is $96 for two people.
Now, here is the Pièce de résistance for most people...the chocolate fondue. This alone, makes the whole trip worth it. Look here at just three of your six melted chocolate choices: Cookies 'n Cream Marshmallow Dream: Dark chocolate topped with marshmallow cream, flambéed, swirled together and garnished with crushed Oreo cookies. Flaming Turtle: Milk chocolate, caramel and chopped pecans, flambéed tableside. Chocolate S'mores: Milk chocolate topped with marshmallow cream, flambéed and garnished with crushed graham crackers - also includes graham crackers for dipping.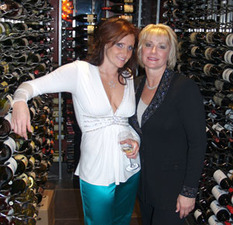 There is a large and full bar, with Thursday, Friday and Saturday live entertainment and happy hour weekdays from 5-7pm. Drinks can be traditional or exotic, like these two:
Chocolate Fontini: Fondue in a glass! Godiva Chocolate Liqueur, Kahlúa, Baileys Irish Cream and creamy Milk Chocolate. Strawberry Basil Lemonade: Nothing like Mom used to make! Smirnoff Strawberry Twist vodka, fresh strawberries, basil and lemonade.
Every day of the week, a new "special" kicks in, and these are changed every few months. Here are just three days worth: San Clemente Sunday: 25% off food for residents of Clemente, Capistrano Beach or Dana Point addresses. (Talega residents have their 25% off day on Tuesday) Military Monday: Show a military I.D. and get 40% off food !!!!! Wine Down Wednesday: 50% off bottles of wine costing under $100.
The Melting Pot is no mom and pop start-up. More than 115 Melting Pot franchises exist nationwide, with the closest in Irvine. See:
www.MeltingPot.com
. The San Clemente unit wisely did a "quiet opening" February 7 to hone its skills before starting advertising. It held its ribbon cutting on Friday, June 22.
Mira Selbo, who has owned the Irvine location seven years, and is opening a Brea unit by July 31, is franchise owner. Dana Tanner, operations manager for all three units, and Mira's daughter, benefits from more than 10 years of in-store and restaurant experience. She manages more than 100 employees through a network of unit managers. Anthony DeHoyos is General Manager of the San Clemente unit.
With 45 local employees, Dana Tanner says the San Clemente Melting Pot enjoys about 3,000 guests monthly, increasing at a rate of 10% per month. "It should ultimately reach around $2.3 million in business, annually".
Hint: Be sure to tell the phone person when you call in your reservation if you are there for a special occasion. The staff loves helping you celebrate, and offers several in-restaurant options to make each event grander. 
This is a BIG restaurant, yet nooks and crannies abound for much privacy - a great quiet place for romantic evenings. For your leisure times, there is ample outdoor patio seating; for business, there is a rear room seating 16-50 for meetings. b
The Melting Pot is located on Camino de los Mares (The Krikorian Center). They can be reached at 661-1966.