The Verticalization of Baja
Apr 29, 2007 10:05PM ● By Greg Niemann
by Greg Nieman
With over 700,000 Americans now living throughout Mexico, including a goodly number in Baja, this article might have been titled "The Americanization of Baja." However, with hi-rise buildings, sprouting vertically like beanstalks in springtime, rapidly changing the coastline, the verticalizing of Baja seemed more appropriate. 
A virtual "city" is rising all along Baja's coastal strip from Tijuana to Ensenada. In the not-too-distant past, even fancy resorts used to be no taller than palm trees; today numerous hi-rise condos give Baja the illusion of Cancun, or, horrors, even Miami Beach.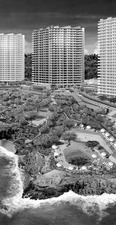 While many Mexicans are heading north to seek job opportunities and money to send home, conversely thousands of gringos are flocking south, spending their U.S. savings and seeking second homes and retirement opportunities. 
Today's Baja gringos are different. They are no longer the Baja rats content with trailers, renting, or older homes scattered in various communities. The new expatriates want quality, security, panoramic views and five star type amenities. And they've got the money to pay for it. 
The changing Baja coastline is now being developed vertically, and non-stop, for an insatiable number of aging gringos. Many are wealthy. Many others borrow against their U.S. homes and pay cash for their casas in paradise. Regardless, the money is flowing south, creating employment opportunities there for the Mexicans, and creating private enclaves for its new residents. 
Trump Joins Baja Parade 
Not only is the money to purchase units flowing, but Baja has attracted development money from all over, including "The Donald" himself. The high-rise Trump Ocean Resort Baja Mexico is located on a coastal bluff just south of Playas de Tijuana, at kilometer 16 (k-16). One of most northern developments in this miles-long oceanfront "city," the Trump Resort will be a condo/hotel 526-suite luxury resort. 
Now under construction, the Trump Ocean Resort will consist of three 26-story towers, all with commanding ocean views. Planned are all the typical five star bells and whistles: restaurant, bar, fitness center, art gallery, store, meeting rooms, ballroom, tennis courts, several swimming pools, all on 17 acres of ocean front property. 
Phase One (Middle Tower) has sold rapidly with prices for a 485 square foot studio starting in the mid $200,000 (U.S.); one bedrooms start at $349,000, two bedrooms, $499,000; three bedrooms at $719,000. And if you really need that three bedroom, two story, 4,500 square penthouse, plan on dropping at least $2 million. Prices for the second and third phases go up from there. Eighty percent of Phase One sold right away, and Phase Two is now being offered.
www.trump-baja.com
. 
   24 major projects
This time Donald Trump is but one of many in an area's development. There are currently 24 major projects under way along the Tijuana-Rosarito corridor, and that figure will double once paperwork and planning is approved on upcoming projects.
Also along the 15-mile strip north of Rosarito Beach are The Residences at Playa Blanca (k-22), a large development with 240 condos, villas and penthouses, 2 swimming pools, 6 spas, and a 9-hole putting green. 
Across the highway at k-22 is One/Eleven, hillside ocean view property with 174 condos from 560-1,300 square feet, two lagoon pools and four spas. Next door is the well-designed and secure community of San Marino Residencial where homes start at $160,000.
Next is The Park at Malibu (43 ocean view homes). The Malibu hi-rise is presently going up on a bluff in front of existing homes thereby seemingly even thwarting those earlier views.) 
Still north of Rosarito (k-22.5) is the high-rise beachfront Las Olas Mar y Sol condominiums, part of three luxury condo developments around Rosarito Beach by Las Olas Developments. Their other hi-rise condos are Las Olas Condominiums (k-28) just south of Rosarito, and the super luxurious Los Olas Grand, a 20-story condo tower at the Calafia point at k-35).
www.lasolasrosarito.com
}
The venerable Rosarito Beach Hotel is getting into the act too by building 271 condo-hotel units. Over 100 were snapped up in the first three months with prices starting at $175,000. The new 17-story complex will feature a rooftop infinity pool, exercise and business centers, a parking garage and panoramic ocean views.
www.rosaritobeachcondohotel.com
. 
La Jolla del Mar, just to the south of Rosarito (k-29.5) features 159 ocean front condos from $199,000 in three towers.
www.decasamx.com
Down the road at the popular hotel restaurant complex called Calafia, (k-34.5) where waves pound against the rocks on two sides below the point, a 21-story condo-hotel (Tower III) nears completion on the cliff joining earlier Calafia Towers I and II. A couple more 15-story condo hotels are also planned. 
Also south of Rosarito Beach is Las Palmas (tennis courts, fitness center, club house), and La Elegancia (starting in mid $100,000s where among other amenities will be a swimming pool for adults on the 14th floor, fitness center, hi-tech gym and a movie theater. Seventy units sold in the first 30 days. (
www.laeleganciarosarito
. com ). 
Other notable projects along the coast in and around Rosarito Beach include: Marbella del Pacifico (148 ocean bluff condos with all the luxury amenities in a 16-story tower and a 4-story tower) just north of the lobster village of Puerto Nuevo. 
Old road widened
To provide better access to Puerto Nuevo and all these developments, the old road is currently being widened, now extending south of the Fox Studios. 
There's also Club Marena, ocean front condos from the mid-$300,000s
www.clubmarena.com
, Villas Casablanca (18 hole golf course, 1,000 fairway homes, condos, shopping center) and Paradise del Baja (units start at $310,000). 
Just south of Puerto Nuevo is Las Ventanas (38 villas from the mid $300,000s to the high $800,000s). 
Then there's Descanso Homes near Cantamar where 216 homes are under construction, Costa Bajamar (3 bedroom/2 bath units with ocean, golf course views), and Haciendas de Bajamar (20 Mexican haciendas). 
Most striking on the Cantamar scene is Palacio del Mar. Recently I was sitting on the sea wall at Cantamar, where I've either owned a trailer or home for 37 years, and could see those new hi-rise buildings dotting the coast north to Calafia. But what prompted this article was the 23-story building seemingly jutting out of the sand dunes to the south.
Called Palacio Del Mar, it is but the first of four such edifices on the 10-acre ocean-bluff property. Each floor of all towers is limited to four roomy units (2 three bedrooms at 2,833 square feet, and 2 two-bedrooms) beginning at $410,000. Occupancy is scheduled for summer of 2008.
www.palaciodelmarbaja.com
. 
Prudential Baja real estate agent Miguel Sedano, who sells Palacios del Mar condos, echoes the realtor comments heard all over Baja, "They come from all over the States, even Canada, and yes, they've got money. These are second, and even third homes." 
Between Playas de Tijuana to the north and Palacio del Mar at Descanso, 25 miles away, it seems either cranes are erecting hi-rises or bulldozers are preparing the land. 
Cranes and bulldozers
Even south around Ensenada the boom continues unabated. At Playa Saldamando 100 pristine ocean cliff acres are being developed to feature some 225 custom home sites and 200 ocean view villas, and El Sahuaro del Mar is a development that offers 12 styles of homes. 
More ambitious is the Meridian/Hussong project on Porto Hussong, a $350 million development featuring a marina, condos, villas and a hotel, ranging from the high $400,000s to $3 million for a penthouse. Hey Donald, your $2 million place looks like a bargain. 
The boom is not restricted to the Gold Coast along the Tijuana-Ensenada corridor. The Cabo San Lucas region is still growing; snowbirds flock to new nests in San Felipe; and Continental's new Houston-Loreto direct flight will ensure that Baja's founding town will get duly Americanized too. 
People might say that California, indeed all of the U.S. is not the same with so many Latino immigrants fleeing north and taking their culture with them. Well, Baja California, indeed much of Mexico, is also not the same with tens of thousands of gringos moving into their insular hi-rise condo developments and never speaking the language nor seeing a Peso. In the book "Gringos in Paradise" by David Golson, a Mexican maid succinctly summed up the phenomenon, "The Mexicans go north and the gringos come south." 
As for Me, I miss those days of yore, camping on the beach, fishing, swimming, enjoying the laid-back Baja, meeting the friendly people, speaking Spanish, spending Pesos, and exploring the back country. There are still a few of us Baja rats left. Central Baja is still desolate enough to beckon the hardy rats, but one certainly doesn't need 4-wheel drive to get into Donald's subterranean garage. b
(Greg Niemann, a long-time San Clemente Journal contributor, is the author of Baja Fever, Baja Legends, Palm Springs Legends, and Big Brown. Visit
www.gregniemann.com
)