'Member Me Where Memories are Made
Apr 29, 2007 09:51PM ● By Don Kindred
by Anne Batty
There's a special place tucked unobtrusively away in a mini-plaza on the corner of Camino de Estrella and Camino Mira Costa, where memories are being made. Its name is 'Member Me, and it's a scrapbooking haven for San Clementeans who want to record and preserve the most important moments and events in their lives.
Upon entering this crafters' paradise, patrons are warmly greeted by 'Member Me's apron clad proprietress Teresa Rhoads, whose soft-voiced demeanor and dancing eyes make one feel immediately at home. And a home-away-from-home is what this spot is fast becoming for the many who find their way there.
Everywhere one looks in the store, on walls, in picture frames, on shelves, counters and in books, one can see beautifully crafted scenes embellished with ribbons, bows, lace, buttons, decorative papers, gems and much more. Numerous scenes depicting an event or memory from someone's life experience are displayed, as well as a myriad of samples showcasing the kinds of creations customers can construct there. Books filled with page designing ideas are scattered everywhere, and bins overflowing with scrapbooking trims fill the shop. Their contents to be purchased for work done there, or to take home. 
Teresa and other scrapbooking teachers conduct workshops, game nights and special daytime and evening events in the store year 'round, with themes characterizing "Oscar Night", "Cinco de Mayo Day" (National Scrapbookers Day), "Deal or No Deal" and "Concentration". Some of these events are all day affairs from noon to midnight, others are evening classes only, but all include snacks, scrapbooking and lots of fun.
"We offer 'Crop Night' every Friday at 6 p.m.," Rhoads explained. "Our patrons come in and design two complete scrapbook pages using supplies in the store. We also have groups like MOPS (Mothers of Preschoolers) that come in for our workshops."
Among the many classes available at 'Member Me are "Beginner Basics", "Scrapbook Therapy" and card, invitation, tag book and sketching workshops. A calendar of events is available in the store and schedules and special events can be emailed to customers who sign up for their mailing list.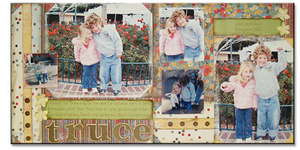 Shop owner Rhoads began her scrapbooking journey when she ended a career at UPS and her son graduated from high school. Beginning as a Creative Memories consultant she conducted workshops in customer's homes as well as her own. Then when her garage became filled to overflowing with crafting items, she decided it was time to open her own "making memories" store.
"I opened my first shop in Dana Point in the Ralph's shopping center on Coast Highway," Rhoads revealed. "I was there five years when my husband, Robert, and I decided it would be fun to buy an Ole Hanson home and turn it into a 'Member Me Scrapbooking Cottage." 
Remodeling complications prevented that dream from materializing, and the Rhoads opted for the store on Estrella where the business has been operating for the past year.
"It's been an exciting year," Teresa said. "Our workshops are becoming very popular, and I owe their success to my extremely creative and talented teachers, Elizabeth Locke, Sue Ingram and Marit Conboy." 
While Rhoads is very happy with her workshops, she doesn't plan to stop with the existing ones. Lots of new things are continually in the works at 'Member Me. She is planning to implement a "Brownie Day" and a "Princess Day" for children who will be out of school for summer vacation, and she and her teachers are making themselves available to partner with patrons needing help creating their scrapbooks. Or, they will even make entire books for those who are looking for that specialized service.
"There's nothing quite like the joy on people's faces when they're looking at their finished projects," says Rhoads. "People love seeing their pictures and memorabilia, and express feelings of pride when they have spent the time to preserve them."
The phrase that gave Teresa Rhoads the inspiration for the name of her shop were the words often uttered by little children when they want to be recognized – " 'member me, 'member me." Recalling those words she is in hopes that her scrapbooking store will become that most special of places, one where villagers will remember they can come, and note those times, places and events that they never want to forget. b
'Member Me can be contacted at 542-7676