Edible Arrangements Floral Beauty with Incredible Taste
Apr 01, 2007 05:23PM ● By Don Kindred
Story and Photos by Bill Koelzer
Next time you order flowers for someone, STOP! "Consider ordering instead an edible arrangement," says Francine Cazeau, co-owner with husband, Jean, of Edible Arrangements next to the Coffee Bean on South El Camino Real.
So, what's an edible arrangement? Well, it looks like a beautiful flower bouquet, but the colorful blooms consist of freshly cut fruit, not flowers. And for those who like to give or send arresting and memorable gifts, it has become a terrific alternate choice.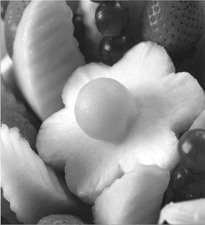 Francine says, "Jean and I take fruit and arrange it into flower-like bouquets that are perfect for thank yous, office meetings, centerpieces, weddings, birthdays, anniversaries, holidays, baby showers, Mother's and Father's Days, acknowledging administrative staffers, or just saying 'I love you."
Fruits used in the bouquets include, pineapple, cantaloupe, honeydew, strawberries, grapes, apples and bananas. "For preservation, the latter two always get dipped in milk or white chocolate, while the others may be dipped if the customer desires," says Francine. "And bouquets last up to three days when refrigerated."
Prices for the fruit arrangements compare to those of flowers --- from $25 to $200. Most people call ahead and pick up the arrangements themselves. Edible Arrangements takes same day orders and delivers to Dana Point, San Juan Capistrano and occasionally to Oceanside.
"We get fresh fruit delivered here by our produce firm every morning after placing an order the night before. If we get swamped and run out, we can always rely on the freshness of our local grocery produce department in a pinch," Francine says.
Francine and Jean bought the San Clemente Edible Arrangements franchise in late 2005 from the parent company, which has 775 stores nationwide (see EdibleArrangements.com). "A relative from Connecticut told us about it. We ordered an arrangement and loved it, plus the franchisee in Fullerton said that we'd  enjoy having a store. So we invested in one and opened in April of this year."
At the time, Francine worked part time at Standard Pacific Homes in Corona and still does, but plans to slowly opt out. Jean is still an elementary school teacher in Anaheim along with working in the store. 
Before working two years for Standard Pacific, Francine was ten years in the social services field in Corona. Prior to that, she studied psychology at a small college in New York City. After investing in the franchise, they went back to Connecticut for a week's training and took another week on site in their store.
Francine says, "The surprising thing is how challenging it is to have our own business. We're learning two things at once: How to improve the business and how to juggle business with our family life." The young couple, Francine, 35, and Jean, 35, have three children ages nine, five and two. "Fortunately, Jean's mother helps us out with the kids," Francine adds.
"A new market coming to the fore for Edible Arrangements is the business segment of our audience," says Francine. "Businesses already routinely send and use flowers for a wide variety of reasons. But when you add the element of being able to snack on a fruit arrangement, the possibilities greatly multiply. Edibles apply to meetings as desk- or center-pieces, in private offices, can be used to acknowledge secretaries, and given as gifts to the offices of clients, customers and vendors."
The biggest days for Edible Arrangements are the holidays, according to Francine.
"We use seasonally-oriented containers for the various holidays...for example, a baseball vase for Father's day, a bright yellow "duckie" that has a piggy bank slot in its head for a for a baby shower, a pumpkin for Halloween, etc."
Edible Arrangement is entering its busiest season now with Halloween, Thanksgiving, Christmas/Hanukkah, and New Year's. "This is when my training in psychology comes in handy," says Francine, "as people get frantic and it seems like there is no time to relax all day long, we have to keep telling ourselves not to take things personally and just do the best job that we can for our customers."
For us it's a dream come true, Francine says. "... To have our own business, be our own boss and be able to schedule time with our family and friends. I love the idea that our success is truly dependent now on how hard we are willing to work."