Dripping in Jewels Today's Trends
Feb 02, 2007 10:28PM ● By Don Kindred
by Helen Chade Mahshi
"Diamonds are a girl's best friend" jingle the ads. What makes a girl feel beautiful and desired, if not gorgeous jewelry? Jewelry is hotter than ever on the fashion scene, and as long as it's in good taste almost anything goes; real or not.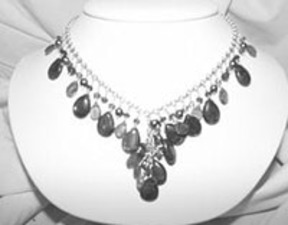 There are definite trends in today's jewelry market that the discerning eye will note. For example, "wearing multiple chains of varying lengths" is a very popular look, according to Ellen Davis, jewelry designer, of Heaven, Earth and Sea Jewelry. "Different-sized links such as small chains, separated by larger links, textured chain mixed with smooth chain" is a look that sells well for Ellen and many of the boutiques in the San Clemente village. 
"Achieving texture in your look" is the goal according to Coral McPhee of Variant. 
Mixing beautiful gemstones with diamonds has sold well for Gino's Jewelers. Completing the look with a red gold chain, which includes more copper, gives it a modern twist. White gold and platinum with diamonds has always been a timeless look. A re-emergence of yellow gold with diamonds is appearing.
Beautiful broaches, worn by ladies of previous generations, are being re-designed into trendy necklaces according to Coral of Variant. The vintage look is sought after agreed many of our local boutiques. Liquid metal, with computer chips, melded into wide, tight fitting silver bracelets is a popular look. Pearls have made a big comeback also, everything from the traditional strand, to freshwater pearls on strands of varying lengths. Requests for charms and "jewelry with sentimental meaning" were a common theme echoed by many of the boutiques. 
Crosses are always in fashion; Grecian crosses have been the rage for years. A unique look Avenue Accents is pulling off: The pirate cross for the romantic, adventurer designed by Funky Unique Clothing Co. available on jewelry and belts worn by both women and men.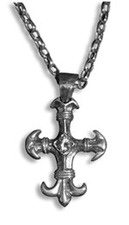 Big Gemstones are wildly popular, both real and fake. Mixing gemstones with gold and silver is a look seen in most jewelry stores. Long earrings, and hoop earrings with multiple gemstones are popular at every price point, along with crystals that have been selling well for years. Along our coast, boutiques also feature local artist designs that include seashells and unique products from the beach. 
Jewelry can be funky; delicate; classic or wild; expensive or not. Pull out your jewelry box and do some experimenting. Try layering shorter pieces with longer ones. See if a hand-me-down piece of jewelry can be re-designed for an updated look. Most of all: have fun. How we wear jewelry is an expression of who we are. b
(Among the popular designers at the following stores: Variant: John Wind and Pandora, Liquid Metal, David Tishbi. Bliss: Rachel Habrams, "mad coin" jewelry collection, Lori, Lori, local artist. Pirate Cross by Funky Unique Clothing Co. at Avenue Accents. Heaven, Earth and Sea Jewelry can by viewed by private showing by contacting EllenDavis at 949-842-3662 or web.mac.com/ellend1)