Knitting Not Just Your Grandma's Hobby
Feb 01, 2007 10:08PM ● By Don Kindred
by Maggie Zeibak
Yarns come in alll textures and colorsYears ago knitting was essential in keeping a family clothed and warm. The womenfolk would sit in the fading light, clicking and clacking their needles, creating scratchy wool garments that would eventually be handed down to whichever member of the family grew to that size.
During wartime, when ready-made goods were in short supply, socks and mufflers were knitted to keep the troops comfortable, and when the war was over, those same women started creating intricate patterns and stitches to turn out fashionable sweaters and dresses.
Of course, the more modern children of this generation didn't like the idea of something "home-made". They wanted store-bought, a sign of their independence and wealth that, in turn, reflected their success. How the pendulum swings back again. Knitting as a hobby is enjoying a new popularity with people of all ages, picking up the ball…of yarn, so to speak.
Perhaps you've wanted to learn how to knit, but didn't know how. The list of terms was perplexing and you had nobody to ask. Yes, intricate directions to "knit one, purl two" and "knit into the back of the stitch" sound a little intimidating, but like everything else, it gets easier as you learn and practice.
Now, here's the secret. You need a ball of yarn and two needles (#10) to get started. You need to know only that you will be casting on, knitting in garter stitch and in the end, binding off. In detail, you'll make a slipknot onto one needle and cast on 12 stitches.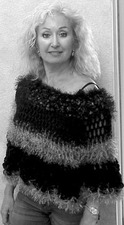 You'll knit furiously while you are watching television and until you've almost run out of yarn – then you bind off. Wow – you've just knitted a scarf.
Certainly, you'll want to know the mechanics of making the stitches grow and you can find instructions online and view a video at Michaels' website.
For easy experimentation, participate in the Warm Up America program. 
Simply knit a 9" x 7" rectangle (casting on 35 stitches and knitting until it reaches those dimensions) in any color and take them into Michaels where, periodically, a joining party is held and the 48 Knit beautiful sweatersrectangles turn into afghan blankets for needy people. Nobody is going to care if your first attempt is a little misshapen; you'll get the tension of your stitches right with practice. Many experienced knitters knit up their leftover yarn into multi-colored pieces for this worthwhile project. Information is also on
www.Michaels.com
You'll often see a cult of knitting fanatics deep in conversation beside the yarn stock, feeling the softness and exclaiming over color combinations. Ponchos and Shrugs are still very popular items to knit, ranging from practical everyday yarn to fabulous Fun Furs, Eyelash and Boas, with sparkly accents for eveningwear. Online shopping reveals handspun wool from South America, unique dye-lots and European quality that can set you back a week's wages. No need for that in the beginning, shop locally for bargains.
Some of those experienced knitters are members of the Ladies Auxiliary of the VFW, quietly doing good works. Their project to knit caps for troops going to Iraq was a resounding success, and now they are onto something new. Supporting the "Budget for Baby" classes for new mothers of all ranks at Camp Pendleton, they are now knitting booties, blankets and sweaters. Upon graduating the class, the young women are given a bag of useful items to welcome the new addition to the military family. What a great project and you, too, can donate knitted items to this worthy cause – call Corene Lilly at 492-1341.
Another group meets courtesy of Capistrano Adult & Community Education at the San Clemente Senior Center, Wednesdays from 9am- noon. Diligently honing their skills, comparing patterns and sharing woolly stories, they churn out masterpieces at all levels of expertise. There is no charge but you must register with Terry Collins who will be there to welcome you.
Feeling confident, now? Take the first step toward enjoying a creative new hobby and then you'll be able to strut your stuff. Go to
www.about.com
and search for knitting. b