Learning Labs - with a Sail
Nov 30, 2006 10:13PM ● By Don Kindred
by Bill Thomas
Would you admit that one of the greatest blessings we have here in San Clemente is the ocean? We marvel at the incomparable sunsets. Some occasionally stick our tootsies in the water, while many religiously pursue the phantom wave that continues to elude them on a daily basis. Others just enjoy watching the waves pushing their individual and unique courses towards the shore. Also, within our fortunate local mix, we have the sailing crowd: experienced sailors and boat owners, occasional sail boat renters and trip takers, and those who'd like to join that crowd, frustrated "non-sailors" like me. I finally decided to do something about it. After reading the following, you might want to follow my lead. 
Saddleback College offers a seaworthy and unique summer course, a three-day, ocean-based experience in which the classrooms are Catalina sailing vessels, and the instructor and his compatriots, certified boat captains, who guide boats between Dana Point and the Channel Islands. This past summer, I was one of fortunate registrants…
Orientation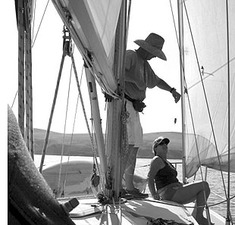 The first meeting of "Special Topics: Introduction to Cruising the Channel Islands, " a Marine Science Technology 2006 summer class (1.5 unit credits) was held on the Saddleback campus in early July. Marc Hughston, the instructor, termed it an "information" session, the purpose of which was to provide a general overview of the course content. This would be a condensed version of similar semester-long classes that cover the art of sailing over a 16-week period. It was an informal session wherein Hughston discussed previous cruise class offerings, what to expect on the Santa Barbara and Catalina islands we would visit, anticipated weather conditions, briefly living under cramped conditions and cooking meals on the bounding main. He tried to ally our fears and motivate adventuresome enthusiasm all at the same time. 
Session One
In the first class two weeks later, we discussed the parts of a boat, including hull, keel, rudder, cockpit, lifelines, companionways and the components of a sail. We learned nautical terms such as "port" and "starboard," "windward" and "leeward, "luffing," and "turning away." We reviewed the dynamics of sailing, defining "true wind" that is felt, and "apparent wind." We covered the controlling of sailing boats: rudder, sails, keel, and crew weight; tacking and jibing; as well as the directions of sailing: head-to-wind to running with the wind. Our instructor was careful to explain that "…most of the learning activity would take place on the boat…" 
We were schooled in how to operate the VHF radio, how to call and copy, the importance of the major channel 16, and the channels available for inter boat communication. Keeping the "breadcrumb trail," noting progress and happenings in the boat log and charting our course were discussed. The significant aspects of anchoring a boat in a harbor were also considered, and Hughston began posting messages and instructions on the class website.
Session Two
The second required meeting covered preparation for our journey: clothing and luggage; snorkeling and scuba equipment; and personal items from chapstick to sunscreen, primarily for comfort and protection from the elements. Hughston reiterated what we would expect to find on the boat from life preservers to sail covers. We discussed our itinerary and what we should expect to see, perform, and experience at each of our stops: sailing from Dana Point on Thursday night, spending Friday night by Santa Barbara Island and Saturday night in Emerald Cove at Catalina Island. The class members then reassembled with the five skippers to discuss how each crew would prepare for the trip and share the food requirements. The Pilgrimage crew even had a professional chef, David Tatum, to prepare meals. That was the luck of the draw. 
Preparation
On Thursday, August 3, four of us – Susan Csontos, Saul Sanchez, Chris Butcher and I - reported to our captain, instructor Marc Hughston, at our Dana Point harbor-based boat, the Escape. We prepared the boat for the sail, storing our gear wherever there was space, organizing food and beverages and receiving further instruction on "casting off" activity. Elsewhere at the Harbor, four other boats were gathering their crews and preparing their boats under the guidance of their skippers: Half Moon (John Fellner), Pilgrimage (Larry Barley), Fugga Oui (Charles Kepford) and Manana (Mike Massaro). The captains were either former students who had taken numerous Saddleback marine science classes at Saddleback, or veteran sailors who either owned boats, ran charters or organized sailing trips. Setting out on this seagoing adventure, the twenty-three hardy Saddleback College students included eight women and 15 men, ranging in age from 18 to the three of us who were seniors. We varied in sailing experience from none to almost qualifying as skippers and were divided by fours and sixes into the five boats.
The Night Cruise 
Since we were sailing at night and would be motoring, the captains assigned two-hour watches, someone at the helm steering, others to watch for other boats, obstacles, problems, whatever might occur. Everyone was on deck at 21 bells as we headed westward. At 10 pm, the Manana skipper reported by radio that his boat was experiencing electrical problems. He had no lights; further night sailing would be impossible. The boats circled Manana. After an hour's wait, Hughston and his counterparts decided Escape would stay with Manana; the other boats would head for Santa Barbara Island. One of the captains radioed, "Okay mother hen, the chicks will be off on their own. " Several hours passed; the Manana was still without electrical power. Eventually, the decision was made to transfer crew, luggage, food, and equipment to the Escape. Manana's captain would wait for Coast Guard towing help and, possibly, catch up with us the following day. Our crew now numbered nine. We were joined by Joe Kawashita, Jim Muzzo, Evelyn Bankston and Evan Carroll, providing more people for watches but less space for sleeping in our tight cockpit area. Fortunately, Jim, Evelyn and Evan had previously taken the cruise course and proved to be more than efficient sailing companions. I learned what it was like to attempt sleep next to a chortling inboard motor.
First Cruise Day
The next day, at noon, we arrived at Santa Barbara Island's small landing cove. The other boats had anchored at 9am. The rocky island was almost totally barren. Countless sea lions and hordes of flies greeted us. A rangerless station and what appeared to be a boat repair shed along a beachless, shelfless coast were the only structures in sight. Several of our group went scuba diving; however visibility was limited. Joe and Evan transferred to other boats. We spent the rest of the day in the small harbor, reading, snorkeling, fishing, fly bashing and practicing our oarsmanship with inflatable rafts and kayaks. A few adventuresome souls hiked around the small island. We took time to learn how to chart our course and write entries into the logbook. We were instructed in knot typing and setting and releasing the anchor. Most of us used our free time to relax, share stories and to get to know one another. That night was our captain's turn to prepare a fabulous dinner. Our socialization continued.
Day Three 
The following day, Saturday, after more lulling around our rocky isle, our small fleet headed for Catalina, tacking and jibbing, pulling the sail, jib, and spinnaker up and down, practicing our knots and man overboard drills almost all the way. We used the motor more than the sail because the wind was so mild. Taking turns at the helm, the other sailors were more competent at staying on course than I, still feeling like a novice. We docked at Emerald Bay around dinnertime, enjoyed another scrumptious meal and socializing.
The Voyage Home
The next morning, Sunday, we, the Escape crew, sailed along the Catalina coast, passing many colorful and varying bays and inlets on our way to Avalon Harbor. Sailboats and motorized vessels were everywhere: beside us in anchorage, and coming at us from all directions. The other three boat crews elected to scuba dive, swim and snorkel along the shore before heading home. We all conducted man overboard drills and took a final written examination on sailing, as well as a test of our knot-tying prowess with bowlines, sheepshanks and other trimming and securing techniques. Perhaps one of the most pleasurable times of our trip was watching the southern California coast appear ever larger as we headed back to Dana Point where we unloaded and cleaned the boat, readying it for its next ocean venture.
In surveying several of my newly-made, short-time sailor friends, all enjoyed an adventuresome and pleasurable learning experience. Jim Musso had sailed three or four times but never overnight; Evelyn Bankston had taken the course once before and crewed on another cruise with instructor Hughston. Joe Kawashita, who had never sailed before, took to it as if he was pursuing a new hobby. Susan Csontos is planning to purchase her own sailboat someday, and Saul Sanchez will probably be a skipper on one of the next summer sailing courses. Mañana skipper Mike Massaro never did make it to the islands with his boat. It was too time consuming to locate the missing part. Sailing by himself from Dana Point to Santa Barbara Island would have been quite difficult. 
Of this particular voyage, captain/instructor Marc Hughston, was graciously praiseworthy. "An overnight passage is daunting for new sailors, and while they can read about it all they want to, the way to build confidence is to experience the voyage with a captain who's already comfortable with the boat, the conditions, and is ready and able to deal with the unexpected." 
He also cited as important the opportunity for student sailors to go beyond Catalina Island to its island neighbor, Santa Barbara, 67 nautical miles from Dana Point. 
"One of the highlights of the trip was the breakdown of Manana, our decisions and our plan…supplies and crew were being ferried to us with a maximum effort by Evan in the dinghy. Everyone stretched and grew as a team to deal with that situation."
When next summer's cruise class is announced, consider it. The material fee, health fee, and enrollment fee total $135. Where else can you go from being an inexperienced landlubber to an (almost?) accomplished seaman in three days and nights? b