When Food & Wine Intertwine - Who to call for your Holiday Party
Nov 30, 2006 10:02PM ● By Don Kindred
by Helen Chade Mahshi
The holidays are a magical time in our lives. Parties, large and intimate, draw people closer together creating special memories during this time of year as at no other. When planning for those meaningful holiday parties, many are looking for a caterer who can handle it all. To that end, three restaurants in San Clemente who offer full-service catering were interviewed for this article: Carbonara's Italiana Trattoria, Iva Lee's and Beach Fire Grill. Each restaurant has an experienced and capable staff to prepare the food, serve it as a sit-down meal or buffet style, and can handle the rentals of all tables, linens, china, flowers and more.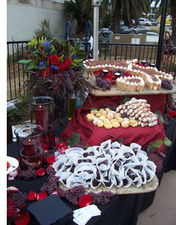 Iva Lee's provides a separate catering menu offering hors d'eurves, salads, soups and main entrees that can be viewed at
www.ivalees.com
. As of this writing, BeachFire Grill was in the process of compiling their catering menu. Listing a complete catering menu for any of these restaurants would be limiting, however, because new menus are created periodically and standard menus are customized to meet the client's needs. Each of these restaurants has a line-up of weddings and corporate events scheduled for the coming year because their ability to handle each and every detail of a party, large or small, is as comprehensive as that offered by a fine hotel. Both Carbonara's and Iva Lee's are on the preferred vendor list for Casa Romantica, a favorite locale for wedding receptions.
Extreme Customer Service
At Carbonara's, a separate catering menu is not listed online, but owners Tony and Mary will work with you to design a menu that accommodates your party. Tony, an "extreme extrovert" as described by his daughter, Christina, provides his clients with an immediate sense of hospitality. Mary, his serene wife is the perfect complement to his personality. Their family-style ambiance and professionalism offer reassurance that the details of your event will be fully accommodated. A notebook filled with client thank-you cards from the events they have catered attests to this. Tony's charisma helps create the ambiance that has attracted customers to Carbonara's restaurant for 16 years. Requests for catering grew from the trust afforded the family as restaurateurs. As requests grew for a caterer who could handle everything under one roof, Christina, who grew up in the family business, returned to help with the business after a stint managing a California Pizza Kitchen. Signature items on Carbonara's regular menu are often included or re-designed for their catered parties. Favorites include the stuffed artichoke appetizer, calamari and the tortellini porcini. The filet mignon with porcini is fabulous. Sauces and breads are made fresh. Christina can even remember a wedding when the bride ordered flowers delivered in boxes and didn't know what she was supposed to do with them. Carbonara's saved the occasion by actually taking on the arranging of the bouquets themselves! 
Not Always Southern Cuisine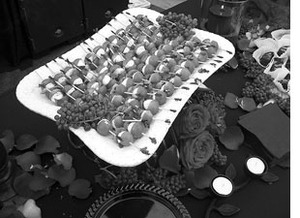 Iva Lee's, specializing in southern cuisine, surprised me with the news that it offers quite an array of not so-southern cuisine for their special events. The parties they have catered have included a request for French cuisine, Mexican, Cuban and Polynesian foods. Like Carbonara's, their clients preferred to work with a restaurant they trusted, rather than calling an unknown cater. It is impressive and unusual for one establishment to offer such a scope and magnitude of menu offerings. The items on Iva Lee's regular menu are truly delicious and attest to the talent and diversity of their chefs: the barbecued pork sliders and shrimp cake with red eye aioli accompanied by a Georgia Peach martini are scrumptious. 
Eric Wagoner, co-owner with wife Lisa, said he "loves to go to people's houses and match the food with the wine." His personal joy helping host intimate dinner parties and demonstrating how a particular wine can enhance the flavor and enjoyment of a specific dish. Lisa, who has many years' experience in the restaurant business, was originally inspired by her grandmother's southern recipes. She first opened the Ramos House Café in San Juan Capistrano, then before long the couple opened Iva Lee's, named after her memorable grandmother. This duo truly has a passion for food and wine, which is reflected in its elegant surroundings, and its truly spectacular cuisines. They have a bevy of rental companies they work with for special events. 
Because Iva Lee's is open only for dinner, their chefs are often busy during the early part of the day preparing for catered events. This restaurant offers these customers the opportunity to come to their restaurant and sample the planned menu before the event. This provides peace of mind and affords customers the opportunity to make any changes if needed before the big event. 
A Passion for Cooking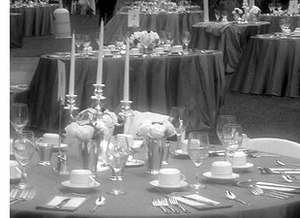 In the last half-year, BeachFire Grill hired Chef Cathy McNight to revolutionize their catering repertoire. A veteran of 20 years, who used to own her own catering business named, "What a Dish", Chef Cathy has a passion for catering that is contagious. 
"Food is such an important part of our lives," she shares. "You feed people's souls as well as their tummies. We enjoy being a part of people's celebrations." 
BeachFire Grill, who commands quite a crowd on Saturday nights, is rapidly expanding. Owned by artist, Dave Donaldson, it has a new 2nd location in Ladera Ranch, and their 3rd location is anticipated to open on the San Clemente Municipal Golf Course in July 2007. A huge commitment was made to their catering business by designing a food and beverage site large enough to seat 200 for corporate events and weddings at the golf course. They will also continue to cater events at the venue of your choice. 
Chef Cathy, who is used to working with people from all walks of lives, enjoyed working with celebrities and their bodyguards when she owned "What a dish". She echoes the sentiment offered by the previous two caterers: "We will do as much or as little as needed. We'll handle the rentals, florals, full-bar, upgraded linens, etc. Have a cocktail, relax and we will handle all the details." 
Due to its size, BeachFire Grill offers the opportunity for promotion within its organization. Cathy enjoys teaching her young protégés, and is promoting a young chef who has worked with her since she was 17. Now, 22, this young woman, who has put herself through culinary school, will soon become banquet manager. 
Favorite menu items include the avocado wraps, coconut shrimp with spicy dipping sauce, macadamia encrusted fishes and Caribbean skirt steak. New recipes are currently being tested in the BeachFire kitchens. 
"When designing a menu for an event, we can work around allergies, do custom sauces, change recipes, whatever is needed to make your event a success," said Chef Cathy. 
Life is a celebration. Put your fate in the hands of any of these three caterers and you'll have a group of people behind you that will do everything to bring you peace of mind and help you host a successful event. Bon appetit!