Rib Hillis Model, Actor, Husband, Father
Nov 30, 2006 09:57PM ● By Don Kindred
by Anne Batty
The Hillis family, Rib, Hanna Rose, Dane and Melissa. While talking about his professional career as a model and actor, San Clementean Rib Hillis' cerulean blue eyes focus intently. Obviously comfortable in his own skin, he speaks about his life and work gesturing animatedly to make a point, pausing only occasionally to comb his fingers through wavy, sandy-brown hair. 
Boyish good looks and a fit frame disclose his appeal in an industry that is in Rib's words, " the greatest job in the world when you're working, and the most insecure when you're not. Most actors new to the industry think the hardest thing is to get that first TV or movie credit. In reality it's getting that next credit that's hardest." 
But in spite of its drawbacks, Rib Hillis says it's a career he wouldn't change for anything.
As a college football player, and international relations/economics graduate of university in Boulder, Colorado, a career in modeling was the furthest thing from Hillis' mind. But one day a close friend remarked that Rib looked like a model friend of his and encouraged him to give modeling a try. On a whim, Hillis followed his advice, seeking out a local modeling agency.
"They ended up taking my money and taking my pictures and nothing came of it," Hillis explained. "But not long after I accompanied my older brother to another agency and the agent there asked me if I might also be interested in modeling. This time he paid for the pictures, and I learned the hard way that agencies legitimately interested in you as a client don't ask you to pay. It was a valuable lesson."
This new agent immediately faxed Rib's picture to Europe and Hillis found himself spending the summer of '92 modeling in Milan, Italy. The following summer, after graduation it was Paris, France, where he lived and worked for two years. Then, 1996 found him living in Hollywood where he soon began working in TV and movies.
In 2000, while visiting Catalina Island, Rib met his wife of six years, Melissa Blackler. A competitive triathlete she was participating in a race there. According to Melissa they fell instantly in love, and he proposed to her between black diamond ski runs in Tahoe. They were married four days after their first date.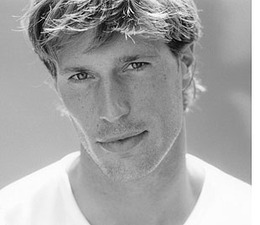 As a young couple the Hillis' were out to experience the world. They never stopped moving … rock climbing, mountain climbing, surfing, hiking, camping, bike riding, sky diving, bull riding and motorcycle racing. They traveled to Australia to dive the Great Barrier Reef; New Zealand to visit the ancient tribes of the Maori; Kauai to hike the famous Na Pali coast; the Caribbean to film a movie; Tahiti to dive with sharks; Tasmania to climb Mt. Wellington; and all over the US climbing Mt. Whitney; Pikes Peak and Mt. Washington.
After three years of newlywed adventure they were ready to settle down and start a family. With twins predominate on both sides of the family, the young couple was soon blessed with a duo of their own, Dane and Hanna Rose.
"Our twins had their passports before the age of one and were on surfboards before they could walk," Melissa revealed. "As a family we have traveled to Paris, the Hawaiian Islands and the Republic of Kiribati – and the twins were only two!"
Because Melissa had been raised in San Clemente, when it came time to look for a permanent home the couple knew it would be the ideal place to raise a family. They moved to town in 2004, purchased a duplex on Avenida Del Mar (her parents live there too), easily adapted to the beachtown lifestyle and like all residents, love living here.
"We can walk everywhere," Rib exclaimed, "it's great. We hardly ever drive our car, and I ride my motorcycle to LA for auditions and to work."
Rib's credits include modeling for catalogues and magazines, appearing in TV commercials and acting in soap operas, on stage and in movies. In these venues he has made numerous guest appearances, has been a series regular, acted as host, played a number of supporting roles, co-starred and secured several lead parts.
The funniest thing Hillis ever did to obtain a role, occurred during an audition for a supporting character in the movie Jungle Juice. 
"The personality portrayed in the movie was to be a Brooklyn musclehead," he chuckled. "When my turn came, I immediately stripped down to a pair of Speedos, and whipping out a bottle of baby oil proceeded to rub it over my entire body. The director thought it was hilarious, and that stunt got me the job and two months shooting scenes with actor Christopher Walken in the Caribbean."
Rib speaks with fond humor of all his modeling and acting endeavors, but of his latest project, the lead role in Propiedad Ajena - a movie filmed in Mexico and San Antonio, Texas – he articulates with an exceptional enthusiasm and thoughtful reverence. An undertaking that required him to speak half the dialogue in Spanish and half in English, it was his most challenging role thus far.
"When my manager called me about the part, asking if I spoke Spanish, I said "pocito," Hillis remarked. "The last time I had studied Spanish was in High School, and like most Americans I can get by with phrases and gestures." 
Model, actor Rib Hillis has, "the Greatest Job in the World".Taking him at his word, Rib's agent told the director in Mexico that Rib spoke the language and he got the part. Once he had the role he knew he would have to brush up before he went to Mexico for the filming.
"Lucky for me, my neighbor, Andy de la Cruz is from Uruguay and speaks the language. On the evening before I left for Mexico, Andy grilled the script's Spanish dialogue into me for three hours. It was because of him I had the language down pat, and was able to secure the part," Rib divulged gratefully. "Without his help it wouldn't have happened."
Upon his arrival in Mexico, it became immediately apparent to the director that while Hillis knew his Spanish lines, the conversational flow was poor and lacked emotion. But because Rib had the "gringo" looks the part required, the director paid his daughter, Aldonza Velez (an actress in the movie) to help Hillis with his Spanish, enabling him to successfully play the role with the proper emotion behind the words.
When this movie is released in America it will be titled "The Land of Another," and it is obvious this latest project is one near and dear to Rib's heart. He tells of the possibility of a showing at the Cannes Film Festival next year and knows that could lead to great things. But even if that doesn't happen, he is looking forward excitedly to the publicity, appearances and the movie's premier in Mexico in March.
To Hillis, all the possibilities, glitz and perks of this film aren't the most important things about this production, however. What he is most interested in is the fact that the story is about a Mexican family's claim that land in Texas once belonged to them, and their belief that the gringos took it from them. Rib speaks thoughtfully about a new perspective gained from working on this film. About looking at things from another country's point of view and thinking differently about historical events. And as he relates these feelings, the sincerity in his voice and his earnest expression say much about the kind of person he is.
When asked where his life goes from here, this man of many talents just smiles and says, "More of the same if I'm lucky. I love what I'm doing and the lifestyle it affords me. As long as I can keep getting modeling and acting jobs, I guess I'm in for the long haul." b