SAN CLEMENTE LIFEGUARDS As Remembered by Don Divel
Aug 29, 2006 11:02PM ● By Don Kindred
The first San Clemente lifeguard was John Heinecke, nephew of the man who owned and operated the only lumberyard in town at that time, Heinecke Lumber. It later became Chilton Lumber. 
The second guard was Eugene "Bunny" Hanson, third son of Ole Hanson. Bunny stayed on after his family left in 1937 and shared a room with me in the "pent house"of the Divel Funeral Chapel that my folks had owned and operated since Feb. 1928. Bunny wasn't much of a swimmer, but was a Charles Atlas wanabe and stood around on the sand flexing his muscles and running up and down the beach, challenging anyone around to a race. He engaged in lots of antics, but that's another story. If someone appeared to be in distress out in the water Bunny would ask me to go to the rescue because "I'm having a muscle spasm in my leg."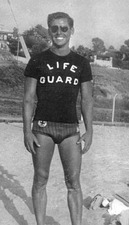 During the summers of my 16th and 17th years, 1938 and 1939, I was a San Clemente lifeguard. Cliff Russell who hired on in 1937 taught me the ropes. He received 10 days of lifeguard training in Long Beach and was certified in first-aid and life saving. No official tests were given to me. The only criterion was the ability to swim to the end of the pier and back. We were the only two guards at that time.
There was a room at the top of the stairs leading from the beach, under the stairs that were facing Avenida Victoria (no longer there) in which we changed into our swimsuits (the only uniform I had was a pair of trunks somewhere between briefs and boxers in design with a lifeguard emblem patch on the front). It was in there we stored our street clothes and valuables, and the equipment we used (which in those days consisted of a metal torpedo and a rope - plastic and fins had not yet been invented) and beach cleaning tools.
There was one lifeguard tower - on the sand south of the pier - about 20 feet high. It had a metal fireman pole from the tower to the sand to enable us to get down quickly if we spotted trouble. There was a ladder but shinnying back up the way we came down was good exercise and a way to show off our suntanned braun. Upon our arrival at the beach at 8am it was our job to rake the seaweed (which was abundant in those days), dig a hole and bury it, clean the beach, assist beachgoers in putting up their orange and black striped beach umbrellas and inflate the huge inner-tube (from a large truck tire) available to beachgoers free of charge on a first come basis.
Bodysurfing was very popular. Few had surfboards and if they did they were mammoth things, heavy to carry and had to be drained of water after each use. The few people who could use them really had to know what they were doing. Surfing was a long way from its heyday. Filling pillow cases or homemade muslin bags with air by running along the beach, gathering the top and quickly tying with a string was the forerunner of the surf mat. My first surfboard was my mother's ironing board. I dove head first into the sand on the first - and last - try. What did we know about surfboard design? It all had to start somewhere.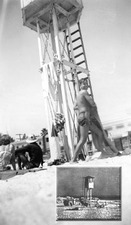 During the course of a day's work we returned stray children to their parents, treated jellyfish bites and bee stings, blisters suffered from not heeding the warning that both the sand and the tar- surfaced pier were very hot, and other minor injuries. We warned sunbathers when they looked "done" and told them it was time to flip over or cover up. Sometimes our advice was heeded, other times they merely slathered on more of their mixture of baby oil and iodine and continued to fry. We cautioned bathers in the event of riptide or other unsafe surf conditions. And ... climbed up into the tower to watch and wait and mentally plan what do after work which ended at 5pm.
My salary of $25 for a seven day week was enough to take a girl to the Casino, a movie or to the Rendezvous Ballroom in Balboa in style, and to stop for a hamburger at the Johnny Rogers hamburger joint in Serra (Capistrano Beach) on the way home.
Lunch was usually a 10 cent hamburger (if I was short of funds Mrs. Strang would sell me a hamburger for 5 cents, without the meat). A Delaware Punch or Yukon Waffle ice cream were also a nickel. The Strang family consisting of Mrs. Strang and five pretty daughters, ran the Galley at the shore end of the pier - the Galley being a very small cart on wheels. Mr. Strang was busy building just about everything in town.
The beaches in those days were not very crowded, as I recall. It was mostly the local people that populated the beach on the south side of the pier. It was an unspoken law that the north side was for the-out-of-towners. The Capital Company took over the town during the depression when the Hanson family left and put Cabanas at the northside beach that could be rented to the well- heeled people not hurt by the depression. The Easley/Rasmussen and Cotton families used them to entertain their guests. 
As there were just us two guards vigilance was imperative. Despite the temptations and distractions, in my two summers guarding there were no drownings. I rescued approximately 10 people and warned many more. One girl of 12 whom I assisted, thinking she was caught in a riptide, grew up and has been my wife for 57 years. We guards took turns playing volleyball, bodysurfing and swimming out to the end of the pier and back while the other was dutifully manning the tower. There was no shortage of pretty girls sunbathing and as lifeguards we got our share of attention. What a life! b
This story and accompanying photos are part of the Local Legends exhibit featuring local watermen and women, on display through August 31st at the Casa Romantica Cultural Center.