The Surfing Heritage Foundation Preserving the History of Surfing
Aug 29, 2006 10:58PM ● By Don Kindred
by Anne Batty
Tucked away in a huge warehouse on Calle Iglesia in the San Clemente Business Park, some of surfing's greatest treasures are on display. To walk through the doors of this exhibit - the brainchild of the Surfing Heritage Foundation – is to take a step into surfing's history. A history dramatically chronicled by row upon row of surfboards from every era, past and present, shaped and ridden by wave riders famous, infamous and 
ordinary.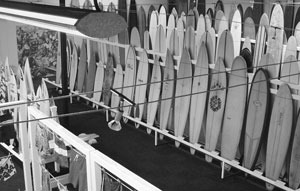 But these treasured boards are not the only riches to be found there. Honored also are the printed materials (books, newsprint, magazines), photographs, video and cinematic expressions, artistic renderings, oral histories, clothing, tools and personalities of the sport. And this awe-inspiring collection has been brought together by the SHF as a way of accurately telling the story of surfing and preserving its history for generations to come.
This amazing grouping had its beginnings in the early '70s when Dick Metz, owner of Hobie Surfboards began accumulating surfboards to decorate his shop. Word soon traveled that he wanted old boards, and it wasn't long before people were dropping them off. As Hobie Surfboards grew into Hobie Sports, with multiple and larger locations, the scope and size of the board collection grew as well.
Selling his business in the late '80s, Metz retained what was now becoming a very large assortment, storing the boards in various locations and loaning them for others to display in their businesses and homes. And from an idea that started out as a way to decorate shops, a fashionable pastime began developing.
When Dick became ill in the mid-1990s, he was forced to consider what might happen to his treasures. Conferring with surfing buddies Bill Blackburn and Bob Mardian, he asked them to oversee his estate and keep the collection whole. Experience had led Metz to consider the establishment of a not-for-profit foundation, and while traveling to promote the concept he built much support for the idea.
Later that year Dick met another collector, Spencer Croul, heir to the Behr Paint fortune, and the two watermen continued bumping into each other at surfboard auctions and surfing events. Metz soon shared his idea for a not-for-profit foundation with Croul, and was invited to his warehouse in Costa Mesa to view an equally impressive collection of surfboards and surfing memorabilia.
A replica of Dale Velzy's first shape shack resides at the Surfing Heritage Foundation located in the Rancho San Clemente Business Park. Then in the year 2000, Bill Blackburn incorporated the Surfing Heritage Society as a not-for-profit foundation, naming himself president and Bob Mardian vice-president, and in 2002 Steve Pezman, editor of the Surfer's Journal, was invited to join the board. In support of Dick Metz's vision, the foundation's name was changed to the Surfing Heritage Foundation.
Subletting a foundation office in Laguna Beach, Metz decided to move his boards to Costa Mesa where he and Spencer Croul combined their treasures, creating what now constitutes the world's most significant surfboard collection. The like-minded duo kept accumulating and adding boards and memorabilia to their assemblage, with the long-term goal being, the housing of the collection in a world-class cultural center where the history of the sport could be properly archived and displayed. This continued accumulation of surfing memorabilia, inspired Dick and Spencer to look for a more suitable location for housing these treasures.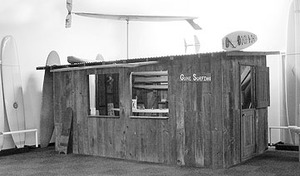 San Clemente's impact on the sport of surfing made it the ideal place to settle, and the Foundation moved into the Business Park in 2004. Their first employee, Barry Haun, a graphic artist with both a surfing and museum background, was hired on a part-time basis, to curate the initial exhibits. 
Last year the SHF Board of Directors, Bob Mardian, Bill Blackborn and Steve Pezman, seeking applicants for the Foundation's first Executive Director, interviewed Tom Pezman, an executive search and business consultant. A self-proclaimed "pier rat" and longtime surfer of California's beaches, Tom Pezman threw his hat into the ring. With a background in the not-for-profit field, birthed at the feet of a father involved in the same profession, he was soon hired as a consultant to help evaluate the Foundation and assist the board with business planning and organizational development. In March of 2006, after six months of consulting, Tom Pezman was hired as SHF's first full-time Executive Director.
In this position, Tom set about implementing a business model for the organization. It would be a board-driven, committee-based model divided into seven standing committees: surf-craft, print/publishing, photography, cinematography, oral history, art and archive/exhibits. Besides fund-raising, the first phase would emphasize surf-craft, photography, cinematography and oral history, with others being added with the growth of the Foundation. Also established was an ad hoc Technology committee tasked with building a new web-based visitor experience.
"There has been unbelievable support for this project from the surfing community," Pezman explained. "Especially the surf media – photographers, editors and publications. People like Jeff Devine, Steve Wilkins, Leroy Grannis, Tom Servais and Art Brewer have contributed much to our photo committee, as have Sam George, Paul Holmes, and Craig Lockwood to our oral history committee. And then there are people like Jonno Wells from Surfline, Scott Bass from Surfer Magazine and Don Meek of Action Sports Group. They have all pitched in to help." 
SHF staff: Tom Pezman, Daryl Whitaker and Barry Huan.In September, 2005, the Surfing Heritage Foundation launched its "coming out" party at the facility on Calle Iglesia. The celebrants included the organization's 100 Founding Partners and over 300 Who's Who of the sport. Its first fund-raising event was sponsored by the Croul Foundation and was a celebration and book signing for the publication entitled "Dale Velzey is Hawk". Four hundred plus were in attendance. 
In future the Foundation plans to open the facility to movie premiers, movie nights under the stars, slide shows, guest speakers and tours. Proceeds from these events, as well as endowments and individual contributions will fund the SHF.
Additional plans for this collection reach way beyond the confines of 
California.
"Our vision is to create a movement whereby surfers all over the world will preserve, archive and make available to the public the accurate story and history of surfing," Pezman related. "We hope to have traveling exhibits to other areas for the purpose of educating future generations about the sport. It is our dream to have these areas pick-up on the idea, and archive and preserve their particular contributions to the sport."
Those early Polynesians standing on wooden boards catching the power of the ocean's swell, those many years ago, had no idea they were creating a surf culture that would last for decades. One that would survive, evolve and thrive. It is definitely surviving, evolving and thriving, and the Surfing Heritage Foundation is in the process of making sure its history will be preserved, accurately portrayed and not soon forgotten. b
For more information about 
the SHF, call 388-0313 or email tom@surfingheritage.org.