New Tricks for Old Rockers Sonance Introduces the iPort
Nov 05, 2005 04:22PM ● By Don Kindred
by Don Kindred
The Freestanding iPod docking stations, from iPort range in Price from $150 to $800.It's been 10 years since we checked in with Sonance, the San Clemente based company that is the current leader in Architectural Audio. Our last feature covered how they began in 1983, when founders Geoff Spencer and Scott Struthers had the idea of creating high fidelity box speakers that could be sealed in your walls. This allowed a generation of rock & rollers who grew up with table-sized speakers connected by spools of brown wire, to clear some space in their living rooms without any loss to their stereo's sound quality. Over the decade, the company has been constantly breaking new ground with a list of innovations that reads like Thomas Edison's resumé. They've also moved, up. Today, I'm sitting in just one of the listening rooms in the 43,000 square foot facility that is as modern as space travel. The room is the ultimate home theatre. Eric Clapton is doing a live performance on a nine-foot screen while Ken Manson, the Manager of Product Education plays through a medley of wall and ceiling speaker combinations, each of the speakers made and adjusted for the exact location they are in. The sound is so real I keep waiting for Eric to step down and shake my hand. Ken is not only an obvious music lover, but a scientist explaining the dynamics of one machine that will automatically tune the C note played on a guitar with the C note played on a oboe "like the auto-focus on a camera" he says. I nod my head like I'm watching the Pope speak Latin, but the clarity of the music speaks for itself.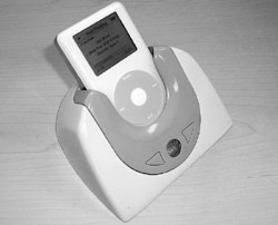 The on-site research and development team has reign over two labs, two listening rooms and an 11,000 cubic foot anechoic chamber that allows them to make quick prototypes on the premises while ensuring their trademark quality. Ken turns on the Sound Advance speaker, which has just been acquired by Sonance, this one can be placed in-the-wall without even a grill, it can be stuccoed, painted and finished like any other wall in your house, and it will emanate sound as if the whole house were singing. They've also developed an outdoor speaker line called the Mariner, with unparalleled weather resistance. (One Australian dealer mounted a pair out on the Great Barrier Reef and did nothing but hose it off occasionally. The sound was still brilliant after a year). In 2003 they introduced the Navigator K2 keypad, which can control everything from the multi-room audio in the house to lighting and security. They've spawned a whole series of sound innovations and spin-off companies. Which brings me to my original quest. I haven't even touched the subject I came here to discuss.
The New 'iPort' Advances
The Use of Your iPod®
There are few in the publishing business that don't appreciate the creativity of Steven Jobs. He just showed up on Time Magazine's cover again, sharing his ideas about "what's next." Great ideas have always seemed simple for the boys at Apple. He's shown holding the new video iPod®, a new version of the device that is changing the way we listen to music in the same way Macintosh changed the way we publish magazines. The palm-sized devices may still be a bit beyond us 40-somethings (and we may never catch up). But I have seen my son negotiate through the 1,500 songs on his iPod® to play a favorite old Springsteen with a couple of clicks. Then he was able to play it through his car stereo, and then through portable speakers in his room. I'm beginning to understand the value, if these things are going to hold over 3,000 songs that would, theoretically, be purchased for .99 cents a piece at apple.com or someplace, that becomes a strong investment. I'm beginning to appreciate the iPod® as more than just something for kids to land on when their skateboards break.
"It's about lifestyle," says Peter Brown, VP of sales for iPort, the newest of the spin-offs at Sonance, and the one I came to learn about. 
"People should be able to listen to what they want to listen to where they want to listen to it. They know they can plug it in their car and the headphones, but where better than playing it right through the audio system in your home? 
iPort's Peter Brown."We introduced the iPort just over a year ago at the Custom Show conceived a way to dock your iPod® in the wall and play it through a living room or home theatre. They thought we were crazy, but now we have five models and everyone is trying to get in the market."
In four of the models iPod® fits in the iPort flush with the wall, but one of them will stand alone, and begins at a retail price of $150. It can be controlled from the exposed face or even by remote, and the sound comes through at line quality, the same as a CD or other home audio equipment. The iPort even recharges while it's plugged in. So instead of looking for 'that one CD' that's always in the trunk of the car, every song in your library would be available at once.
If you're not familiar with an iPod®'s navigation system, I would still recommend a teenager to help you find the song you're looking for but hey, how hard can it be? I mean look at it, it's so little. The old rock and rollers have lost not only their speakers from the floor, but the rows of albums, once stacked creatively in old wine crates. We're going to loose the CD towers, too. 
It was after our first meeting before Apple made the announcement that it is releasing the video iPod®. The fifth generation (and 30% smaller) device can now handle up to 60 gigabytes of video, photos and music. Now we can start buying, storing and playing movies , as well as the music videos and television shows, that are already available on apple.com. 
I thought the news might be a surprise to Peter Brown "No," he says "The iPort can already handle the full motion video as well as photos." Peter says, "So, an iPod video docked in an iPort can be a video player in addition to playing music and photos right through your home entertainment system."
Whatever the future brings to Sonance and iPort, we at least know it's gonna sound good.b
The iPort and other products are not sold directly through Sonance but they can be ordered through one of their distributors, check at sonance.com for more information.