The City of San Clemente Office of the Mayor
Nov 05, 2005 04:17PM ● By Don Kindred
By Mayor Joe Anderson   
If you have been a resident of San Clemente for the past few years, you have witnessed San Clemente's changing face. San Clemente has evolved from a small beach community with little retail, commercial or housing opportunities to a diverse community that is more balanced, financially-viable and resilient. Increased home building activity and commercial development have helped make San Clemente a highly sustainable community. 
To keep up with the growth and meet the needs of the cross section of residents and visitors, we have planned some exciting projects that will benefit just about everyone. As the City's mission statement states, we want to foster a tradition that is dedicated to maintaining a safe, healthy atmosphere in which to live, work and play.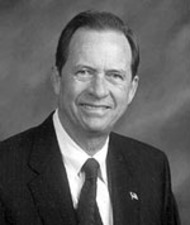 Richard T. Steed Memorial Park
One of the City's busiest parks, Richard T. Steed Memorial Park Athletic Field Complex is set to undergo a $1.3 million renovation of the four softball fields and concession building. The proposed field improvements include turf, irrigation and drainage upgrades. An assessment process to determine future management and operation of the park is underway and the projected completion date is December 2006.
La Pata/Vista Hermosa Park – Phase I
We are completing the final Master Plan, Design and Development Plan and environmental reviews for La Pata/Vista Hermosa Park, what will soon be a sensational park complex. Construction design will commence this fall and construction is set for summer 2006. The park will feature nine lighted youth sports fields, an aquatics complex, parking lots and additional infrastructure. The park will be completed in October 2007 and is estimated to cost $22,000,000 (not including artificial turf and other additive alternatives).
Rail Corridor Pedestrian Beach Trail
We will soon be able to enjoy a scenic beach trail. Phase I of the Rail Corridor Pedestrian Beach Trail consists of a 2.37 mile long pedestrian and bike trail from North Beach to Calafia Beach along the Orange County Transportation Authority railroad corridor. Phase I includes grading, trail surface improvements, drainage, fencing, signage and irrigation and landscape improvements, and a 1,060 foot long elevated walkway supported on piles along Mariposa Point. Pedestrian bridges will be constructed at Trafalgar, Riviera and Montalvo Canyons and grade crossings at Corto Lane & T-Street along the trail, including improvements at existing storm channels/canyons to provide for pedestrian under rail crossings. Phase II of the trail includes three additional rail at-grade crossings at Dije, El Portal & Lost Winds beach accesses and under-rail crossing at Mariposa Point. 
The estimated project cost is $11.8 million and is being funded from various City funds and State and Federal grants. The construction bid for Phase I was awarded in September and construction should take 12 months.
Golf Course Clubhouse
A complete redesign and construction of a new clubhouse facility at the City of San Clemente Municipal Golf Course is underway. The existing clubhouse is 40 years old and in need of replacement. The improvements will include a new pro shop, restaurant and grill, kitchen, meeting room and banquet space, golf cart storage area and putting green. The clubhouse will be completed in October 2007 at a cost of $4 million.
New Senior Center 
The City acquired property between Avenida Victoria & Avenida Rosa to construct a New Fire Station to replace Fire Station #60 and build a new Senior Center to replace the current facility on Avenida Del Mar. The City is negotiating with South County Senior Services (SCSS) for the long-term lease and operations of the Senior Center. The City advanced $100,000 to SCSS for anticipated costs for a consultant to conduct a capital campaign to provide $2.1 million towards the construction of the Senior Center. The estimated cost for the new Senior Center is $3 million and will be completed in 2008.
The City's new Fire Station #59 is soon to be a landmark.New Fire Station 
Fire Station #59 on Calle Negocio will move to a new site on Avenida La Pata. The station will be completed in December 2005 and will provide service to Talega, Forster Ranch and Rancho San Clemente. The station will be a one-story 8,000 square foot facility consisting of living quarters, offices, public lobby, restroom, apparatus room and support spaces, exercise room, landscape and parking areas. Also included, is parking for personnel and visitors, front apron, drive-thru apparatus bays, on-site apparatus parking, above-ground fuel tank, trash enclosure, wash rack area, landscape areas and an outdoor patio area.
So, stay tuned for announcements of the grand openings of these many City projects aimed to enhance the services we offer our residents and visitors of San Clemente. b