Patriotism, Courage, Self-Reliance, & Kindred Virtues The Eagle Scouts Have What it Takes
May 05, 2005 03:43PM ● By Don Kindred
by Nick Azzollini
Group photo at Philmont Scout Ranch in New Mexico, summer 2004.    What would it be like to be at the top of your game? To be in, say the top two percent of the group? That's where you would be as an Eagle Scout, and those in this legion of the Boy Scouts of America have achieved just that. They have climbed the ranks to become the cream of the crop.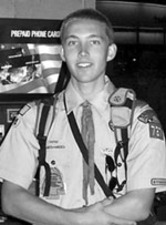 Founded in 1907 in Great Britain, by Sir (later Lord) Robert Baden-Powell, the Eagle Scouts were incorporated in the U. S. in 1910 by William D. Boyce, a publisher from Chicago. But it was not until 1916 that Congress issued a charter for the Boys Scouts of America, which was signed by President Woodrow Wilson on June 15th:
     That the purpose of this corporation shall be to promote, through organization and cooperation with other agencies, the ability of boys to do things for themselves and others, to train them in Scoutcraft, and to teach them patriotism, courage, self-reliance, and kindred virtues, using the methods which are now in common use by Boy Scouts. 
     Since that time, scouting has grown to be the largest youth organization in the U.S. It is intended to be devoid of racial, religious, political or class distinction, and stresses mental, moral and physical development, as well as teaching citizenship, outdoor and lifesaving skills. Scouts are taught from the very beginning, that family, community, nation and God are the important focal points throughout life. And they soon learn that to become an Eagle Scout takes dedication, perseverance, and years of adhering to Scout Laws.
Colin McDaniel and a proud mom.     To rise to the rank of Eagle Scout one must follow a "path". This path consists of a series of five required steps. First, the candidate must be an active participant in the troop for six months after becoming a Life Scout. Second, he must show that he lives by the principles of the Scout Oath and Law, and must submit a list of those he knows personally who are willing to provide recommendations on his behalf. Third, he must earn a total of 21 merit badges (12 are requirements, nine electives). Fourth, he must actively serve in a position of responsibility for six months. Lastly, he must plan, develop and lead others in a service project.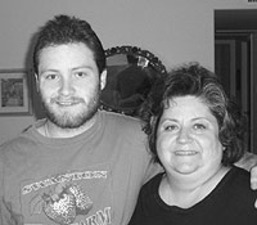 Locally, the Boy Scouts have seen a resurgence of sorts over the past decade or so. San Clemente is home to four Scout Troops: St. Andrews by the Sea Troop 731, Our Lady of Fatima Troop 737, Heritage Church Troop 409 and San Clemente Community Church Troop 113. These last two have been active for three years and one year, respectively and as yet have no Eagle Scouts.
     Troop 737 has had great success over the years producing a total of 26 Eagle Scouts (14 of them in just over two years).
San Clemente Eagle Scout Honorees:
     Colin McDannel, was awarded his Eagle Scout rank February, 1999, and is now a senior and history major at the University of California, Santa Cruz. He tells us that scouting has taught him leadership skills as well as camping skills. Recently, upon driving home from work, Colin came across a traffic accident and applied first aid, learned in scouting, to a female victim until the paramedics arrived.
     Greg Swartz was awarded his Eagle Scout rank in July, 1999. He recently graduated from the University of California, Irvine with a Bachelor's degree in Computer Science. He is now employed with Network Synthesis in Irvine. For his Eagle Scout community project Greg painted a map of the United States on the playground at Concordia Elementary School. Sadly, due to growth, the area is now covered with portable classrooms.
Erik Saulietis     Erik Saulietis, who earned his Eagle Badge in April, 2001, is now in his third year at the University of San Diego, majoring in Biochemistry and interning at UCSD Medical School Clinical Lab for Neuro-genetics. For his community project, Erik worked at San Clemente State Beach where he obtained state approval to clean up the area and plant native California plants. When time allows, he still helps out with his Troop.
     Others include: Danny McEntee, who will be attending the University of Southern California this fall; Austin Hamil who will be attending California State University at San Marcos this fall;           McClinton Heil, senior at Mater Dei High School where he plays varsity baseball. (He has also played on the Seattle Mariners Scout Team); Andy Hart a junior at SCHS and former member of the JV wrestling team. (A ship docent at the DP Ocean Institute, Andy is interested in maritime engineering and also aeronautical engineering); and Andy's twin brother Bobby Hart, also a junior at SCHS and former JV wrestler. 
     Zac 'Gau' Elam is the most recent recipient of the Eagle Scout Award, having been given his badge in May, 2005. Gau was ASB president at San Clemente High School before graduating in June. He will be attending Saddleback Community College this fall.
     Troop 731, a group resurrected about four years ago, currently has three members of the Eagle Scouts. They are Joe and Erick Varholick and Evan Burbridge.
     Eagle Scouts boast many notables, among them are:
• Arthur R. Eldred, First Eagle Scout, circa 1912
• Gerald R. Ford Jr., 38th President of the U. S.
• Steven Spielberg, Director and Producer
• Ross Perot, Billionaire businessman and presidential wannabe
• Donald Rumsfeld, Secretary of Defense
• James A. Lovell Jr., Apollo Astronaut
• Neil Armstrong, Apollo 11 Astronaut
• Walter Cronkite, Journalist
• Sam Walton, Founder of Wal-Mart
• J. Stephen Fossett, First to circumnavigate the earth solo in a balloon
• Jim Mora, NFL coach
     If the local Eagle Scouts follow in the larger paths of their predecessors, perhaps San Clemente may one-day boast of a president, astronaut, billionaire, journalist, film director or professional football coach having grown up here. b