The San Clemente Watershed Task Force
May 05, 2005 03:39PM ● By Don Kindred
By Joe Moore
Photos by Roby LaPorte
Chairperson Stephanie Dorey.Grassroots – That's how most things in this country have come into being. Caring citizens stepping forward to change our world and correct paths wrongly taken or right wrongs before they get any worse.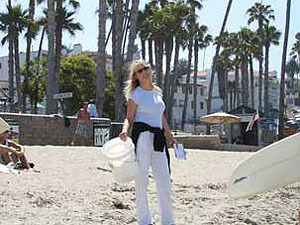 It is this spirit and vision that committed a group of caring citizens to protect our precious San Clemente coast and beach for our children our community and us. This grassroots group is called the San Clemente Watershed Task Force. The group's self proclaimed mission statement is "to provide a healthy ocean and beach environment in San Clemente by developing a community-wide effort to improve the quality of our local waters".
     A good mission and a good cause for everyone that lives in this paradise we call San Clemente. 
So who are the stewards of the WTF? They are varied and multiple in nature. The make up consists of concerned residents, mothers and dads, new residents and those of many years in San Clemente. They are city council members, magazine publishers, city engineers, a doctor, members of Surfrider foundation, and more.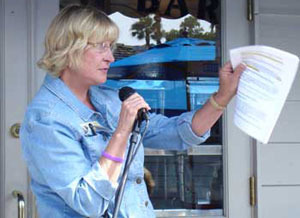 Russ Riensel of RedDog Media, who filmed the event, and son, Drew, cleaning their beach.The primary goals of the Watershed Task Force are:
• To foster a level of (watershed/water quality) awareness and involvement with all stakeholders.
• To educate the community on the impacts (of human behavior) to our local watershed, and foster a sense of ownership and involvement in protecting those waters.
• To assist the City with educational outreach efforts and to modify behavior from: business owners, employees, homeowner associations, non-governmental organizations, residents, tourists, schools, and City staff.
     To bring more understanding, support and resources to the efforts aimed at reducing litter and pollutants ending up in our streets, open space storm drains and beaches through educational measures, and by holding regular beach and neighborhood clean-ups and solid waste collection days (bulky item pick-up) in cooperation and coordination with CR&R Solag and the City of San Clemente.
    The WTF is already out talking to groups and educating and working on planning solutions for these problems and concerns, and to bring further understanding of the fragile balance of our community's ecology. Teaching companies and individuals to implement policies and habits to reduce, reuse and recycle our resources in every conceivable way.
     Today, the WTF is in the process of launching a very ambitious Adopt-A-Beach program patterned after the successful Newport Beach program. They are currently seeking sponsors to personally protect a stretch of beach, similar to the "Adopt-A-Highway" idea. There are almost as many ways to "lend a hand" and help safeguard our waterways as there are pilings in the pier.
Caroly LaPorte of WowiZowi Productions taking care of her adopted beach.   The current Chairperson for the WTF is San Clemente's very active councilwoman, Stephanie Dorey. Ms. Dorey along with Nanci Mavar, Brandi Outwin, Dr. Adam Crawford, yours truly and a host of other community leaders are spearheading the effort and are looking for other concerned citizens. Concern for our beaches and neighborhoods are the only requirement needed to become a member of the WTF.
The WTF meets every second Tuesday at the City's offices at 910 Negocio in the Rancho San Clemente Business Park at 11:30am. b
For more information contact the San Clemente Watershed Task Force at (949) 36-OCEAN or through
www.scwatersheds.com
.