IMPROVING HOME RELATIONSHIPS Taking care of the heart of the home
Feb 05, 2005 01:47PM ● By Don Kindred
by Helen Chade Mahshi
The Rice Family    Getting close—and staying connected—to those we love doesn't happen by chance. It's a matter of choice and effort. For three families in the local area, emotional intimacy as a family is top priority.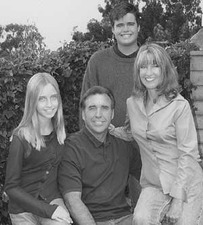 "Sharing dinner together, and talking afterwards about our day is the most precious part of our day," shared Debbie Rice of San Clemente. "We ask the kids to tell us about their day—both exciting and challenging experiences, then we pray about it as a family. Gary, my husband, and I will share with our teenage kids any challenges we may be facing in our lives. " 
    This is a far cry from the days of "Father Knows Best" when parents were expected to set an example of all-knowing omnipotence. 
    "I don't pick up the phone in the evenings," revealed Debbie. "This wasn't always how things were. When I was younger, if the phone rang in the evening, I would talk for hours and family time was shot." 
    As the years went by and Debbie's faith in God grew, her perspective changed and family time became sacred. In January, when the Christmas cards come off the wall, they are put into a basket by the dinner table. 
    "For a couple weeks after Christmas, we pick a card out of the basket and pray for the individuals who sent us this card," said Debbie.     "We were recently reminded of this activity by a special friend."
    "In the last several years, we started to read the Bible as a family," shared Gary. Our goal was to get through the bible in a year's time. We continued this even while on vacation. I saw a huge improvement in my teenage son Ryan's writing ability because of this." 
    Gary loves to sing and play the guitar with 13-year-old Tricia; a mutual passion that bonds father and daughter. 
    "Adventure time together is also important to us," said Debbie. "Whether it's a local trip to San Diego or Lake Arrowhead," this family takes several short, fun outings a year. 
    For Kathrine Lee in San Clemente, "actively listening to my children" was key to her role as a single mom. 
    "I try to look into their eyes and really listen," she shared. "When I ask them 'what was your favorite and most challenging parts of the day,' I learn their heart and what's really important to them." 
    Kathrine's children from her first marriage are 10 and 12 years old. Her 2nd husband, Michael, who was her first-love as a young woman re-entered her life a few years ago, and the couple celebrated the birth of their daughter, Hannah Grace, last September.
    The older children, Corryn and Logan, have an active relationship with their dad, and have also embraced step-dad Michael as a loving member of the family. When Michael and Kathrine married, the children came along on the honeymoon. When this family takes trips together, Michael involves the kids in the planning stages by pulling out the map and asking, "where do you want to go and where do you want to stop in-between?" 
    Cooking with the kids and preparing meals together is a favorite dinner activity for Michael. Taking the kids to school in the morning, helping with homework in the evenings and prayer time before bed is, "when the kids confide in me the most," shared Michael.
    Reading and listening to music together help keep this family connected. "We ask our children to play their music downstairs to see what they choose" said Kathrine. "You get to hear what's going on in their minds. I ask, why do you like that song?" 
    We also ask them to listen to our songs. "My grandmother used to put on the Carpenter records and dance around the room with joy. Michael loves to 2-step with baby Hannah."
    "We also love to light the fire and turn off the TV. Everyone brings their favorite book and blanket and we'll have reading time. Each member has the opportunity to read-aloud their favorite section of whatever they're reading. 
    "This activity really shows me the areas of life they're interested in, " shared Kathrine. "I pray for wisdom as a mom in how to involve myself in their life and how to lead them," revealed Kathrine quietly.
The Lee Family    Game night is a special way the Chade family in San Juan Capistrano interact with 8-year-old Sarah and is a creative way to teach her real-life skills. "For example, Yahtzee requires fast math skills, which may be why Sarah excels in math," shared her mom Dana. 
    Some of the games they play are educational with no winners or losers. Other games they play are competitive. Rather than just "letting Sarah win" her dad Eddie encourages her to use her thinking and verbal skills.
    "I love to see the strategy she uses when she genuinely beats me in a game," smiled Eddie. "It's important for parents to teach their kids real life skills and not just be a buddy to their kids." "Life" is a game that has inspired conversations about careers, mortgages and even homeowners insurance. Playing games together teaches many of the same values team sports offers. 
    "I fondly remember the fun we had as a family when I was growing up during game nights" shared Dana. "I want my daughter to have these memories, too."
    "Every Monday afternoon, when I pick up Sarah from school," said Dana, "I take her out for ice cream. Since we focus on healthy eating habits, it's a way to give her a special treat since Mondays tend to be the hardest day of the week. It gives us a chance to talk about her day, relax and share in some fun together." 
    The Chade family lost their 2nd daughter, Hannah, to a rare form of leukemia three years ago. "Every year we do the leukemia walk, the CHOC walk and the Pediatric Cancer Research Fund Walk," said Dana. "Every evening we pray for the families whose children are ill. We also pray for the well being of our extended family and friends. Don't forget to hug your children," said Dana. "You never know how long they'll be with you."
    Family intimacy is among the greatest joys that life has to offer. A common thread seemed to run through these three families. Prayer is important, and clearing your mind to actively listen with heart, mind and soul is a conscious choice they made. Perhaps unintentionally, these families are creating a legacy that will also touch the hearts and minds of generations yet to come. b