PACIFIC GOLF & COUNTRY CLUB Where Golfing is an Unexpected Pleasure
Aug 05, 2004 06:47PM ● By Don Kindred
by Christiaan Sorensen
    Golf is a fickle game. Yet players pour thousands of dollars and hours into their game, whether it's buying new clubs, learning a new stroke, or playing courses up and down the California Coast. Even kids are into it starting at younger and younger ages every year, and it won't be long before some new kid will come out of the woodwork, causing people to say, "Tiger Who?".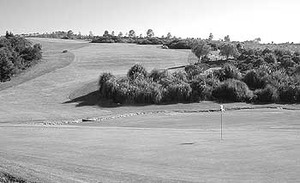 One of the biggest challenges of golf is putting your game to the test against a formidable course. San Clemente golfers who think they have seen and been challenged by it all would be wise to take their shot at the beautiful Pacific Golf and Country Club here in town.
     The first thing noticeable there is the course itself. Being the only "links" style private course in South County, the difference is obvious. Fairways that drop out of sight and greens situated on terraces high up make Pacific Golf and Country Club one of a kind. 
     Once you park your car and grab your clubs, you'll notice the second pleasure of playing at Pacific Golf. ... the silence. Except for the "twing" of a nice titanium clubhead striking a ball, all you can hear are the birds. Since there is no major thoroughfare next to the club and no firing range nearby, there is very little background noise. This adds to the allure, as well as the serenity, found with a round at Pacific Golf.
     Upon signing in, you'll notice there are 27 holes. Being a Gary Player signature course, the three 9 hole courses are named for Player's British Open wins; Carnoustie, Muirfield, and Royal Lytham. The manicured fairways are seeded with Bermuda grass, and each looks like someone armed with nail clippers has trimmed it. 
     When you tee off, the remoteness of the course really comes through. While playing a particular hole one afternoon, this writer came across a family of ducks, at least four roadrunners and a coyote, all on one hole in the middle of the afternoon. It's hard not to smile when you think that places like this can still exist in the midst of an ever-growing city.
     The links style of play makes this course rewarding and challenging at the same time. During one hole my partner hit with an eight-iron, a club usually used for shots from 100-120yds out. He placed his eight-iron just right and that shot ran for 200-220yds. I found the ball about 60yds from the green on the very bottom of a down slope where the ball must have had eyes to make the turn it took to stay good. However, it made it, and I bet he's still telling people about it. Of course, there's a flip side to this story. On the 14th hole my partner bragged that he had used the same ball since the first hole. Golfers out there know what happened next. He averaged 3 balls per hole the rest of the round. Never laugh in the face of the Golf Gods. They're always listening.
     Pacific Golf is a private club, meaning you need a membership to get a round in. The gigantic plus side of this is that you can meander down around 10am and walk on with nobody playing in front of you or hitting at you, unlike the "come one, come all" public courses around. Boasting a membership of over 500 members (with over 100 carrying single digit handicaps) means that this is where you play when you really want to hone your game. Membership fees are the cheapest in South Orange County, and at Pacific Golf the perks are numerous. Spend some time in the spacious banquet room or have the delicious offerings in the downstairs restaurant, and you'll understand why members drive from all over Orange County to spoil themselves here on the weekend. A weight room and nautilus machines are also offered as part of the membership, as well as a five star locker room that makes the home locker room at Staples look like a bathroom. 
     I like to use the car analogy to describe the difference between golf at some of the local public courses versus a round at Pacific Golf. Public golf is like driving a '90 Nissan Sentra; it does the job. Playing a round at Pacific Golf and Country Club in San Clemente is like cruising PCH in a Boxter convertible; it's something each of us should do at least once in our lives. Go ahead, indulge! b